VO ATLANTA 2016

: MARCH 3-6
LIVE STREAM From

VO Atlanta 2016


Brings Huge Conference To Your Home
March 2, 2016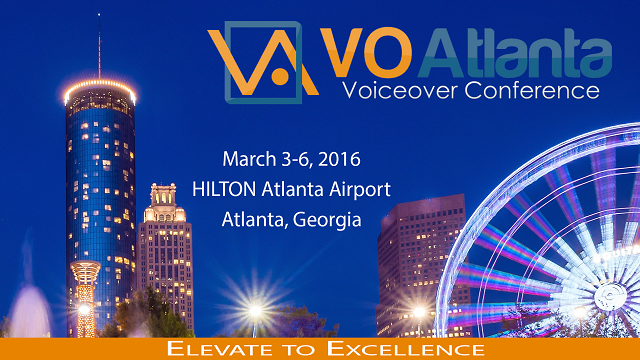 (VOXtra) - Many hundreds of voice actors, agents, casting directors, coaches, VO services - and

VoiceOverXtra

! - are driving or flying to Atlanta tomorrow to attend what's shaping up as the year's major voice over conference,

VO Atlanta 2016

.

The conference spans four days - Thursday, March 3 through Sunday, March 6 - in 25,000 square feet of the Atlanta Hilton Airport Hotel.

Meanwhile, hundreds more will quite easily also attend the conference - but their journey will simply be to the Internet.



Conference producer

Gerald Griffith

has tirelessly crafted a LIVE STREAM program that allows access via the Internet to more than 10 hours of exciting panel discussions, musical entertainment, and a special presentation - LIVE, as it all happens from Friday through Sunday.

LIVE STREAM attendees can also view these sessions

after

the conference on demand. And an optional premium service allows downloading videos of it all. Both options are very affordable.

The LIVE STREAM is sponsored by

VoiceOverXtra

, which itself is a leader in online voice over education, beginning with monthly webinars in 2009 and including the groundbreaking

Voice Over Virtual

online conference in 2013.



YOUR LIVE STREAM EXPERIENCE ...



The 10+ hours of LIVE STREAM content includes:

The Directors Panel

, with leading casting directors discussing today's news and trends

RATES Roundtable

presented by WoVO, discussing voice over rates today

Demos and Technology Panel, led by tech experts and demo producers. Presented by VoiceZam

The Atlanta Panel

, where top agent Jeffrey Umberger brings together Atlanta's best and brightest

Online Casting Leaders Panel

, featuring the leaders from several online casting services

Business & Marketing Panel

, with crucial advice from experts on what it takes to stay competitive. Presented by Edge Studio

VO Agents Panel

, where top voice over agents describe what they do, and how they serve you

Animation Panel

, where the creators of voices you love share the in's and out's of this exciting sector

Audiobook Panel

, with the inside scoop on how leading talent like Scott Brick remain relevant and successful

The Spanish Panel

, LOS GRANDES DESAFÍOS DEL LOCUTOR HISPANO EN EL MERCADO GLOBAL

Online Casting for Today's Marketplace Panel

, with VO leaders and talent discussing today's hot topics

Special Presentation with Edge Studio's David Goldberg

: "Learn a proven step-by-step process to gain a new long-term client"
And musical performances from

Joe Loesch

's The ROAD CREW,

Rodney Saulsberry

- The Smooth Sounds, and

Nazia Chaudhry

- NAZ, Time After.
For details and to sign up for a LIVE STREAM option, please click here.

TO ATTEND IN PERSON ...

Woops! You say you CAN attend in person?

Great! At this 4th annual conference you'll enjoy more events (over 140 hours) and physical space (25,000 square feet) than ever. You'll also see what's driving (pun intended) everyone to the exhibit area. Click here for details and to register.

Stop by the

VoiceOverXtra

booth at VO Atlanta 2016! Or invite us to your home.



Your Daily Resource For Voice-Over Success