---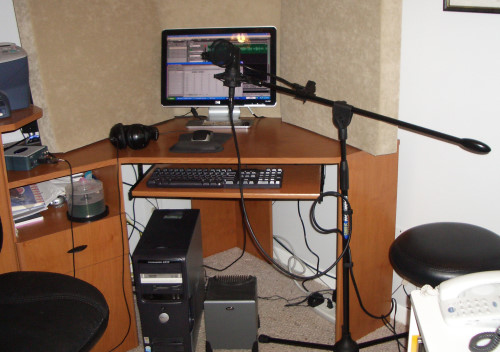 Three padded panels give the mic a nice sound in this corner-room studio.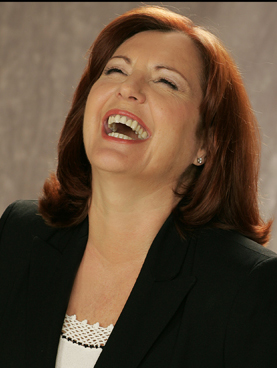 I love what I do! I'm a
SAG
actress and find that my acting experience heightens my voice-over work.
From my voice-over home studio I do almost everything: radio and television commercials, narrations, corporate VOs, e-books, web tutorials, on-hold/telephone messaging, radio intro/outros, e-learning DVDs and CDs - you name it.
I subscribe to several voice-over casting web sites and send out audition demos daily.
And I do love my little studio - simple but efficient. I've thought about upgrading the microphone, but to tell the truth, it isn't about having the best equipment. It's about learning what to do with it and perfecting your craft.
THE EQUIPMENT
a Dell PC

Sony speakers and woofer

Audio Technica AT4033C/L mic with a very small (ordered special) double-screen pop filter

Audio Technica ATH-M40f/s headphones

Adobe Audition 2 recording and editing software
My husband and I built three padded panels, measuring 36" x 24" x 3-1/2", which surround the microphone and give me a nice sound. Of course, there is also carpeting on the floor and drapes on the one window to also help buffer noise.
Please feel free to email me to learn more. This is such a difficult business to get started in, so I would love to help in any way I can.
Cookie Colletti has many film, TV, theater and voice-over credits (see her web site) and is a conservatory graduate of The Acting Studio in Hollywood, FL. Her additional studies include the Linklater process and the International Phonetic Alphabet. She also volunteers her voice acting skills with "Insight for the Blind" - a non-profit organization working with the Library of Congress - recording Talking Books and periodicals for the blind and handicapped.