---
Video Emails May Bring More Voice-Over
Work, With New Cure For Bugs & Viruses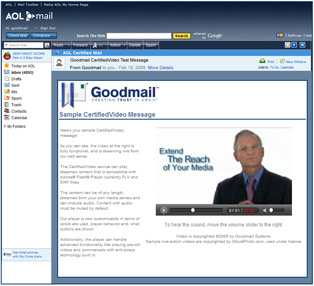 Educational and promotional videos - a prime spot for voice-overs - just got a shot in the arm with the introduction of a product that screens videos for bugs and viruses, which allows videos to be directly embedded in the email message.
Traditionally, email senders provide a link back to a web site for viewing a video. But it's estimated that video views can increase by up to 300% if that extra step is eliminated.
Email bugs and viruses have been the snafu preventing the embedding of videos in emails - until now.
Goodmail Systems, an email security firm, has announced Certified Video (TM), which screens for the bugs and virus, and sends the emails to recipients who have opted to receive the messages.
"Additional mouse clicks and pop-ups are a thing of the past with this next generation email capability," says the company.
However, the technology currently only works with web-based email systems, and is not available to users of software programs such as Microsoft Outlook.
VIDEO VIEWS BOOMING
Bucking a decline in the growth of online advertising, spending by advertisers for online video ads could jump 45% this year, notes an article in the April 2 Wall Street Journal.
"Media companies are scrambling for ways to take advantage of that growth by boosting the advertising they sell on their videos," the article reports.
Another article, by Mark Brownlow, in the March 27 Email Marketing Report, observes that "Video content is obviously a big deal right now. Do email subscribers like clicking through to videos? The answer seems to be yes."
Brownlow says that email videos can be used for a number of projects, including:
product displays, or products "in action"

product or service demonstrations

how-to's and educational purposes

customer reviews and testimonials, and

event footage.
Sources: