---
There will be many voice over roles to cast if creators of this animatic (storyboard preliminary version) of

Eagle Warrior - A Time of Reform

, receive funding for a feature film trilogy. It's the story of Tetoca - "a typical teen" - battling evil traditions in the old and new worlds of the Aztecs and Spanish conquistadors in Mesoamerica (ancient Mexico).
PEOPLE
Eagle Warrior

Hunts For Green Light To Soar From
1519 Mesoamerica To Movie Audiences Worldwide
July 15, 2015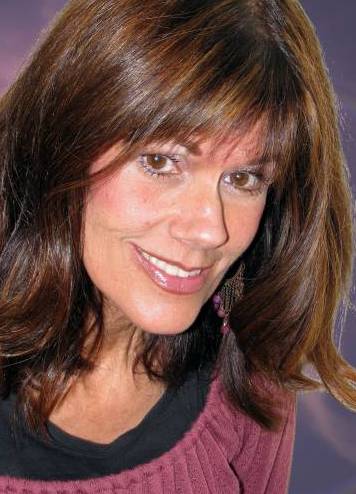 (VOXtra) - "It's time Latinos had an animated film they can connect to and feel empowered by - one that is their heritage and history," says film writer/producer

Jeanne McKinney

(pictured).

And her animatic (above) of

Eagle Warrior - A Time of Reform

, is an enjoyable promise of how she aims to do just that.

Written for ages 8+, the story follows Tetoca - "a typical teen" - living in Mesoamerica (ancient Mexico) in the year 1519, where he is caught in struggles when the worlds of the powerful and controlling Aztecs collide with invading Spanish conquistadors.

Flash forward some 500 years: Tetoca has new hurdles - hunting for investors and a growing creative team to bring a feature film trilogy of the story to a worldwide audience.

Voice actors have a stake in this, too.

"When the film gets funded and green-lighted there will be numerous VO roles to cast," says

James Alburger

, a producer of the animatic, and also its casting director and sound designer.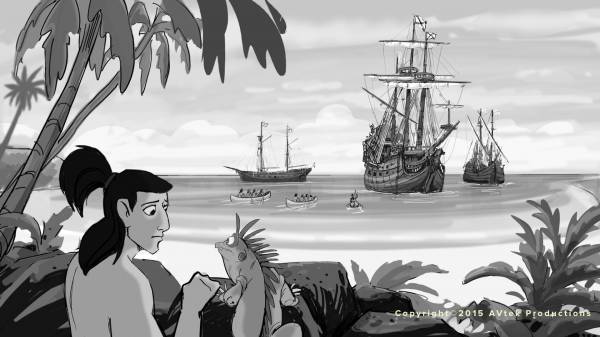 The animatic was produced by Alburger and

Penny Abshire

- co-directors of the VoiceActing Academy - and Jeanne and

David McKinney

, owners of

AVtek Productions

. Both companies are located in San Diego.

Casting was done from voice actors associated with the VoiceActing Academy, and winning the roles from more than 150 auditions were

Sean Crisden

as Tetoca,

Lauren Synger

as Meyah,

Kyle Land

as Coytull,

Nick Shakoour

as Captain Cabrese, and

Paul Garner

as King Zeetal.

STORY FROM THE HEART

McKinney - a multiple award winning screenwriter and journalist - says the Walt Disney film model is her mentor in this venture, and that this story has "a heart" and "lessons to be learned from the past."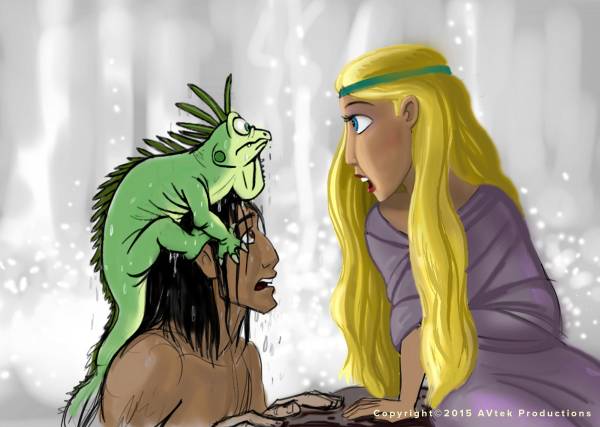 The script puts Tetoca in the middle of the turmoil of that era, coping with "self-esteem, young forbidden love, reaching beyond self to others, and overcoming weaknesses," McKinney explains.

"In his fight, he must honor his ancestors of long ago and their sacrifices, to win freedom."

A recent press release from AVtek Productions describes Tetoca as "An unlikely Mesoamerican teenage hero ... empowered to fight for freedom in a tyrannical kingdom, while invaders seek to conquer his people."

McKinney says she hopes her completed film will "inspire people, that they too can overcome their trials even when the odds say no."

And she adds: "

Eagle Warrior

brings to light the importance of family tradition and culture ... (and) invites people to know more about inhabitants of this critical land, and that there is more than meets the eye and more to be discovered."



INSPIRED BY CURIOSITY



Discovery, in fact, was a key to the birth of this film trilogy.

McKinney was inspired to create

Eagle Warrior

after reading books about the early Mesoamerica tribes, which peaked her curiosity about their ways of life, wars, and what happened to them.

"I've spent over 10 years researching the time frame and the people who lived in Mesoamerica," she says. And then, through film: "I wanted to give the many people who lived back then a voice - an exciting, engaging, and positive ancestral link to modern generations."

An earlier animatic was created in 2006 featuring detailed storyboard scenes by former major studio animation artist

Mark Swan

, and custom music by award-winning composer

Alan Williams

. It featured no voice overs.

Yet not long after, the economy faltered and McKinney put the project on hold

ADD VOICE OVERS!

Then, a connection.


Alburger relates that his business partner Penny Abshire (both pictured) and McKinney were acquainted from church.

"So Jeanne knew a little bit about what we did. And in late 2014, Jeanne gave Penny a copy of the original 2006 animatic," Alburger says.

"Penny and I watched the original animatic and the first thing we both said was, 'This needs voice over!'

"We met with Jeanne to discuss the animatic and her ideas. Jeanne then wrote a script for the animatic and we put out a casting call to our VoiceActing Academy email list. We had more than 150 auditions for only five roles."

Also the animatic's sound designer, Alburger selected music and added and edited narration and sound effects. Dave McKinney edited the video. Their back-and-forth collaboration took about three weeks to complete the new production.

"This is exactly the sort of project I love to do, and it is the sort of collaboration that earned me 11 Emmys when I worked for NBC," Alburger says.

ALSO A POTENTIAL MONEY-MAKER

"From a business standpoint, we plan to make a successful film that will delight audiences throughout the world, making a profit for all who invest," says Jeanne McKinney.

She explains more at the film's website,

www.EagleWarriorTriology.com

:

Animated films make money. They have a very wide audience base with typical MPAA ratings of G or PG which bring entire families to the theater. A timeless story with high entertainment and educational value,

Eagle Warrior - A Time of Reform

has both U.S. and foreign market appeal.

Careful consideration is given to the Hispanic market. According to an article by Molly Soat published in

American Marketing Association

news 2014, "Hispanics make up almost one-fifth of the U.S. population and that number will double by 2050, making Hispanics the fastest-growing demographic in the U.S."

This large national and international audience/consumer base translates to diverse and profitable income streams for the Eagle Warrior film. The sky is the limit for ancillary markets that spin off

Eagle Warrior - A Time of Reform

, the first film of a trilogy.

The producers also seek help now in promoting the animatic and film trilogy.

"You can be part of getting the feature to the big screen simply by 'LIKING' or commenting on the Eagle Warrior Trilogy Facebook page," they say. "Then help us spread the word across social media by inviting everyone you know to visit the Facebook page and/or website.

"We want to bring you an epic animation experience that audiences of all ages won't quickly forget."

To help and learn more:

Web: www.EagleWarriorTrilogy.com


Eagle Warrior Facebook

page (click)


Animatic on YouTube

(click)
McKinney Email: jeanne@EagleWarriorTrilogy.com
Alburger Email: jralburger@voiceacting.com


- John Florian, VoiceOverXtra




Your Daily Resource For Voice-Over Success