---
PEOPLE
'Holiday Magic' CD Cheers Kids In Hospitals;
Your Donation Sends The Smiles Worldwide
November 14, 2017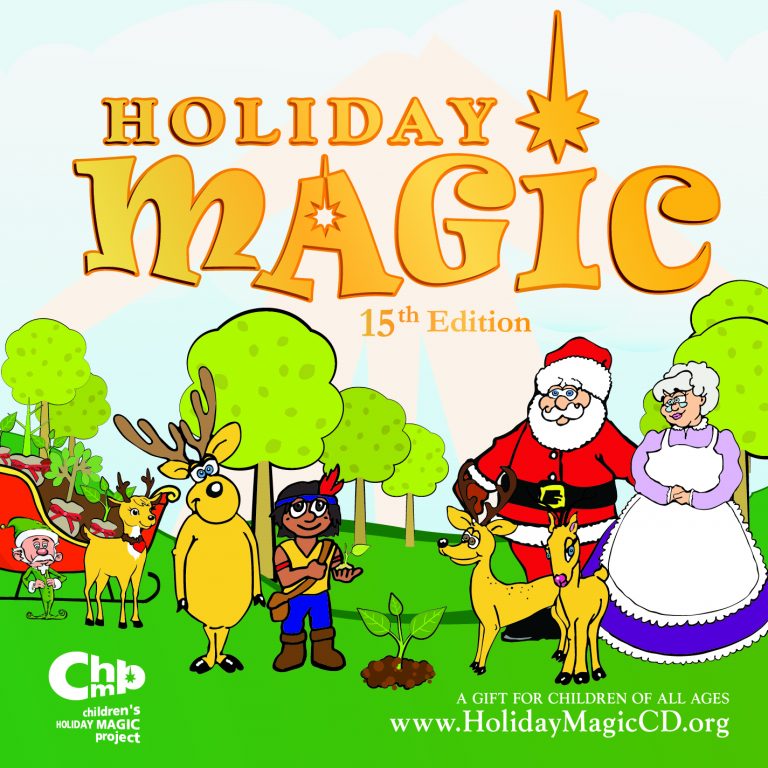 (VOXtra) - Is there anything more rewarding than being the reason a child smiles? Or laughs or sings?

Now picture that child in a hospital during the holidays. In fact, imagine hundreds - even thousands of them - smiling, laughing and singing because of you.

And if you can do that, you get a sense of the joy that voice actors receive every year working and performing with voice actor-producer

Jeff Gelder

on the

Holiday Magic- A Gift for Children of All Ages CD

project he created back in 2003.

Gelder and his volunteer "elves" produce a new program of holiday stories and songs every year, which is distributed free to children's hospitals, featuring an original holiday tale with interwoven songs and stories performed by talents in the voice over and music communities.

This year's goal is to reach 12,000 children in more than 71 hospitals worldwide.

And new for 2017: children will receive gift cards with a special code to download the musical program, rather than a CD.

"We listened to the kids and basically heard that CDs are obsolete!" says Gelder, of San Diego's

GelderHead Productions

.

They'll also be treated to a

Children's Holiday Magic Project

12-page activity and coloring book.



DONATE FOR SMILES ...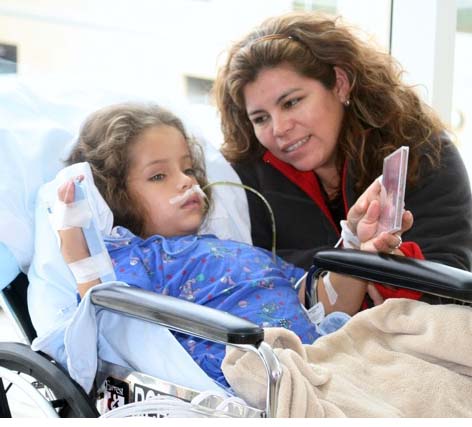 The recordings have been produced and hospitals are being lined up for deliveries - including a number of in-person visits to hospitals in cities including San Diego, Los Angeles and Houston (picture shows an earlier year delivery).

But you can still get in on delivering the smiles by donating to the project here: https://holidaymagiccd.com/donate.

You can also support the project by attending the project's annual

Gala Fundraiser

- an enjoyable evening, on Saturday, December 10 in the San Diego area, featuring a three-course dinner, entertainment, photos with Santa! and holiday shopping at the silent auction.
Click here for Gala details.

And Gelder seeks even more children to brighten.

"If you know of a hospital with children that isn't already receiving our gift of songs and stories, please let us know," he says. "We'll send as many CD gift packs as we have requests for and funds to fulfill."

Send your request to info@holidaymagiccd.com.



THIS YEAR'S CAST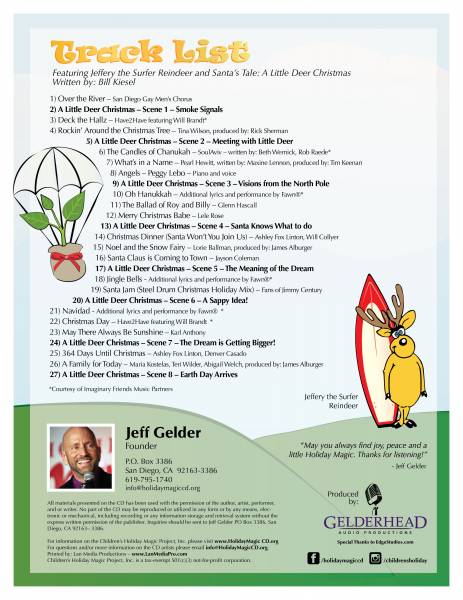 As in past years, the story's main theme has

Jeffery the Surfer Reindeer

linking up with Santa. In this year's cast are:

Jim Alburger

, Narrator

Jeff Gelder,

Jeffery the Surfer Reindeer

Marc Graue

, Thalion, Master Elf

Lisa Biggs

, Little Deer

Phillip Tanzilo

, Santa Claus

Penny Abshire

, Mrs. Claus

Heather Martinez

, Kate the Adventurous Reindeer

Teri Wilder

, Trixie the Jersey Reindeer, and

Greg Dehm

, Carlito, Jeffery's cousin from the Wild Animal Park
Additional voice talent are

Pearl Hewitt

,

Lorie Ballman

,

Glenn Hascall

and

Tina Wilson

, who also sings on the program.



BEHIND-THE-SCENES VOLUNTEERS



Many additional volunteers are involved in this year's project, Gelder reports.

"Edge Studio's

David Goldberg

offers his finest production engineer free of charge to do the final master of the CD," says Gelder. "A huge help!"

In addition,

Jim Alburger

and

Tim Keenan

offered their studios and production time at no charge to talent for project recordings.

Heading the volunteers as the Board of Directors are:

Project President/Founder,

Jeff Gelder

Director of Marketing,

Karl Bimshas

Director of Fundraising,

Bill Kiesel

Treasurer,

Jane Gilpin

Secretary,

Adele Gibson

Hospital Committee Chair,

Bret Gerber

, and
IT Expert,

Dave Fowlie
And volunteers often "wear several hats," Gelder adds.

Volunteers not mentioned above include

Chuck

and

Carol Rock

,

Trent St. Louis

and

Martha Kahn

.

For more about the Holiday Magic CD Project, please visit https://holidaymagiccd.com.

READERS HAVE ALSO ENJOYED THESE

VOICE OVER INDUSTRY ARTICLES

.



Your Daily Resource For Voice-Over Success