---
CD, Song & Dance Make
Holidays
Magical For Kids In Hospitals
December 13, 2011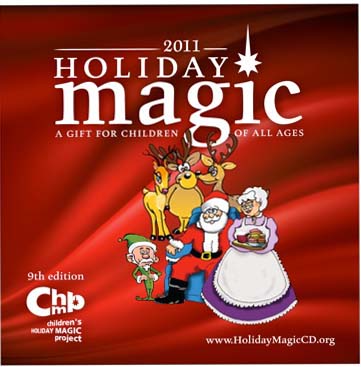 (VOXtra) - Voice actors are brightening the days of children in hospitals in the U.S. and worldwide with the shipping this week of the

2011 Holiday Magic: A Gift For Children Of All Ages

CD, and personal visits to sing and dance for the kids.

For the 9th year, the CD produced by San Diego-based

Jeff Gelder

and

GelderHead Audio Productions

tells the story of Jeffrey the Surfer Reindeer and Santa Claus as they make their way from the North Pole to visit children.

More than 30 talents wrote, voiced and sang segments for the story. And each year, circulation grows - this year with a goal of distributing a minimum of 5,000 CDs.

Last year, 3,000 CDs were distributed to 28 children's hospitals in the U.S. and Singapore.

You can hear the enchanting tale online this month on Sunday nights at 6 p.m. Pacific time, at www.RadioFreeJMT.com.



LIVE EVENTS



This year's CD was officially released recently at an event at the

Ronald McDonald House

in San Diego, where the project's volunteers "cooked a home-made spaghetti dinner for 200, and a few of the CD's talents entertained families living there, as their children were in the hospital across the street," Gelder says.

"It was a gratifying experience for all.

"We had coloring books made of the story's characters, with a blank page for the kids to draw their own character and submit to possibly be included in the next year's story," he adds.



Click here for a video of this event

(and while at the Holiday Magic website, also click on the

Donation

tab for this worthy cause).



MORE TO COME ...



This Thursday, Gelder and crew will also hand-deliver CDs at the Rady Children's Hospital in San Diego, "complete with caroling with some of the patients," Gelder says.

"And I'm excited that voice talent

Pearl Hewitt

will do the same at the Texas Children's Hospital in Houston on Dec. 19," he adds.



MAIN CHARACTERS



Lead characters in this year's story are:

Santa,

Phillip Tanzilo

,
Mrs. Claus,

Penny Abshire

,
Jeffrey the Surfer Reindeer,

Jeff Gelder

,
Carlito the Reindeer,

Greg Dehm

,
Kate the Reindeer,

Heather Martinez

, and
Thalion, Master Elf,

Marc Graue

.
Yet the 27-track CD features many more writers and voice talents (see below), who responded to Gelder's request in September to contribute a song, story, riddle or rhyme.

Congratulations to all who are making this year's CD and live events a magical time for the children and their families.

For more information about the project and to donate, please visit www.HolidayMagicCD.org.



HOLIDAY MAGIC 2011


CD TRACK LIST





1.

Story: Mrs. Claus Hatches a Plan

, Santa, Jeffery, Mrs. Claus



2.

Just About Midnight

-

Brothers Royale

*



3.

CSI North Pole

-

Glenn Hascall





4.

Jingle Bells

-

Judy Fossum





5.

Story: Rudolph Mobilizes the Reindeer

- Santa, Rudolph, Jeffery, Kate, Carlito



6.

Spirit

,

Killian MacGeraghty

- featuring

Jennifer Knight

BMI, Glitter & Glue Publishing



7.

The Legend of Star Children

- written & performed by

Heather Farrar





8.

Iím Farputst for Hanukkah

-

Keaton Simons

*



9.

Croc Christmas

-

Connie Mustang

& the Reel Mustangs



10.

Story: Santa Announces the Plan

- Jeffery, Santa & all the reindeer



11.

The Angel Song

,

Karl Anthony





12.

Pinky and Chickadee

-

Pearl Hewitt

, produced by

Tim Keenan

, Creative Media Recording



13.

Letís Go Home Little Bear

-

Andy Boyns

, written by

Martin Waddell

, produced by

James Alburger

, VoiceActing LLC



14.

Feels Like Christmas

-

William Kiesel

,

Kevin De Bord

, produced by

James Alburger

, VoiceActing LLC



15.

Story: Can You Believe It?

Jeffery, Kate, Carlito



16.

Swingin' Santa

-

Sylvia Aimerito

& AudioGirlProductions.com, written and music performed by

Lori Rae Martin





17.

The Night Before Christmas

- narrated by

Michael Goldberg





18.

Magic in the Air

-

Kate Fuller

,

Peter Sprague

, written by

Rick Lineback





19.

Story: Santa and the Master Elf

- Mrs. Claus, Santa, Master Elf Thalion



20.

I Choose Joy

- written & performed by

Teri Wilder





21.

Greetings from Around the World

,

Deb Munro

,

Elley-Ray Hennessy

& The Calgary Workshop Students



22.

Must Be Santa

-

Scott "ScooterĒ Fortney





23.

Como Tu No Hay Dos

-

Edgar Vargas

, music by

David Lan

, lyrics by

David Lan

and

Carlos de Alba





24.

Story: Santaís Announcement

- Santa, Mrs. Claus, Master Elf Thalion



25.

Merry Christmas to the World -

The Reese Brothers

, written by

Johnny Elkins

&

C.J. Vanston

*



26.

Just Canít Sleep

-

Ashley Fox-Linton

&

Denver Casado





27.

Story: Happy Holidays Everyone!

Santa, Mrs. Claus, Rudolph, Jeffery, Kate, Carlito

*Courtesy of

Imaginary Friends Music Partners





Your Daily Resource For Voice-Over Success