---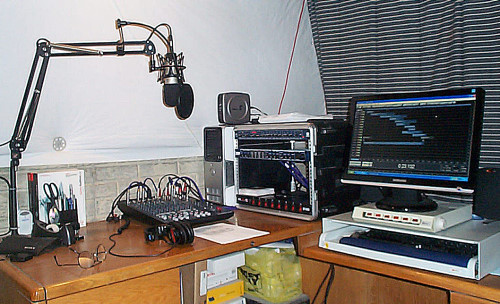 This geek's studio is compact, yet highly effective for voice-overs and production work.
Colin Campbell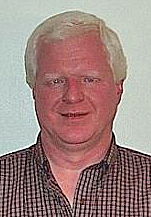 Like many in the voice business, I started in radio. I've spent most of my adult life as a radio production director.
This "unsung hero" of the radio business is expected to produce product, selling radio commercials day in and day out. I've produced up to 20 radio spots a day! Some were spots that I wrote myself. In fact, at one time I was a professional commercial copy writer.

I fell in love with radio at the age of five. I made it my career.
Yet as time went on, I became more and more interested in the creative/sales side of the business.
I am a huge fan of the old radio dramas of the 30's and 40's. That's some true voice acting and production! I own hundreds of tapes of these old shows. The production was live and the sounds were created manually, as in coconut shells on a desk to create the sound of horse hooves.

Fighting my creative side was the technical. A big problem I've had over the years is deciding which part of my brain to give way to - the creative or the technical.

Currently, I am an IT director for a chain of seven radio stations. I've been doing this for some time, but the creative side is begging for attention.

Two years ago I decided to make voice-over my "twilight career" since I have been voicing and producing for broadcast since high school.

It's the best of both worlds! I get to voice, I get to produce, and I get to buy and use nifty audio equipment.

Being technical by nature and a producer for 30 years, I tend toward the geek side.

The microphone you see is a Shure KSM32 large diaphragm condenser. I hope soon to add a Shure SM7 dynamic.

The mixer is one of my more recent purchases, a Yamaha MG124C. This provides mixing effects from the Lexicon, and also a phone patch feed for sessions requiring coaching from the client.

In the equipment rack is my mic processor, a Symetrix 528e and a Lexicon MX200 effects processor for eerie sounds and reverb.

On the computer side is a recent Dell Dimension E521 running all recent flavors of Adobe Audition.

What you see pictured on the computer screen is a multi-track session for a voice artist demo I produced for someone just the other day. I have produced dozens of demos for fellow voice talents. If you go to my web site and click on PRODUCTION you can hear some of them.

What you see on the walls is not glamorous, but is luck for me for deadening the room noise.

I work in my basement. The walls are poured concrete - with a brick texture pattern - and since this is a recently-built home, they put insulation half-way down the basement wall for energy efficiency. That's the white you see in the photo.

To the right I hung an old comforter from the ceiling, to partially block fan noise from the server that I run about 15 feet away.

Behind me is wide open basement. The brick textured concrete and insulation just happen to be bad sound reflectors. Good for me.

As for computer noise: the Dell is extremely quiet, with a temperature controlled fan and damn-near silent hard drive.

I take great pride in my production work along with voice, and plan to build a showcase studio someday soon. Thanks for looking!