---
AI & VOICE OVER

Casting Sites Sign On To NAVA's fAIrVoices

Pledge For Ethical Use of AI In Voice Over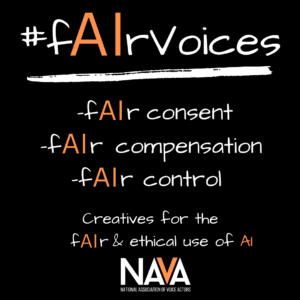 (VOXtra) - Concerned about voicing a project that winds up in the AI world where your voice is cloned, synthesized and slid into future uses without your permission?
A protective shield will help, in the form of the
fAIrVoices
campaign and pledge - created and recently announced by the
National Association of Voice Actors
(
NAVA
).
The CEOs from five major voice over online casting services - along with recording studios, production companies and more - have already signed onto the pledge, promising to
never use a voice actor's audio files for creation and/or training of AI without the voice actor's consent.
To date, casting sites taking the pledge are
Voices(dot)com
,
Voice123
,
bodalgo
,
CastVoices
and
VOPlanet
.
NAVA reports that Voices(dot)com has also changed its Terms of Service to "explicitly state that audio files and audio uploaded to the site will not be used by them for AI/Synthetic Voices/Machine learning."

Note: No one is saying "Don't record AI." Rather, be aware of what you're voicing, and be in control of the product's use.
(See below for the 5-point pledge.)

"There are three main areas of concern for voice actors regarding AI," says NAVA President
Tim Friedlander
:
"Consent - meaning actors should have the right to decide whether or not they want their voice used for any purpose including AI.
"Compensation - meaning actors should be paid fairly for the use of their voice print and the licensing of their voice or likeness. And,
"Control - meaning that once a synthetic voice is made, the actor should be ensured that it stays where it is supposed to, and isn't used beyond the scope of any agreement made between the actor, AI company and end client."
NAVA Vice President
Carin Glfry
adds, "Our voices are our livelihood. If we don't have control over how those voices are used, we can't make a living."
NAVA states that the fAIrVoices campaign calls for:
The ability of the performer/artist to actively consent to use.

Explicit limits on use of the results and proceeds of an AI/Synthetic voice.

Ability to opt out, or term limits for AI/Synthetic voice use and Machine Training.

Appropriate payment for use.

Clearly denoted exclusivity.

Safe storage and tracking of the performer's voice, likeness, performance, and all products created from them.

Clear and explicit terms of service regarding the training, use, and/or distribution of AI and synthetic voices on any website voice actors use or are members of.
Friedlander adds to voice actors: "We hope this helps, but as always, read your contracts and Terms of Service on every job you do."

According to NAVA, companies signing the fAIrVoices pledge agree to:
All users of a company's services should have the right to actively consent to the use of their sound files for the creation, training, and modeling of AI, Machine Learning, and Synthetic voice models.




All users should be fairly compensated, according to a mutually agreed upon rate and rate structure if a company ever wishes to use their voice or sound files for the creation, training, and modeling of AI, Machine Learning, and Synthetic voice models.




To the best of their ability, any company dealing with sound files or data containing the human voice should commit to safe storage and tracking of those files.




All files used for the training and creation of AI/Synthetic voice models should be fairly sourced, with active consent and knowledge of the person the files are sourced from.




Any company which requires the signing of terms of service, will have clearly outlined terms of service which prohibit the unauthorized use of a person's data and sound files for the creation and/or training of AI/Synthetic Voice models and Machine Learning.
For more about the fAIrVoices pledge and how to join it, contact Tim Friedlander at
tim@navavoices.org.
NAVA is a non-profit association created to advocate for and promote the advancement of the voice acting industry through action, education, inclusion and benefits. Its advisory board includes professional voice actors from all areas of the VO industry.

Your Daily Resource For Voice-Over Success