---
ACCREDITATION
SaVoa Founder: Ex-Members 'Tried
To Hijack
SaVoa Board And Failed'
April 23, 2012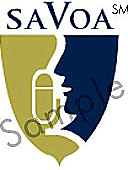 By John Florian


VoiceOverXtra



In the wake of a near total resignation of the

SaVoa

Executive Board last week, SaVoa founder

Ed Gambill

says the ex-members "tried to hijack the board and failed in their attempt.

"Their actions (are being taken) to malign SaVoa," he tells VOXtra. "They are mad at me because I stood up to it."

Nevertheless, Gambill wishes them well as they plan a new non-profit voice over accrediting organization. "I hope now that both groups will go forward happily," he says.

Gambill also announced that a new website is being created -

SaVoaVoices.com

- and that "we are trying to put together a new Board of qualified folks who meet the requirements of the bylaws."



WHAT IT'S ALL ABOUT ...



SaVoa - the

Society of Accredited Voice Over Artists

- was founded in 2007 as an accrediting organization for the voice over community, and to support continuing education for voice over artists.

As VOXtra reported on April 22, all but one member of the SaVoa Executive Board recently quit the organization, stating in an online post that "the existing corporate structure, foundation and framework that is in place is an obstacle preventing growth and the organization's stated goals."

Former president

Rowell Gorman

also complained that "internally, we seemed constantly bogged down, with control of key group resources - like member database, website access, email accounts and such - kept centralized and withheld from anyone else who could actually take on the work."



ED GAMBILL REPLIES ...



Gambill disputes those claims.

He declined a VOXtra offer to contribute a bylined article or comments in writing. But in a phone interview today, which Gambill also recorded, Gambill says, "There's a whole lot of things being said without being forthright and without understanding." And he labels the comments about his leadership as "inappropriate and backstabbing."

Key issues in the dispute were transparency of actions, and the nature of the charter in North Carolina, under which SaVoa was created.

"I don't believe that we ever didn't have transparency," Gambill says. Yet he adds, "There are certain things a board does that does not go into the purview of everyone."



DISPUTES OBSTRUCTION CHARGE



Concerning obstruction of progress, he says "The only obstruction I had was the fact that they (ex-Board members) operated contrary to North Carolina law."

Gambill further claims that Gorman, as president - as well as others - did have access to the membership database, and that "There has been no misappropriation of any funds."

And he's peeved that the former members posted an Open Letter on a Facebook group page that bears the SaVoa logo, for which he has a service mark. Using that forum when they were no longer SaVoa members was "maligning," he says.



NEW ACCREDITATION GROUP



Meanwhile, voice actors who resigned from the SaVoa Board are expressing relief that an exhausting dispute is nearing an end.

"This was perhaps one of the most frustrating experiences of my life," says former Board member

Dan Lenard

.

Adds former Board member

Robert Sciglimpaglia

: "It's been the longest 30 days of my life!"

Yet there is also optimism as they move forward with plans to create a new organization.

"The SaVoa vision was sound, but its implementation was a classic fail," says former Board member

Dave Courvoisier

.

"But rather than look back, I'm surging ahead with several passionate and highly competent ex-officers of that organization to build a fully transparent, member-driven, by-the-book, non-profit VO accrediting agency," he says.

"We're excited to invite people in to help us break new ground."


Your Daily Resource For Voice-Over Success