---
Marketing: Create & Voice Your
Own Projects To Demonstrate Skills
By Karen Commins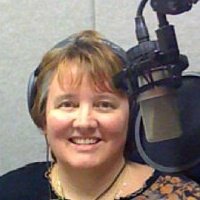 There are marketing advantages for voice talent who develop and cast themselves in their own voice over projects.
For example, as a service project, I'm narrating the audiobook of A Woman Who Went to Alaska on LibriVox.org.
May Kellogg Sullivan wrote the book in 1902 to recount her adventures during the Alaska gold rush at the turn of the 20th century.
Obviously, the audiobook itself is a form of creating my own work. Rather than watching fluff TV shows like American Idol, I choose to spend my spare time this way because:
I am improving my skills, both in long-form narration and audio editing.

I am being of service to others in offering a free audiobook.

I can use the credit in discussions with audio publishers about paying gigs.

The free audiobook will be helpful in developing a loyal fan base.
EVEN A TRAILER ...
Marketing is a HUGE part of any business. It is especially important when the commodity offered by the business is one's voice.
Not only am I creating the audiobook on my own, but I also decided to market it by creating a trailer for it!



MARKETING BENEFITS

Early in my voice over career, I did a lot of direct mail marketing with imprinted products.
While my campaigns were extremely memorable and attracted voice over jobs to me, they also were extremely time-consuming and expensive to produce.
By comparison, here are some immediate marketing benefits of creating the audiobook trailer:
The book is in the public domain, so most of the images had no cost.

I only had to spend a few bucks to obtain the stock images that I used.

The music came from my royalty-free library, which requires no residual payment.

The video is another method of advertising my voice to people who haven't heard of me or listened to my demos.

The trailer demonstrates to clients and prospects that I could assist them beyond voicing their scripts.
VIDEO CULTURE
We live in a culture obsessed by and immersed in video.
Tell the truth -- when you saw the video in this article, did you immediately click on it before reading any of the text?
People say they don't have time to read. Many would watch my trailer who would never read my description of the audiobook.
POST IT
I posted the trailer on Facebook, some LinkedIn groups devoted either to audio publishing or Atlanta businesses, LibriVox, AudiobookCommunity.com, and BarbaraSher.com.
Note that most of these postings are targeted directly to thousands of members in niche markets who may be interested in hiring me for their projects!
I received more responses in a few hours than I ever received from a single mailing. The trailer gave me material to add to my blog, which helps my search engine rankings.
Once the book is done, I will update the trailer from "coming soon" to "available now."
MINING FOR FANS
In addition, the subject matter of an audiobook can point to even more opportunities for marketing it online.
In this case, a flurry of TV shows are about Alaska, so I know the public has a lot of interest in that state.
One show is even about a group of people currently mining for gold in Alaska - a perfect tie-in!
Fans of these shows gather in discussion forums where I can post my trailer. I also can post it in forums for people who are considering an Alaskan cruise.
Aside from all of these reasons, perhaps the biggest reason to create your own stuff is that it is fun!
I hope that these examples of my spare time projects give you inspiration to create and market your own stuff
ABOUT KAREN ...
Karen Commins is a voice actor based in Atlanta specializing in narrations, e-learning modules and audiobooks. With two decades of experience as an information technology professional, she enjoys "rattling off the endless series of initials found in educational scripts written for high-tech audiences." Her website offers demos and photos of her Whisper Room soundproof studio, and she writes A Voice Above The Crowd, an insightful and entertaining blog about working and marketing oneself in the voice-over profession.

Your Daily Resource For Voice-Over Success