---
It's Weird How Some People
Catch
The Voice-Over
Bug ...
By Erik Sheppard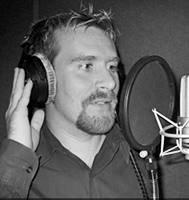 When I get new voice-over students, I make it a point to get a full background on them and find out what made them want to get into the business in the first place.
While I always want to quip something like, "That's great that your hairstyle hides your lobotomy scars so well," or "Did your Mom do a lot of partying when she was pregnant with you?" I usually just ask, "So, what brings you to voice-over?"
Nearly 85% of the men I talk to usually say something along the lines of, "Everyone tells me I have a nice voice."
And most of the women are just getting coaching as an excuse to meet me.
But every once in a while I get a unique or interesting story.
ON THE RAILS
For instance, about two months ago a student told me that he had been interested in voice-over ever since he was a kid and heard the announcements on the monorail at Walt Disney World.
I had forgotten how enamored I had been with that voice myself as a lad, and so we had some fun reminiscing, and it was a pretty neat moment.
Here's the weird part. The other day I was talking to another candidate, and he gives me the exact same story, almost word for word.
My jaw nearly dropped. It was like Groundhog Day except funny.
What an odd way to get a kid interested in VO, no? And two of them in less than two months! Weird.
WHO DID IT?
I decided to look into it and find out about the monorail VO dude.
From Wikipedia:
The monorail system uses a set of pre-recorded spiels to instruct and entertain passengers. Prior to departure when the pilot closes the doors, a spiel asks guests to "Please stand clear of the doors. Por favor manténganse alejado de las puertas."

One of the most known phrases within the resort, it was recorded by Jack Wagner, who was known as "the Voice of Disneyland."

During the system's early years, the trains featured Wagner's narration of the sights and scenery along the way, as well as information on special events, the resort, and the monorail system itself.

[Other actors have since taken over but] today the "stand clear" spiel remains in Wagner's voice. This is at least partially due to the fact that the audio for the doors is generated via a separate system than that for the rest of the narrations.
EARLY HOME STUDIO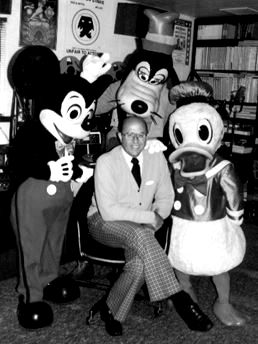 I'm not sure what kind of connection they are talking about (ISDN in the 70s?), but check out the setup, also at the official tribute site. They also tell us:
Most of the recordings were made at his own house where he had a recording studio.

It was put in by Disney in the 70's and connected to a voice-over booth in his home to Studio D at Disneyland in Anaheim.

At this time Jack's home in Southern California was one of the first uses for a direct audio link from a remote recording studio. A big advantage for Disney - whenever an urgent announcement was needed, a quick call was enough, and Jack would already be sitting behind his microphone.
Cool. Actually, I thought the whole story was pretty cool, so I wanted to share it with you.
Back when I had stars in my eyes it was the late, great Don LaFontaine who inspired me, and I am thankful for even the relatively small amount of interaction we had before his unfortunate passing.
So ... how did YOU get the VO bug?
ABOUT ERIK ...
Erik Sheppard is a voice talent, voice-over coach with Edge Studio, and owner of Voice Talent Productions, an online voice-over casting company. With
over 12 years of professional experience, he has voiced thousands of high profile projects worldwide, ranging from corporate presentations to national radio and television campaigns. His many clients include Verizon Wireless, Citibank, HSBC, American Express, Ebay, MTV and TV Land.

Your Daily Resource For Voice-Over Success