---
Voice 2008 Report: Sunday, Aug. 10

VoiceOverXtra's Bloggin' Dream Team is reporting on daily events at Voice 2008 - the voice-over industry's major annual conference, Aug. 7-11, at the Hyatt Regency Century Plaza hotel in Los Angeles. Look for continuous updates at the VoiceOverXtra home page. Team members are voice actors Bob Souer, Kara Edwards, Dave Courvoisier and Bobbin Beam, led by webmaster John Florian.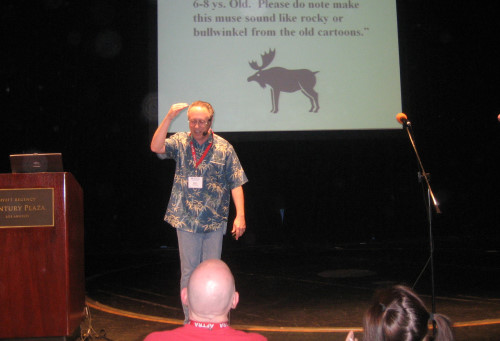 VO coach Marc Cashman draws laughter in an early morning performance of confusing copy directions.
Marc Cashman: Early Morning Laughter With
"The Stupidest Directions You've Ever Seen'
John Florian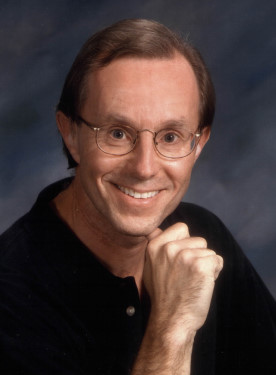 Sunday morning was no sleeper as master VO coach Marc Cashman entertained - think Billy Crystal - with a rendition of "The Stupidest Directions You've Ever Seen." Indeed, they're confusing, to say the least.
"They don't know what they want," Cashman says about many of the gems he's collected. "And if they don't know, how are we to know?"
Ready to scratch your head? Here are some of the copy directions given to voice actors:
Adult male, no accent, 'plane Jane,' with smile. Read it as one thought.

Gentile announcer ... a gentile voice.

Chef. Male ... Should sound handsome.

(to agent): Please don't submit guys who sound fat.

Looking for voice of a Lepricon. Male voiced. Comic-aged.

(must be able to) Answer random questions. Possibly improve.

Trusting and believable ... preferably with an English accident.

We are looking for a style that is a combination of nature series narration and fight announcer.

You're almost there. Just double-throat it next time.

Read it like a rock with water flowing over you, and think sex.
Mispellings in copy are also ... um, funny? For instance:
"Woodfin Funreal Home wants to saloot all the boys & grls in this years speling be."
Oh well. They're good for a laugh. After the gig.
Sunday Panels; Joe Cipriano Is Promo-Licious!
Dick Orkin & Christine Coyle at Banquet Chat
Dave Courvoisier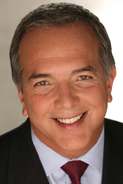 Joe Cipriano rocks! He was the moderator of a panel today that was flat-out awesome. But whoa horsey! I'm way ahead of myself.
Let's back up to the first AM session ....
The entertaining Marc Cashman was the keynote speaker today, and afterwards, a select team of voice coaches performed a live radio play written by Cashman. It was a hoot!!!
After that, breakout sessions began. I tried to get around to all of them, and ended up missing key points of some of the presentations.
Larry Maizlish spoke on what voice seekers look for when dealing with voice-actors and the auditioning process.
Joyce Costellanos addressed the unique niche of promos and trailers, and the differences between them.
Joe Klein spoke on new media paradigms.
And then it wasn't long until we all filled the room for the event's final incredibel panel with Joe Cip. More, with photos ...
Pat Fraley At Radio Summit On Copy;
Back to Voice 2008 - Lotsa Photos
Bob Souer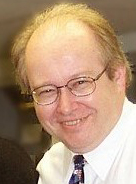 After attending the Nancy Wolfson branding session on Saturday morning at Voice 2008, which included an interesting moment as Nancy used life-sized cardboard images of three blonde celebrities to reinforce one of her branding points,
I returned to the Dan O'Day Summit in time to catch Pat Fraley's excellent session on voice-over and copy interpretation. More, with photos ...