---
VOCAL HEALTH:

Better Not Shout

...

Tellin' You Why:


Holiday Season Can Damage Voice
Note: On Monday, Jan. 9, 2012, the author and voice actor / social media guru
Dave Courvoisier
present
2012 Voice Over Strategies
, a key VoiceOverXtra webinar.
Details here
. She also presents a
Newcomers to VoiceOvers
workshop in Dallas, Jan. 21-22.
Details here
.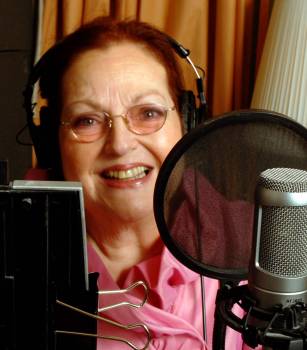 By Bettye Zoller

Voice Talent & Coach

VoicesVoices.com
Once injured, your voice takes on average three to four weeks, often much longer, to regain its health.
Without care after being injured your voice may never return to its original quality and could be totally altered or even silenced forever.
The holiday season is particularly dangerous for your voice, with the noisy crowds, parties, extra talking, and loud music playing while you try to talk over it.
Cold winter air hitting a moist, warm throat can do damage.
Follow these tips to stop the cold from harming your throat:
Wear a warm scarf around your neck.
Cover your mouth with the scarf when outdoors on a harsh icy day.
Breathe through your nose, not your mouth. The nose is lined with hairs to protect your throat and lungs from germs and irritants.
People are also coughing and sneezing with winter colds. Try to stay away from people who obviously have colds or the flu.
So how do you avoid people with illnesses? Be bold!
Say, "I make my living with my voice and please understand I can't sit by you." Protect yourself!
When your voice is injured, complete vocal silence is the only answer to help.
Whispering is highly injurious. Be silent!
This is only one of the many amazing facts you'll learn if you start educating yourself in how your voice works and how to take care of it.
Treating your throat is
not
treating your vocal folds.
The folds are housed inside an organ called the larynx.
OK. It's the "usual."
You're used to telling yourself: "My voice will be OK. I can abuse it now and then without harm."
Not true.
You yell at a sporting event. You shout over loud music with friends. You continue speaking when you're ill.
THE HUMAN VOICE
Many who are reading this article probably don't know much about how the human voice is produced.
In fact, many people
want
to know, because the unknown is scary.
Many tell themselves, "It's too complicated. I'm too busy to learn this information.
You know that you have a voice and can speak. Maybe you know your voice's capabilities when you're "healthy."
Just as many people ignore health situations of many types until it is too late, the same is true of voice problems which only become much worse with neglect.
You've heard stories about people who lost their voice.
Still, at the holidays, you forget warnings while celebrating.
Did you know that injured vocal folds can become ulcerated, can develop nodes or nodules, can bleed, rupture, or even become paralyzed?
As a voice performer, you should know how the human voice is produced and how to take care of it. This is your instrument!
We suggest viewing videos on the subject. And they are easily available on the Internet, at most larger public libraries, and in bookstores. Do your homework.
What are vocal organs? Your vocal folds, called cords by many, are small fleshy appendages located in your voice box, correctly called the larynx.
Vocal folds grow longer at higher pitches and shorter and fatter at lower ones. They stretch like elastic bands.
We actually have
two sets
of vocal folds, but no one knows exactly what the second set does (there are theories).
Find out how the voice is produced by your vocal folds. View a video of someone speaking.
See what the folds look like when injured. Most folds are only as long as the average man's thumbnail, very delicate yet precise organs.
When you make a sound, the folds meet at some point, adducting together and vibrating.
Physicians and researchers have developed tiny cameras and sophisticated viewing instruments to photograph vocal folds in action.
When injured, the folds become rough, red, and resemble a chapped hand. With continued abuse, the vocal folds can develop nodes or nodules.
These growths on the folds resemble corns on a toe.
First, growths on the vocal folds are called nodules and are soft.
Later, nodules can harden. These are called nodes.
Nodes are more serious than nodules.
Surgery usually is required to remove nodes.
Sometimes, in the "nodule stage," a vocal therapist may be consulted to treat the nodules, sometimes avoiding surgery.
When you hear a change of any kind in your voice, you should immediately consult an otolaryngologist also called an ear nose throat physician.

Take care of your voice, your instrument. Don't abuse it.
Be kind to your voice and it will serve you well throughout your lifetime. Be particularly careful during the December holidays.
But truly, a voice performer needs to be cautious all year round.
And here's wishing you all a fantastic 2012.
Note: Our
VoiceOverXtra
webinar on April 2, 2012 focuses on
Vocal Health
, featuring a noted otolaryngologist and live Q&A for your questions. Details to come.
ABOUT BETTYE ...

Bettye Zoller is one of the nation's best-known voice, speech, acting, and voice over coaches, and is a winner of ADDY, Clio, Golden Radio and Audie Awards. She holds advanced degrees from three universities, has served on university faculties for 30 years, and presents voice over workshops and seminar worldwide, including in hometown Dallas, and monthly webinars for
VoiceOverXtra
. She is also a professional audio engineer and producer, and a Simon & Schuster audiobook author and reader. Her VoicesVoices recording studio and voice over training facility is in Dallas. She will also present

Acting Is Reacting - Coaching On Multiple Voice Scripts

, at the
VOICE 2012
conference.
Email:
btzol@aol.com
Web:
www.voicesvoices.com

Your Daily Resource For Voice-Over Success