---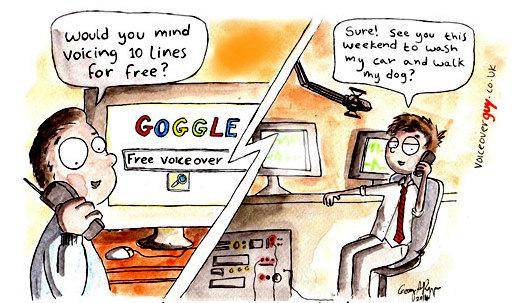 HUMOR
Start Your Week With These VO Laughs,
From Voice Actor-Cartoon Wit Guy Harris
August 17, 2015
(VOXtra) - UK-based voice actor

Guy Harris

is indeed a highly creative and prolific talent - and not just in voice overs. A

VoiceOverXtra

subscriber, Guy earlier this year contributed an instructive and popular article on voice over client retention.

And in getting to know him further, we discovered that Guy also applies his wit to creating cartoons about his experiences in VO - in scenarios to which we can easily relate with a laugh. So we asked Guy to share some cartoon panels with us, along with behind-the-scene notes about them ...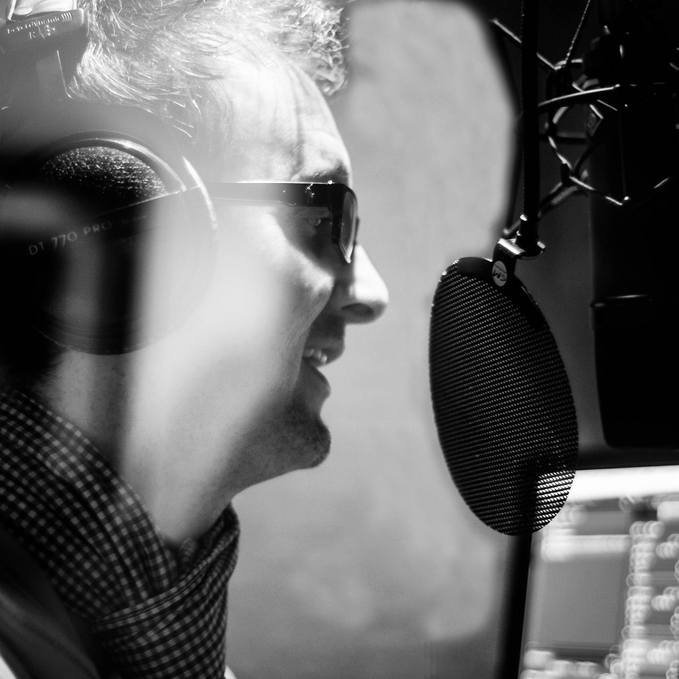 By Guy Harris


Voice Actor



Why create voice over cartoons? I am one of those people with a million ideas and little time to do them. I'm working on 3 other projects outside of voice overs during 2015. It's quite a fun year.

For years and years though, I've had a bunch of ideas in my head to do some cartoons based on aspects of our industry. So, I started to write them all down, storyboard them and then find the artist able to capture what I was thinking.



On a daily basis we have to perform
miracles with scripts ...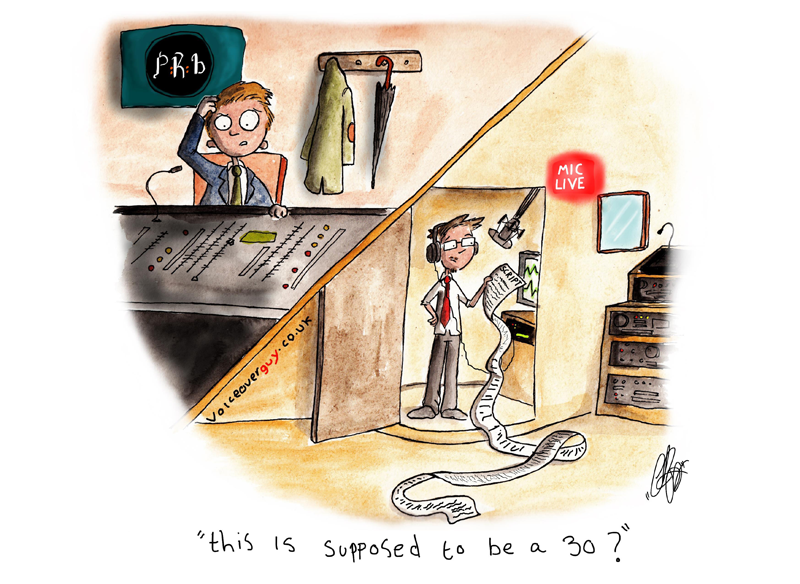 I got in contact with an artist in Germany,

George Raggett

. I'd seen his work and loved it. My briefs for each cartoon were pretty well detailed including clip art of things I wanted to try and include in each piece. The studio shots are a mock up of my own.



When a voice actor becomes a parent,
they see an extra mouth

to make some money ...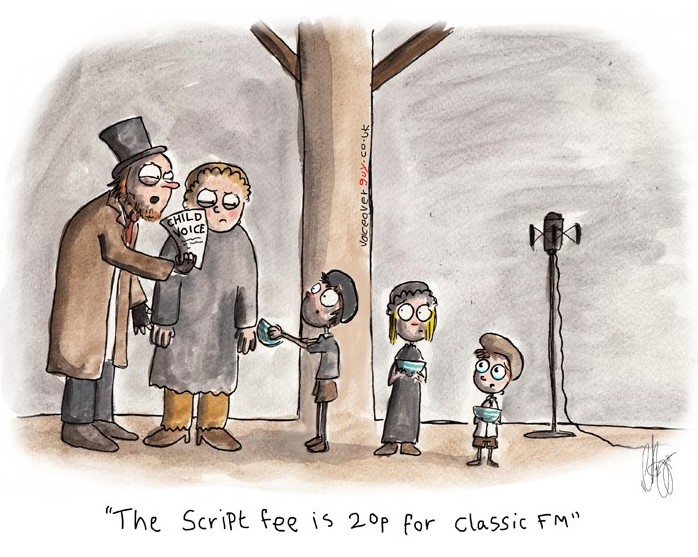 George seemed to get my humour. I explain in each cartoon what my thought process is and, as in this one above, why it was parents would see an extra income from their kids in this industry. On top of that, I'm sure the child was never paid the £600+ for the advert they voiced on Classic FM.



You need me to sound like Darth Vader, you say?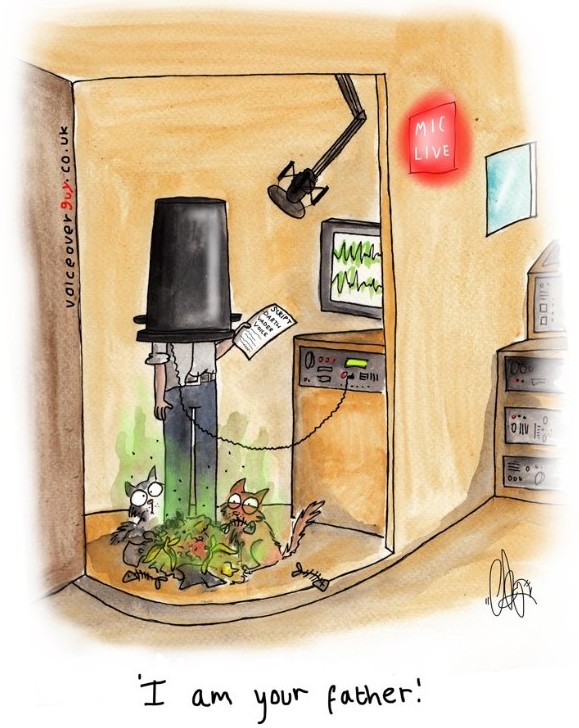 The ideas are mostly based on my own experiences and those I have read about in forums from other voices. The one above is pretty cool. I have a client that uses me for a sound like Darth Vader's voice, and I literally will go fetch the waste paper bin from our bedroom and put it over my head to help with the effect.



We've booked him for the hour,

we should get the most out of him ...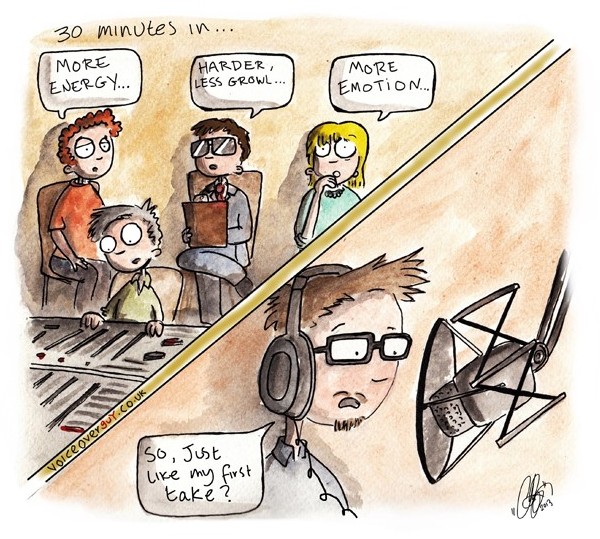 Agency sessions can be interesting. I remember doing one TV advert a few years ago and I counted 11 people in the session. I had 7 words to voice. Each one put in their own ideas, I'm guessing to justify why they needed to also leave the office on this beautiful hot day in London. The take that made it to air was the very first one I did.



Juggling being a parent with being a voice over

can be stressful and a challenge acoustically ...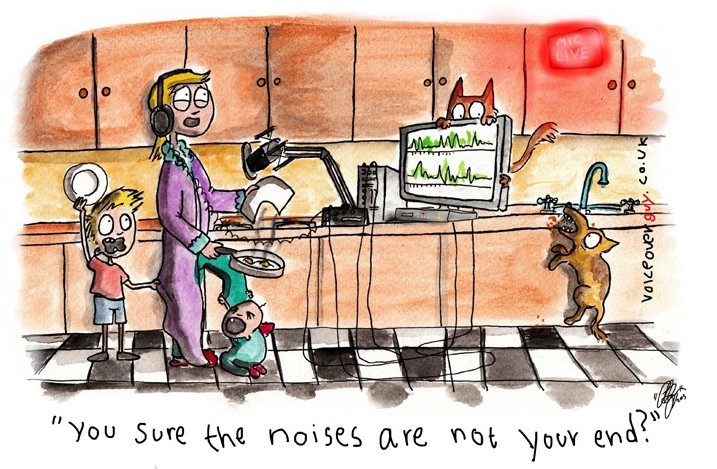 The career of a voice over is a fun one. You never know what jobs are going to come in. You don't know what time a job will come in, and also when a job comes in, will it be the big job that clears the mortgage that month?



Each year I get a call from Santa ...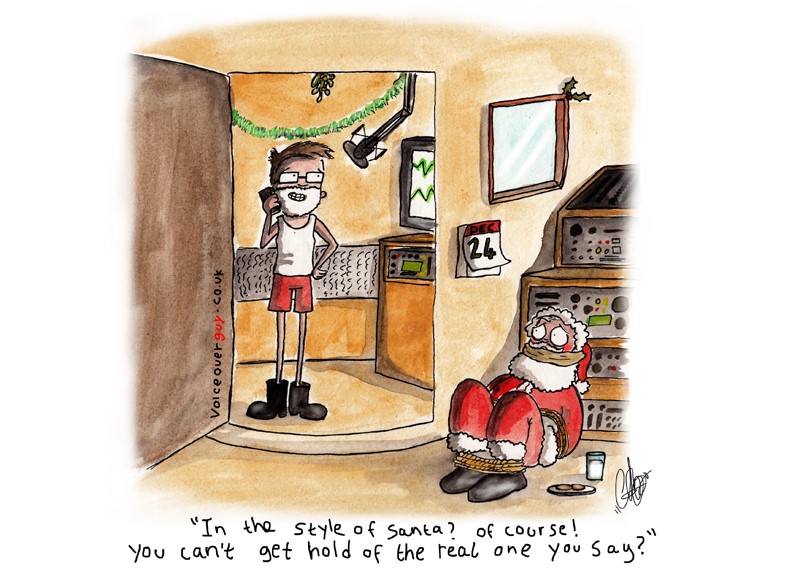 Santa asks me to fill the gaps in his schedule. And I'm proud to take on the role of Santa for

BBC Radio 1

&

1Xtra

,

FREE Radio

and stacks of other productions every Christmas.

I'd love to have the talent and be able to tell you that I'd drawn all of these but I have to say, working with George over the last year and a half I think we are on the same wavelength and it's a pleasure to work with him.



Who cares where the voice is coming from?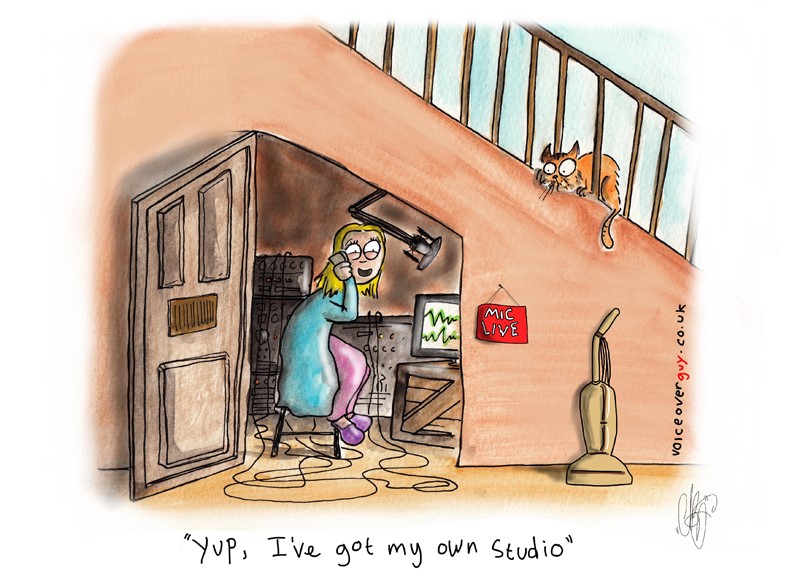 Have you got a studio? YES!

I've seen these cartoons appear in various places now. They have filtered through onto Google Images. It is however nice to be credited when they are used.



Ok, so I was taking things literally...





















I love the phrase 'off mic'. Am I? By how much? 3 inches? 6 feet? a mile? I've produced several in the collection like this.



This is the one! The big gig!
National TV, Cinema and Radio! Fantastic!
What???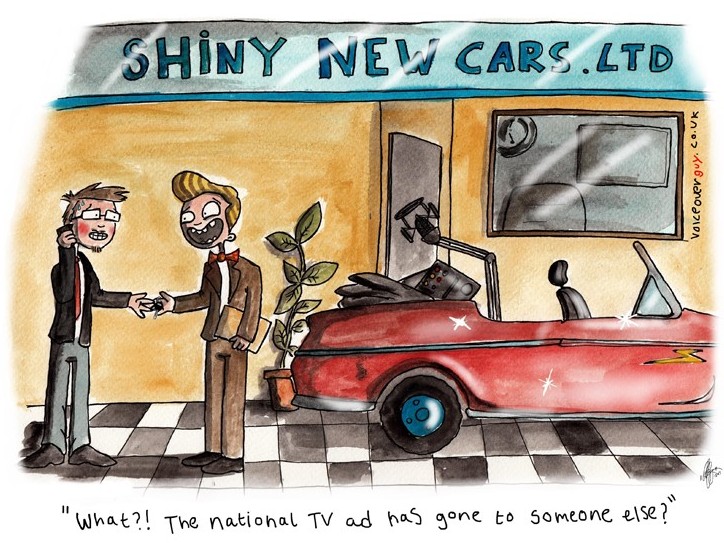 There is nothing more disheartening when all the signs are pointing to you being the MVO1 in this campaign. The airtime is booked. You've done many auditions, there was all those emails discussing the fee... Then... The 'known' celebrity got booked for it.


Is there a price structure in voice overs?

Why did one voice quote differently than the other?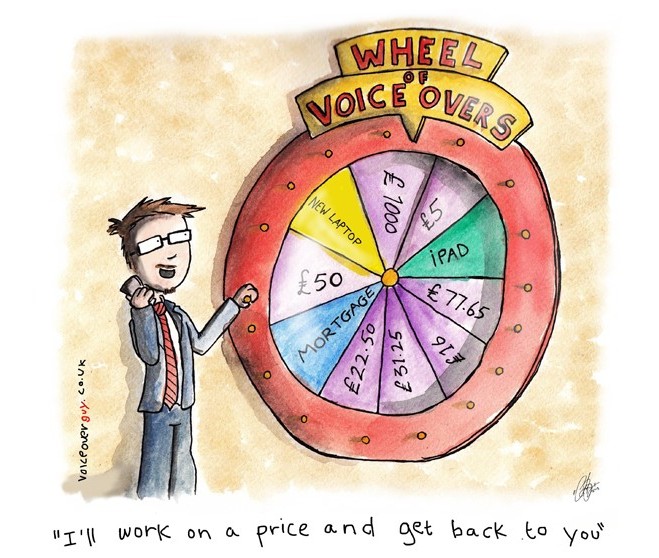 This was one of the first cartoons I thought of.

I had quoted a fair price for a job and the client wrote back telling me it was 12 times more than the dude on FIVERR. Well, you pay peanuts ... and the rest, as they say, is history.

Thank you for reading!



Note: Want to see more of Guy's cartoons? Check the link below ...


-------------------


ABOUT GUY


UK-based voice actor Guy Harris is heard worldwide on TV, radio, web videos, apps and virals, and was the UK's 2014

VOX Awards

winner for

Best Male Voice Over Performance

. Booking and voicing up to 20+ jobs a day, his client base spans the globe.

Email: guy@voiceoverguy.co.uk
Web: www.voiceoverguy.co.uk


See all cartoons!

www.voiceoverguy.co.uk/voiceover-cartoons-2/



Your Daily Resource For Voice-Over Success