---
HOME STUDIO TOUR
Beau Weaver's Brand New Home Studio:
Cool Fun And L.A. 'Big Room' Liveness
October 1, 2014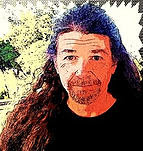 (VOXtra) - In the competitive star-studded Los Angeles area, A-list voice talent

Beau Weaver

has been voicing from his home studio since the early 1980s, pioneering the home studio work that is now the industry's norm.

His focus today is ideal for home studio recording: movie trailers, TV promos, imaging, documentary and program narration (Discovery, NatGeo, Animal Planet), and commercials.

Yet he's also voiced lead roles in animation - which are recorded with full casts in "big room" L.A. studios - including Ruby-Spears/Hana-Barbera's

Superman

and Marvel's

The Fantastic Four

.

"I have built many home studio spaces over the years," Weaver says, and his brand new studio - designed and built by

Thomas Hilton

- combines the comforts of home - "fun to work in" - with the natural yet also lively sound of the big-room studios.

The layout is an airy recording space separated from the engineering desk.

"There are many ways to do it," Weaver explains, "but this suits my way of working." And Beau graciously invites us to see what he means in this selfie video tour ...



Thanks, Beau! For more about Beau Weaver, visit his website at www.spokenword.com.

BONUS VIDEO ...

You'll also enjoy seeing Beau and three other top VO performers -

Bill Ratner

,

Melissa Disney

and

Ben Patrick Johnson

- in

Unseen

, a short documentary "about the arcane world of voice over" from

Molly Mahar

...





Your Daily Resource For Voice-Over Success