How To Ace the Audition #1
Exclusive interviews with voice over pros for

VoiceOverXtra.com
subscribers
'Present Yourself Professionally'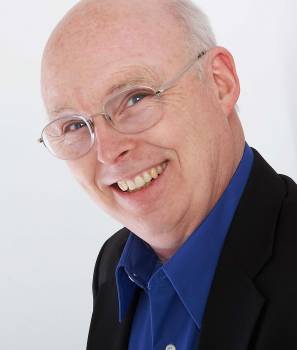 James Alburger
Voice Talent, Author, Coach & Producer
James Alburger literally wrote the book on voice overs.
His The Art of Voice Acting text book is considered one of the best in the field. Also credit him with 11 Emmy Awards over more than 25 years as a voice talent, engineer, producer and director, based in the Los Angeles and San Diego areas.
Today, he offers a range of voice over services, including workshops and seminars. For many years, he was also also co-executive producer of the annual

VOICE

conferences - the industry's largest gathering of voice talent.

So from Alburger's multi-level perspective, what's the key to winning auditions?
"Present yourself professionally," he says. "You're the professional performer. The actor. A part of the team."
First, a professional establishes a "conversational rapport" with the casting director or producer/director.
"Casting people are really on your side," says Alburger. "They'd love to see you get the gig. So if you ask questions about the script, they'll help you. For instance, maybe you aren't sure how a certain word is pronounced, or you're not clear on the concept or the flow of the story."
Conversely, a professional does not "go into an audition thinking that you are God's creation to voice-over," Alburger warns.
"Leave the ego and inhibitions outside. Come in ready to work, ready to perform, ready to look at the script and do your best job. It's all about what you can do with the words to convey the message effectively."
REALITY OF THE WORD


Online auditions carry the additional challenge of self-direction. You can't ask questions. But as with in-person auditions, the goal is to know the script's "big picture."
"Look for the character" in the script, says Alburger. "Who are you? Who are you talking to and responding to? And what's your objective? Knowing those core elements is key."
Then give the words life. "The dynamics of the performance – facial expressions and body language – reveal what happens when the words are spoken in real conversation."
Putting all those elements together "creates reality for the word."

And unleash your own unique reality! "Ninety-eight percent of the people auditioning will interpret copy basically the same. It's their gut instinct. And that's fine. But think how you could do it differently.
"The professional will look at the script and say, 'Hmm, maybe I can change the nuance here, or the subtext of this part a little bit. Or maybe I'll respond a bit differently than what's expected. The way you think about how the words are applied is what makes the difference in a performance."
In the end, consider the audition a learning experience. Don't "kick yourself" afterward when you leave and "immediately come up with another 25 ways to have done it better.
"If you get the call, great," says Alburger. "But if you don't, consider it just another audition where you've learned something."
To contact James Alburger:

Your Online Resource for Voice-Over Success