---
Scam Alert: Oops, We Sent You
An Overpayment. Please Refund ...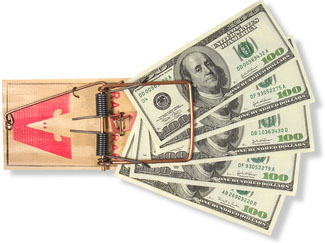 By John Florian
Note: This article is triggering response about additional scams - with names and schemes - to beware of. See the COMMENTS at the end of this article for all ...
How many times have you won the Nigerian Lottery?
Or have you received a voice-over job offer from Charles Thamesmead or David Connor?
Those names are among what is perhaps a list of alias in an alleged scam making the voice over rounds now.
This scheme has a familiar hook at the end:
Oops ... We sent you an overpayment for your services. Please send refund in the amount of ...
Naturally, the original check is bogus, and the crooks will pocket whatever refund you send.
FOR ENERGY DRINK
One version began innocently as a request for auditions on Voices.com, the online VO marketplace, on May 10, 2010, for a 30-sec voice over for an energy drink, paying $300 to $500.
The names that have surfaced to beware of in this scenario are:
Charles Thamesmead (c.thamesmead@yahoo.com), who is seeking auditions/demos for this job, as a consultant for ...
The Tanner Group (www.tannergroup.comuv.com), a self-described "Invest Group" based in Dubai, with invoices to be sent to ...
David Connor (d.connor67@yahoo.com), who is based in the UK, and ...
Jamal Arola, who is apparently the VO decision person at the ...
High-Breed, or Hybrid Energy Drink manufacturer.
CHECK WAS RUBBER
"I'm informing you of a SCAM that I was almost caught up in," Rich Brennan warned members of the Yahoo Voiceovers forum on July 20.
"I quoted this person (Charles Thamesmead) for a job on Voices.com (Hybrid Energy Drink) and stipulated that he was to provide 50% of my quote before production begins.
"A week later I received a check for more than DOUBLE of what I quoted in the first place.
"After questioning this, he told me that the client paid me the ENTIRE amount (my fee plus Charles's fee or commission), and that I was to submit the balance ($2,700) to Charles in the U.K.
"I contacted the bank - in this case, a credit union - that the check was written from, whereby they informed me that it's FRAUDULENT."
CASHMAN'S CORRESPONDENCE
Marc Cashman also saw the May 10 audition notice, responded, and received an apparent indication that he was being recommended to Mr. Arola for the job.
Cashman sent the potential client a letter of agreement.
"I never got the signed document back, never received a check, nor any follow-up, so I figured the project had fallen through," Cashman wrote in an advisory email to voice over friends.
"But I've discovered that this person contacted at least two colleagues, and there are more than likely additional voice actors caught up in this. Hopefully, they weren't taken in."
CONNOR: 'VERY BUSY'
In his dealings with the company, Cashman was advised to send an invoice to Connor (see that list of characters above), who wrote back:
"Marc Cashman, this is to inform you that you will be receiving payment in a matter days, kindly update me ASAP when you do and if there are any other questions, do not hesitate to contact me.

"NB: I will be going for training courses from the 19th to 27th and may be very busy, but will try to be available as much as i (sic) can. David."
WORD SPREADS
"The voice over community is a very tight-knit one," Cashman notes, "with members communicating throughout the world.
"Scams like this make me wonder even whether this company and website is fraudulent!"
As a test, Cashman sent an email to the Tanner Group, advising them about his experience with Charles Thamesmead. No reply. No surprise.
'SLIGHTLY FUNNY'
The original job posting for the energy drink spot on Voices.com noted:
"Delivery should be slightly funny, at times a little fizzy, restrained comedic, and somewhat low-key.

"Note - there is almost no action in the video, so the voice needs to be quiet and narrative and instructive, the voice over should be a little hushed tone."
For some time, Cashman has been compiling crazy, confusing directions that voice talent receive. The above would be a good candidate for that collection - if the circumstance was not so serious.

Your Daily Resource For Voice-Over Success