---
MARKETING
Kelley Buttrick Parks Her Voice Over Jeep
Campaign ... After Driving Profit To 40% Gain
February 14, 2017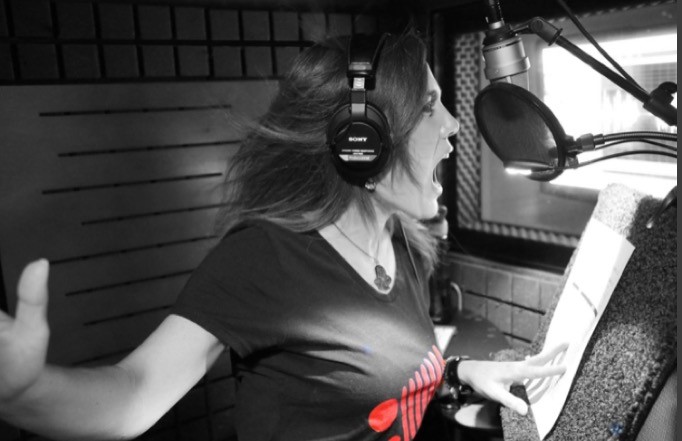 Like the Jeep Wrangler she drives,

Kelley Buttrick

blazed a trail, crawled over obstacles, pushed the limits of her own capabilities…and says she had a blast doing it through KB4Jeep, an off-road VO marketing adventure. The adventure's start is detailed in an earlier VoiceOverXtra article,

Is Kelley Crazy ...?



Today, she pops the hood revealing the inner workings, malfunctions and fuel-injection behind the engine driving her never-been-done-before campaign.



By Kelley Buttrick




Voice Actor



A year ago, I launched

#KB4Jeep

, a multi-platform campaign pitching my voice directly to Jeep and their creative agencies - all in the public eye.

But this wild ride actually started in 2015 before Jeep's own

#MyJeepStory

campaign was even a thing. On July 7, 2015 my first email video, "Hello Jeep Meet Kelley. Kelley...Well She Already Knows Jeep," hit the inboxes of about 50 Jeep brand and Fiat Chrysler Automobiles (FCA) marketing executives.

Just for comparison, my most recent KB4Jeep email hit almost 250 inboxes.

GO PUBLIC - OR NOT?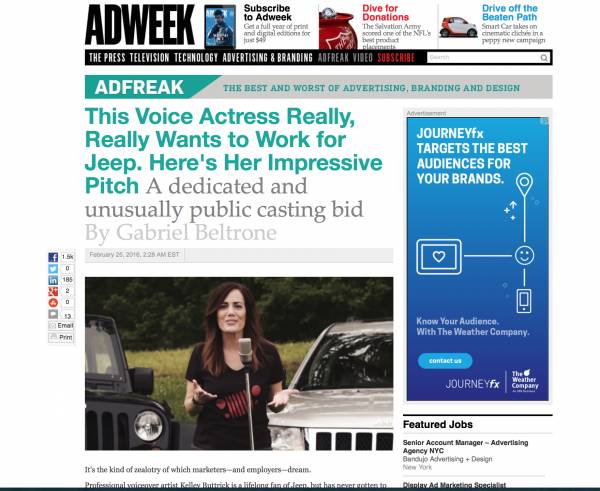 When Jeep launched their

#MyJeepStory

social media campaign, it opened the door for me to take my own Jeep story public.

Since then, I have:

Produced more than 35 original videos

Created a Jeep-inspired blog

Shared the Jeep stories of others

Brought attention to local and national charities

Presented topics through a Jeep-inspired lens

Proved that women are driving up SUV sales and are a valuable target market for Jeep
Of course, all of this positively promotes the Jeep brand. In fact, I have more than 20% of their

#MyJeepStory

voice on

Twitter

.



WHAT WAS JEEP'S RESPONSE?



All that said, Jeep has been relatively quiet.

While I've heard directly from

Jeep's Head of Advertising

, Kim Adams House, that they appreciate my campaign and will reach out if there's a fit (recommending I wait for that possibility), not one of my stories or the stories of other Jeepers I've shared is on the brand's

My Jeep Story

website, despite my having more than 20% of their Twitter voice.

So admittedly, that's been pretty disheartening.

However, their creative agencies and key players reached out via social media, both publicly and in private messages as well as with email - one going so far as to ask for my agent's contact information, and another publicly saying they thought I had a great voice.

At least I'm on their radar, right? I still hold out hope that Jeep will book my voice one day.



ACCIDENTAL INSPIRATION



What's kept me going through the disheartening moments has been hundreds of emails, texts, cards and social media posts of family, friends, colleagues - and even strangers - encouraging my efforts and sharing how my campaign has inspired them to get out of their comfort zone and go after a dream.

It was never my intent for the campaign be an inspiration to anyone, but hearing from people that it was, lifted my heart and kept my spirits high.

DID IT WORK?

So did this campaign work?

Getting my voice in front of other creatives who could hire me had always been the #2 goal of the KB4Jeep campaign.

And the media value of the

#KB4Jeep

coverage in publications like

AdWeek

,

PRDaily

and

ProductionHub

- worth more than $65,000 - and received more than 947,000 impressions. All that coverage was free.

Plus, my SEO skyrocketed - and my profit last year increased more than 40%.

So, yeah, I'd call that a win.



PARKING THE CAMPAIGN



As I pull my campaign into the garage, I will do so knowing I gave this effort my absolute all, and that I had a blast doing it.

To learn more about the campaign, you can still see the videos, read the media coverage and get the backstory at

KB4Jeep.com

.
---------------------------------------------------------------------------------------------------------------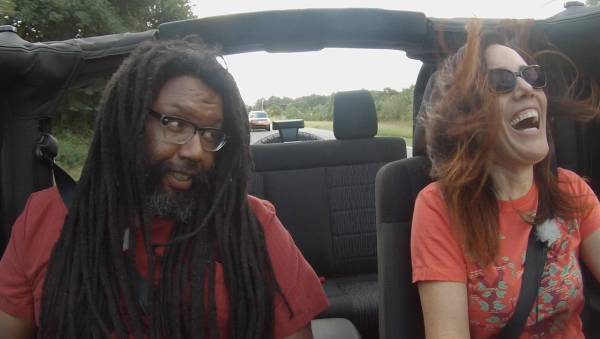 ABOUT KELLEY
Kelley Buttrick is a versatile voice talent known for matching her voice to the message for clients like Country Crock, IBM, Sport Clips, Nature Valley, Pampers, Coca-Cola and many more. She created KB4Jeep, a trailblazing VO marketing campaign pitching her voice directly to a major brand. When not behind the mic, she can be found kayaking, traveling with her family or on the computer planning her next out-of-the-box VO marketing effort.


Web: www.kbvoiceovers.com
Jeep Campaign:
www.KB4Jeep.com
SEE MORE HELPFUL

VOICE OVER MARKETING ARTICLES

HERE


Your Daily Resource For Voice-Over Success