---
Home Studio Tour:
Compact, Inexpensive, Efficient:
Walk-In Closet Is Perfect VO Studio
By Robin Rowan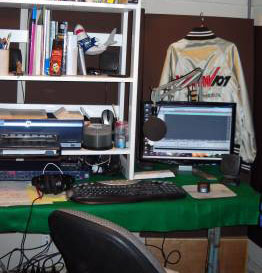 I have LOVED seeing everyone's studio setups on VoiceOverXtra! Most are pretty fancy; mine is not, but it gets the job done.
I have a 4' x 8' walk-in closet off my master bedroom that I use as my studio.
Since one wall is an outside wall, I've left all of the clothes hanging on that side - a great sound buffer!
For the rest of the walls and ceiling, I purchased six 2' x 4' acoustic panels from GIK Acoustics that are hung like pictures on the walls.
Hooks and eyes fasten the ceiling panels.
EQUIPMENT TABLE
I found a 4' second-hand table for my equipment that I covered with felt.
A friend gave me his old adjustable mic arm, which I attached by drilling a hole through the table.
THE SET-UP
I purchased a flat-screen monitor to save space, but the rest of the equipment is pretty standard:
An Electro-Voice RE27 N/D microphone (beautiful sound) with a Studio Projects metal pop filter,
Adobe Audition 2.0 and a Symetrix 528E processor.
My computer tower sits just outside the closet, so I had to purchase a few cable extensions, but it is well worth it to not have the fan noise.
The door is a pull-from-the-middle louvered closet door, and I've attached pieces of foam core on the inside of the louvers to block any noise coming through.
Compact, efficient, inexpensive.
ABOUT ROBIN ...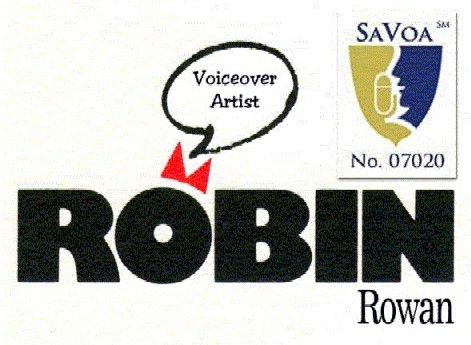 Robin Rowan is a 30-year voice over veteran based in Florida, and represented by Benz Model & Talent Agency, Tampa, FL. A member of the Society of Accredited Voice Over Artists, she has has a long client list including audiobook narrations for Harper Audio and Audible, and projects for CitiMortgage, the National Museum of Naval Aviation IMAX Theatre, the Tourist Network and more. Her voice is described as "smooth, warm and sophisticated - the perfect 'mom', documentary narrator and audiobook storyteller."

Your Daily Resource For Voice-Over Success