---
Voice Over Pay And Training ...
Changing Times or Shifting Times?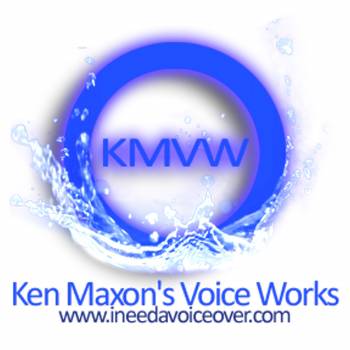 By Ken Maxon
Times are changing. No one can argue that.
More and more people are entering the VO biz on a daily basis, and some are taking the lower paying jobs.
Does it hurt the business? It's a good question without a clear answer.
The truth is, those jobs have always been there. They just weren't being posted on the Internet for all to see years ago.
OLD RADIO DAYS
I remember years ago - not that long ago in truth, it was only about 2002 - while working at a radio station that the lady who owned the station raved about doing a phone tree job for $75.
She was happy as a clam and it wasn't the first company she had done it for in the area.
The truth is, she needed the money to keep the station on the air and food on the table.
It was a small town. She had an AM/FM combo, the AM was a classic country format that got about $10 per spot, the FM was a modern rock station that couldn't get advertisers to save it's soul in that community.
The listeners loved the format, the advertisers hated that "devil music."
STILL IN BUSINESS
The station is owned by someone else who moved the studio to a neighboring town (not the transmitter or city of license that I'm aware of), and after a few format changes and the luck of a competing station changing formats, they have finally returned to rock format and are at least holding their own.
Yes, I got off track a bit, but I had to finish the side story.
The point I'm making is that many of the jobs were just farmed out locally to radio personalities.
YESTERDAY AND TODAY
The "announcer style" of the 70's was gone a long time ago. Back then, they were able to do these small jobs and add a few dollars to a low paycheck and survive.
Today, announcers are real people talking about their life experiences on the air.
And
home studios have surpassed the quality of many small market radio production studios in terms of background noise, and in some cases, even equipment in general.
Enter the Internet, and now these jobs have more options for voices.
MAKING IT TODAY
As is always said in any field, it's not what you know, but who you know.
If you aren't working at all, you don't know anyone. There are two ways to overcome this, perhaps more, but two main ones.
One is to spend thousands of dollars on training on location.
Let's face it, the economy is down. Many people, even those who are working, don't have any spare cash laying around that they can invest that way.
They don't know which classes and which people can actually teach them the skills needed and help them build the contacts.
It takes time and research to see who really knows.
DOING WHAT'S POSSIBLE
So what do they do in the interim? They take door number two.
They take the skills they have, get whatever training they can afford, and take the jobs they can.
It allows them first to make some money to pay for the essentials they had to purchase to get started, and put away a few dollars to start getting that coveted training.
HASN'T REALLY CHANGED
Again, the business hasn't really changed over the years.
I doubt anyone can say they knew it all before they took their first VO job.
The difference is perceived in the minds of some people, though.
Perhaps they've forgotten what it was like back then when they were struggling to get a client base. Perhaps they just got jaded over the years as the Internet got involved and now it's "perceived" to be easier to get into the biz.
IT'S NOT EASIER
But it's not easier to get in.
Perhaps it's easier to get a few jobs, but these people are still putting in their dues, they are just paying their dues differently.
They are building their credentials on a smaller scale and earning a few dollars here and there instead of spending countless hours standing in line waiting to to do an audition.
They'll audition from home instead of driving hours a day to get from one place to another, or moving to LA, Chicago or NYC.
UNDERSTAND THE FRUSTRATION
I can see where it's frustrating to some who have been around for years and had to take that route, living in a small apartment and struggling to get by working a job they didn't like that paid peanuts while they built a contact list and developed their craft.
The trouble is, the new crop does the same thing.
They work a job they don't like, get paid peanuts, make time in their already hectic schedule to get training and do audition after audition.
They just have the luxury of being able to have their home "comfort zone."
It's the only thing that has really changed.
SEE SIMILARITIES
I'm sure many people took lower-paying below-scale jobs as they were coming up the ranks, whether they admit it publicly or not.
I see no real change in what's happening today, but more of a perceived change.
The newcomers have
worked their way up through the ranks of the business world. And now they have a preconceived notion based on their experience that they get paid low when they start, and work their way up to the better paying jobs, without the benefit of union scale protecting them.
In many cases, the starting pay they are getting in this business is better than what they make during the day.
UNDERSTAND IT
Calling them names and intimidating them seems to me to be the wrong way to handle it.
Rather, it shows a lack of professionalism and tarnishes the bully's name more than it does the person on the receiving end.
The new guys are only doing what was done for years under the radar where it wasn't noticed.
Now it's out in the open and easier to track, that's all.
They will charge more as they go, just like everyone who came before them.
So the question is: are times really changing, or are we just perceiving them to be changing?
ABOUT KEN ...
Ken Maxon has been a professional broadcaster, newscaster, production director and operations manager and voice over artist since 1988, hosted an 80's retro show, a morning talk show, and afternoon drive classic country show, as well as several other formats and shifts. He has been the voice of several dozen books, several thousand self-help and motivational articles, viral videos and e-learning courses. He's a proud father of a teenage daughter who thinks his job is "really cool" and her name reflects his view on life - "Hope." He's also a published poet and short story author. And he resides in the middle of a cow field in the middle of nowhere with about a dozen cats that call him "meow."

Your Daily Resource For Voice-Over Success