---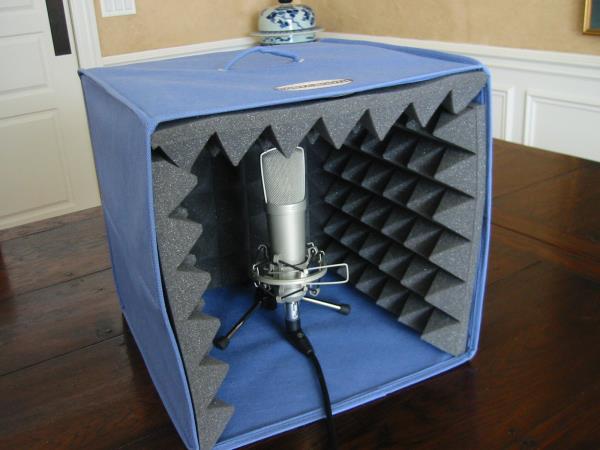 The mic - not your head - goes into the Porta-Booth. The collapsible outer box is lined with 2"-thick pyramid foam.
The Porta-Booth: For Quality Voice
Recordings On-the-Go, On-the-Cheap
By Harlan Hogan
Today's voice-over pro has had to adapt to a changing industry. Therefore, I'm a big proponent of setting up and using a home recording studio - even when far from home - to handle auditions and work.
A decent laptop, an audio interface and a microphone allow you to record and deliver voice tracks from almost anywhere.
And with high-speed Internet readily available, there's no reason to miss sessions and auditions because you are on location or vacation, unless you choose to.

I heartily understand, respect, and secretly admire actors who can tell their clients and agents, "Don't bother me, I'm on holiday and the only performing I'll be doing this week is down at the pool."

But I just can't tell that to my clients. I love this work! And when I spend an hour or so a day working during my vacation, I enjoy the remaining 23 hours all that much more.

But unfortunately, when you are on the road you'll often find yourself in less-than-perfect recording environments, even with pro-quality recording gear.
Most guest rooms, cabanas, ship cabins, and hotel rooms are OK as long as you avoid the ones adjacent to the elevators and the ice machines.

However, even a very quiet room - and this applies to homes and apartments, too - can sound like a big, boomy box to your microphone, instead of the tight sound-booth quality we are used to in purpose-built studios.
That's because in addition to picking up the sound of your voice directly, the microphone "hears" the ambient sound of the entire space.
Until last year, I'd build myself a tiny little fort out of every pillow and comforter I could scrounge from housekeeping when on the road - even though my wife found my constructions less than pleasing aesthetically.

Douglas realized that for a microphone to sound good and tight, you don't need to be inside a sound box - only the microphone.
So he built a simple 2' x 2', five-sided box out of foam core, lined it with acoustic foam (often available in 24" x 24" tiles), stuck his microphone inside, and spoke and sang into it.

Dubbed the VO Box, it provided amazing results. The sound of the recorded voice was warm, full and resonant, no matter what room it was in.
MY VERSION

So I decided to construct a road warrior's version, a.k.a. The Harlan Hogan Porta-Booth.

After a few false starts trying wood, plastic and a flimsy pop-up mesh cube that sounded like, uh, a flimsy mesh cube, I finally hit upon the The Folding Home Box manufactured by Reisenthel.
This solution had a very good sound, but soon after writing about it, the manufacturer stopped making the product. Luckily, I discovered an even better box.

In several blind A/B comparisons, this new Porta-Booth sounds even better. Better yet, it is lighter, one inch larger, folds flatter and - amazingly - is half the price of my original choice!
The improvement in sound is primarily because this new box has solid sides instead of the cloth sides of the home box.
The Whitmor Collapsible Cube - folded for travel, and open.
COLLAPSIBLE CUBE

The improved Porta-Booth uses a 14" x 14" Whitmor Collapsible Cube, readily available at around $10 from many sources, including, Target and Amazon.

The box alone is just part of the story, though.
To get the best sound, use 2"-thick pyramid-style acoustic foam. For best results, cut the foam so there are three pieces:
one for the back wall and top, and
two for the sides.
Cutting soft foam is harder than it might seem. If you use scissors or a mat knife, the foam compresses as you cut, and you'll get ragged edges. That won't affect the sound or practicality of the Porta-Booth, but it sure looks ugly.

Instead, cut the foam with a serrated knife. Take your time and be patient as you saw - not slice - through the foam.
Of course, a professional foam cutter - a hybrid jig saw - is best for this task, but is financial overkill unless you already own one.
Consider scrounging around garage sales and flea markets until you find an electric knife. Mine is a lovely shade of 'Harvest Gold' and dates back to the 1950s. Best of all, it cuts through foam like butter, all for a two dollar investment.
GETTING FOAM
Some popular brands of foam from Sonex and
Auralex
are easily purchased from suppliers. Or, ask your favorite friendly recording studio if they happen to have some scrap pieces lying around, because the foam can be your biggest expense.

For example, Auralex Studiofoam 2" Pyramids are sold in 2' x 4' panels, which is perfect for making one box. It yields two 12" x 12" panels for the sides, and one 26" by 14" for the top and back.
The only problem is that most sources sell that particular foam in boxes of 12 for around $400! Similar-sized Sonex foam is sold in 8-packs for roughly $300. You can make a lot of Porta-Booths with that much foam, and it's one of the reasons I recently started assembling ready-made booths for friends and clients.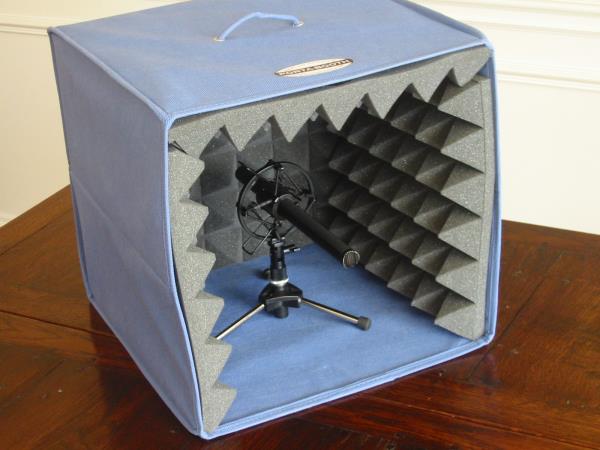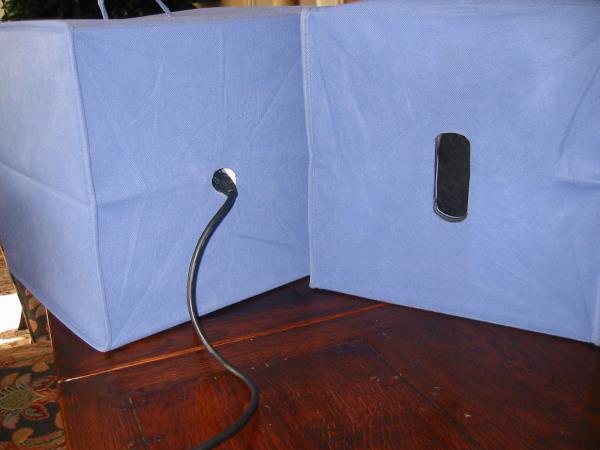 The booth is modified for a shotgun mic, with a hole in the back.

If you use a shotgun microphone, such as the popular Sennheiser 416, you'll want to cut a slit or a small hole in the back of the box and in the foam.
This way, the mic can be placed back far enough. Fortunately, the fabric on the Whitmor cube can be easily cut with a mat knife, and it doesn't fray. No sewing necessary!

The foam pieces nest together for travel. To save even more space in the suitcase, compress them with an Eagle Creek Large Compression Sac, available at camping and luggage stores or online. You roll the bag (or sit on it!) to remove the air.
The box will accommodate most microphones.
Place the mic about 30% back from the outer edge for the best sound.
Talk into the box; you don't need to stick your head in the box.
Hold your copy just slightly to one side of the Porta-Booth or inside it. If you need better visibility, use a battery-powered LED light inside.
Personally, I read scripts directly off my IPhone. Unlike a laptop, it's both silent and small enough to hold right up to the microphone inside the box. It also saves me the chore of having to find a printer at the hotel.

That's it! The Porta-Booth is a simple, practical and inexpensive way to sound good anywhere, at home or on the road.

PS: If you do find yourself in the room from Hell, here's a tip I learned from a movie soundman. One of the best designed acoustic spaces on earth is the modern automobile. So, if all else fails, get in that rental car and find a nice scenic rural roadside. Pull over, shush the cows - and hit record.
Harlan Hogan is one of America's favorite voices, and has pressed many commercial slogans into our memories, including "Kills bugs fast. Kills bugs dead," "The cereal even Mikey likes," and "Hey Culligan Man!" You also hear him in countless promos, narrations and documentaries. And if building a Porta-Booth yourself seems a bit much, a limited quantity is for sale at his
web site store
.