---
Develop Your Social Media Action
Plans For Voice Over This Week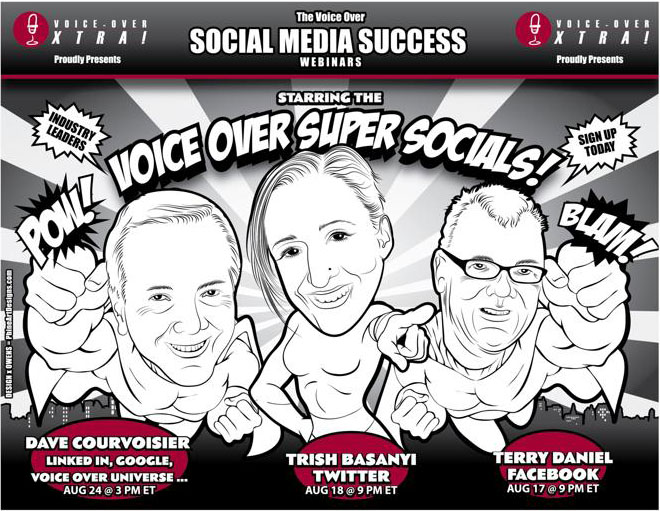 This week and next are Social Media weeks at
VoiceOverXtra
, as a series of three webinars explain to voice talents how to use social media to get voice over jobs and advance careers.
If you feel left behind when you learn that others are getting voice over gigs from their social media contacts - or are bewildered by the ever-changing rules of particular services - the
Voice Over Social Media Success Webinars
will be invaluable.
Hosted by VoiceOverXtra's John Florian, the webinars will be taught by the Voice Over Super Socials - Terry Daniel (on Facebook, Aug. 17), Trish Basanyi (Twitter, Aug. 18), and Dave Courvoisier (LinkedIn, Voice Over Universe, Google+, YouTube and more, Aug. 24).
Also on Aug. 24, Dave Courvoisier will interview Zurek, founder of Voice Over Universe.
"There's no other way to describe Terry, Trish and Dave than as the Voice Over Super Socials," says Florian. "They are the best known and most authoritative voice actors in social media today."
"In each webinar, they will reveal their time-saving methods for obtaining voice over business through social media."
Can't attend live? No problem. Every registration includes a full audio/visual recording, Florian adds.
The webinars may be attended individually, but registrants will save $18 by learning at all three.
And anyone who blogs or otherwise helps to publicize the series will receive a chance to win a full refund of the tuition.

Your Daily Resource For Voice-Over Success