---
Career: How To Avoid Being
A Voice-Over April Fool ...
By Bob Noble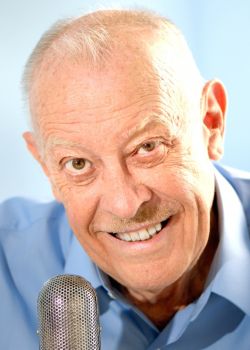 Growing up as a kid, I always looked forward to the first of April.
I would plan days ahead for just who, and how, I would trap some of my buddies into making a fool of themselves.
One of the favorite pranks of the day was to tell another guy, "Excuse me, did you know your "fly" is open?"
As soon as he looked down, I would say, "April Fool" . . . and then burst out laughing.
Of course, you always had to be on guard to avoid being caught in a practical joke yourself.
I even had an agent once, who was a close friend, call me on April 1st to advice me that I had just landed a long-term contract for a national commercial. After jumping for joy and asking for more details, I heard on the phone the words, "April Fool."
Unfortunately, he died at a very young age. (lol)
HOBBY OR MORE?
Becoming a success in the voice-over business is no laughing matter.
Whether you're a newbie or an old pro, you need to decide if voice-over is going to be a hobby or a serious business. It can be either . . . the choice is up to you.
And, you shouldn't feel bad about your decision.
For many folks who have a full-time job in some other industry, voice work can be a nice hobby and a great source of part-time income.
NO FOOLING ...
Hang on to a sure thing, but never give up on your dreams.
I
n today's economy, making a living and paying the bills is harder than ever. Only an April Fool would believe otherwise.
If your desire is to eventually "go full–time" in the voice-over industry, do your homework, set your goals and begin your preparation.
But also be realistic about your chances.
FACING THE FACTS
With the advent of the internet and in-home recording studios, everyone who has been told they have a great or unique voice is gearing up to join the party.
If you subscribe to any one of the many audition web sites, it's often discouraging to see how many people are competing for each job.
Some of the realistic facts-of-life are:
Most of the really "big" jobs are cast through agents, and

getting an agent to represent you is not easy.
This is particularly true if you live outside the recording centers such as New York and Los Angeles, where many clients still want you to come in for a personal in-studio audition.
MANY REQUIRE ISDN
Also, most agents booking the "biggies" insist that their voice talent have ISDN installed in their home studio. This is a real-time, high-quality audio patch through phone lines.
ISDN equipment and monthly fees can be expensive, and in some cases impossible. For example, here in Orlando, in the area where I live, ISDN is not available in all sections of the city.
There are several studios here that do have ISDN, but many clients do not want to pay extra for a studio session if the talent can provide ISDN and the freedom of scheduling from their home studio.
YOUR DECISION
Make a realistic decision: would you like to be a "big" fish in a little pond, or a "small" fish in the big pond?
The decision is up to you, and either can be the right answer.
The key is not to become discouraged.
LOTS OF OPTIONS
There are lots of opportunities for voice-over work at the local and regional levels. Check with your local advertising agencies ... production companies ... business networking groups and chambers of commerce.
Remember, someone is being booked for voice-over work in your area - why not for you?
MAKE IT HAPPEN
The answer to the question, "Where do I go from here?" is simple. Get to work on making it happen.
Whether you're in a big market or a small one, goal setting and perseverance will eventually "pay off."
Only an APRIL FOOL will tell you otherwise.
ABOUT BOB ...
Bob Noble is a voice talent and actor with over 40-years experience in motion pictures, television, theatre and voice-overs. He is a member of the Society of Accredited Voice Over Artists (SaVoa), the Audio Publishers Association, and the International Game Developers Association.

Your Daily Resource For Voice-Over Success