---
One Voice Awards USA 2023 Gala Rocks Dallas:
Winners Honored As Best VOs In 33 Categories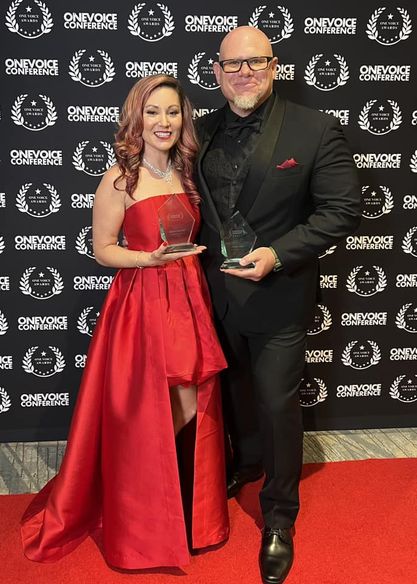 (VOXtra) - Glamour and voice over talent galore!
Dallas rocked with
both
Saturday night, as a full house cheered and honored winners of the
One Voice Awards USA 2023
- a highlight of
Gravy for the Brain'
s
One Voice Conference USA 2023
, held August 10-13 at the Hyatt Regency DFW Hotel.
Voice actors
Alicyn Packard
and
Mark Rider
(pictured, from Facebook)
, captured the Female and Male Voiceover Artist of the Year awards.
Debra Wilson
was feted as VO Legend of the Year, and
Shane Magwire
was declared Voiceover Newcomer of the Year.
Winners in scores of other categories were also recognized with top honors in their voice over genres and specialties.

Saved for the conference's closing ceremony Sunday afternoon,
Michelle Sundholm
was honored with the One Voice Inspiration Award.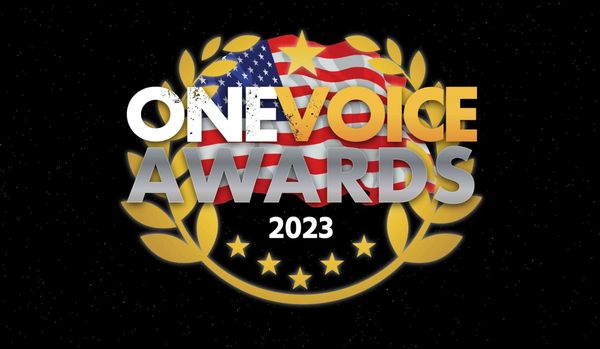 Not requiring an entry fee, the competition drew many thousands of entries, which judges whittled to nominees in 33 categories.
And on Saturday night in Dallas, the best of the best were announced.

Congratulations to all nominees and winners!

The Nominees And Winners Are ...
Animation - Best Character Performance - Female
(USA/Canada Voices Only*)
Joanne Lichtenstein - "Period Drama" - Produced by Anushka Tina Nair

Katie Leigh - "Fox Tales Summer Nights" - Produced by Rene Veillieux

Laura Anderson (Picone) - "Karen Claus-Santa Maybe" - Produced by Jason Usry

Marilla Wex - "Trendy Tron - Fashion Robot" - Produced by Javier Salazar for Mattel

Mary Morgan - "Katuri EP21: Crocodile's Bad Tooth" - Produced by Mike de Seve

Melique Berger - "The Cuphead Show" - Produced by Scott Dryer

Nazia Chaudhry - "BreadBarbershop - Master of Yoga" - Produced by 3 Beep 3 Beep

Shaquana Bell - "Roxy & Kurtis: Game Time!" - Produced by Carly & Andrea Reeve & Chrunyk

Shana Pennington-Baird - "Raynuh - "Magic Mixies" - Produced by Josephine Lim
Animation - Best Character Performance - Male
(USA/Canada Voices Only*)
Andrew Morrison - "Coco Biscotti - For Goodness Sake" - Produced by Luke Trusty

Cam Cornelius - "Shroud of Turin" - Produced by Jim Stelluto & Karen Poth

Jonathan Beville - "The Void" - Produced by Stanley Abraham

Jordan Tartakow - "Chickenhare and the Hamster of Darkness" - Produced by Ben Stassen

Luke Trusty - "Theo VS Butter Ball" - Produced by Luke Trusty

Paul Cartwright - "Tuttle Twins - Agent Gloidus" - Produced by Daniel Harmon

Tre Mosley - "Monster Jam Adventures" - Produced by Curious Media

Wyatt Bowen - "Pil's Adventures" - Produced by Jean-Francois Tosti
Audiobooks - Best Performance - Factual
(USA/Canada Voices Only*)
Aven Shore-Kind - "Cults, by Max Cutler" - Produced by Simon & Schuster

Bill Larson - "Diversity Training" - Produced by Khai Dattoli for Amazon

Brian Arens - "Geopolitical Alpha, by Marko Papic" - Produced by Addie Mahdavi

Cam Cornelius - "A Hit With a Bullet, by Sammy Sadler" - Self Produced

Danielle Cohen - "The White Hare, by Jane Johnson" - Produced by Grover Gardner for Blackstone

Ellen Dubin - "Dance Me To the End, by Alison Acheson" - Produced by Cassie Smyth for Touchwood

Jenn Henry - "Mastering Your Life, by Malti Bhojwani" - Produced by Malti Bhojwani

Linda Jones - "The Day I Die, by Dr. Anita Hannig" - Produced by Linda Jones for Highbridge Audio

Marissa DuBois - "Compassionate Leadership, by Rena DeLevie" - Self Produced

Robin Siegerman - "The Mother of All Degrassi" - Self Produced for Tantor Audio
Audiobooks - Best Performance - Fiction
(USA/Canada Voices Only*)
Anna Caputo - "The Lies I Tell" - Produced by Sara Pagluica for Audible

Amanda Stribling - "Saltwater and Driftwood" - Produced by Silver Dawn

Diane Hayes - "Anybody Here Seen Frenchie?" - Produced by Zane Birdwell for Harper

Helen Laser - "The Forgotten Cottage" - Produced by Nithya Rajendran

Jeffrey Stewart - "Sneak, by Evan Angler" - Produced by Blunder Woman Productions

John Pirhalla - "Mickey 7" - Produced by Unknown

Jonathan Beville - "Mammon Book 2: Messiah by Robert Kroese" - Produced by Hilary Eurich for Tantor

Nicola Fordwood - "Blowin' My Mind Like a Summer Breeze, by Benjamin Roesch" - Produced by Donna Evans

Shakira Shute - "Meet Me Under The Mistletoe" - Produced by Sarah Jaffe for Penguin Random House

Stephanie Willing - "Ways the World Could End" - Produced by Michael Jones for Dreamscape
Automotive Commercial - Best Performance Female
(USA/Canada Voices Only*)
Alaina Wis - "Jimmy the Boxer Automall" - Produced by Tiffany Curran

Alicyn Packard - "Porsche - Driven by Dreams" - Produced by Crammer-Kassalt

Jenna James - "Freedom, Dormani Infiniti" - Produced by Unknown

Kitty Fernandez - "Williamson Cadillac" - Produced by David Hughes

Rebecca Davis - "Toyota" - Produced by Alisa Bertain for Toyota

Nikki Lowe - "John Eagle Acura" - Produced by Lithia/Cliff Zelman

Samia Mounts - "Infiniti Q50" - Produced by Anthony Garetti

Shelley Baldiga - "New England Toyota" - Produced by Kyle Murphy for Toyota

Suzanne Wynn - "Tuscaloosa Chrysler Dodge Jeep Ram" - Produced by Unknown
Automotive Commercial - Best Performance Male
(USA/Canada Voices Only*)
Chris Burnett - "Easy" - Produced by Hoegger Communications

John Malone - "David Stanley Chevrolet" - Produced by Sandi Lynch

Justin Brown - "BMW" - Produced by Patrick Jones

Kevin Kilpatrick - "Della Automotive" - Produced by Unknown

Mark Rider - "Ford Truck Month" - Produced by Ford

Michael Schwengel - "Bose Automotive in GMC" - Produced by Robert Miller

Reid Montague - "GT Radial" - Produced by GT Radial North America
Best Children's Voiceover Performance (Under 18)
(USA/Canada Voices Only*)
Ashley Damsgard (Aged 12) - "Fantasy Island - Make the Most of Your Time" - Produced by Oakleaf Media

Eliana Damsgard (Aged 16) - "Stepfest 2022" - Produced by Jerry Chan

Gracia Damsgard (Aged 9) - "Little Live Pets - Mama Surprise" - Produced by Sara Furlong

Lileina Joy (Aged 12) - ""Play Yellow" / Children's Miracle Network Hospitals" - Produced by TCM Creative

Lucy Capri (Age 10) - "The Seedling" - Produced by Unknown

Cyla Grace Hoffman (Aged 10) - "Nuts and Bear Necessities - Nuts.com" - Produced by Jakk Beckett

Rania Sharkawy (Age 10) - "Star Trek Prodigy - The Awakener" - Produced by Mike Haimoto

Seth Damsgard (Aged 15) - "Across The United States" - Produced by Amy Gibbings

Levi Lindley (Aged 14) - "iHeartland in Fortnite" - Produced by Ricky Roo
Best International Voiceover Performance
(International Voices Only*)
Annabel Grace - "Commercial" - Produced by Emily O'Meara for Amazon

Chilu Lemba - "Freedom" - Produced by Sian Clarke

Emiko Uyama - "Air mini" - Produced by Hideaki Shigemitsu

Kenya Hatsumura - "The Discovery - Produced by the Core Equity Fund

Kimiyo Saito - "Nursing home - Shinden-Rakuseien" - Produced by Unknown

Lizet Vasquez - "Backus - Cuidado de las Amunas" - Produced by Mariana Rodríguez

Mai Aizawa - "Tokyo Precision Forging" - Produced by Craft Reflection

Sawako Murata - "Meditation For Soul Resonance" - Produced by Masashi Murata

Tomas Mackey - "Somos Campeones del Mundo" - Produced by Telefe

Walter Williams - "BrandUSA Disney Hero" - Produced by Michael Anderson
Voiceover Newcomer Of The Year
(USA/Canada Voices Only*)
Anna Caputo - "Horses for Mental Health" - Produced by TJ Packer

Astrid WS - "Video Game" - Produced by Hyperstrange for Qubic games

Beau Davidson - "VISA Super Bowl Invite" - Produced by Stas Lipovetskiy

Bill Stephenson - "Proud" - Produced by Unknown

DeDe Cordell - "The Tricky Yuba" - Produced by Nick Janes

Elizabeth Carrillo - "Children's Home Society Awareness" - Produced by Unknown

Nicole Fikes - "Fresh Start Alaska" - Produced by Amanda Estes

Samantha deSuze - "State Street Global Advisors Banking" - Produced by Tripp Clemens

Shane Magwire - "Planters Nuts" - Produced by Nicholas Bourne for Ugly Duck
Best Outtake Of The Year
(USA/Canada Voices Only*)
Amy Stafford - "Bloopers" - Self Produced

Bill Larson - "Dogs" - Produced by Jonathan Powell

Carin Gilfry - "Butts Drugs" - Produced by Nicholas Sullivan

Diana Birdsall - "Bloooopers" - Self Produced

Kim Kaplan - "Grandma Roses Fudge Squirts" - Self Produced

Laura Schreiber - "F*** Hissler Family Seafood" - Self Produced

Tracy Lindley - "Human Anatomy" - Self Produced
Corporate/Explainer - Best Overall Performance
(USA/Canada Voices Only*)
Andy Barnett - "Morgan Stanley Going Up" - Produced by Corinne Lowry

Amy Stafford - "Zoom IQ for Sales" - Produced by Michelle Wheeler

Chris McCloy - "Edge Sustainability" - Produced by Thijs Klaassen

Frankie DiVita - "Legacy Trees - Clean Your Room" - Produced by Greg Koorhan

Ivan Sherry - "TMRP" - Produced by Bartek Bugajski

Jennifer Clark - "Pinterest - Career Framework" - Produced by Nathan Die

Joe Geoffrey - "Legacy of Lance Corporal Thomas E. Creek" - Produced by Blake Cartwright

Keaton Talmadge - "Live Your Moment - NeurOptimal" - Produced by Caleb Maxwell

Yinka Ladeinde - "Bubble x Ulta" - Produced by Geoff Gibson
Demo Reels - Best Performance - Animation/Gaming
(USA/Canada Voices Only*)
Art Brown - "Animation Demo" - Produced by Paulette Lifton at Voicemasters

Kevin Andrew Rivera - "Animation Demo" - Produced by Alex Walker Smith

Lara Woodhull - "Animation Demo" - Produced by Everett Oliver

Marisa Dargahi - "Gaming Demo" - Produced by Nick Clinch at Notable Voices

Marissa DuBois - "Animation Demo" - Produced by Chuck Duran and Everett Oliver at Demo's That Rock

Molly Rock - "Animation Demo" - Produced by Chuck Duran at Demo's That Rock

Sarah Tyndal - "Gaming Demo" - Produced by Chuck Duran at Demo's That Rock

Stewart Jeffrey - "Animation Demo" - Produced by Chuck Duran at Demo's That Rock

Tom Catt - "Gaming Demo" - Produced by Terry Daniel

Virginia Lee - "Gaming Demo" - Produced by Scott Tunnix at Unreel Audio
Demo Reels - Best Performance - Commercial
(USA/Canada Voices Only*)
A.W. Miller - "Commercial Demo" - Produced by Chuck Duran at Demo's That Rock

Amory Hokulani - "Commercial Demo" - Produced by J Michael Collins at JMC Demos

Elsa Levytsky - "Commercial Demo" - Produced by Eric Romanawski at Ear Blowing Audio

Dave Hoffman - "Commercial Demo" - Produced by Chad Erickson

Debbie Irwin - "Commercial Demo" - Produced by Hugh P Klitzke

Jason Thomsen - "Commercial Demo" - Produced by J Michael Collins at JMC Demos

Jen Greenfeld - "Commercial Demo" - Produced by Tim Friedlander at Soundbox LA

Jim Fronk - "Commercial Demo" - Produced by J Michael Collins at JMC Demos

Kayla Jackson - "Commercial Demo" - Produced by J Michael Collins at JMC Demos

Craig Warnok - "Commercial Demo" - Produced by Tim Ratledge at VO Tech Buddy
Demo Reels - Best Performance - Documentary/TV Narration
(USA/Canada Voices Only*)
Danielle Famble - "Documentary/TV Narration" - Produced by J Michael Collins at JMC Demos

Deb Munro - "Documentary/TV Narration" - Produced by J Michael Collins at JMC Demos

Jessica Mathison - "Documentary/TV Narration" - Produced by J Michael Collins at JMC Demos

Kaye Michael - "Documentary/TV Narration" - Produced by Rich O'Donoghue & Dian Perry at io Audio

Kevin Smoot - "Documentary/TV Narration" - Produced by Danielle Quisenberry at Edge Studio

Louis Lambert - "Documentary/TV Narration" - Produced by Julia Polloreno

Nadia Marshall - "Documentary/TV Narration" - Produced by J Michael Collins at JMC Demos

Natasha Marchewka - "Documentary/TV Narration" - Produced by Jeff Howell and Tom Pinto

Nikki Lowe - "Documentary/TV Narration" - Produced by Jeff Howell

Robin Siegerman - "Documentary/TV Narration" - Produced by J Michael Collins at JMC Demos
Demo Reels - Best Performance - Non-Broadcast Narration
(USA/Canada Voices Only*)
Daniel Fuentes - "E-Learning Demo" - Produced by David Goldberg at Edge Studio

Kayla Jackson - "Explainer Demo" - Produced by J Michael Collins at JMC Demos

James Kirkcaldy - "E-Learning Demo" - Produced by Anne Ganguzza

John Guccion - "E-Learning Demo" - Produced by Laura Schreiber & Dave Scott

Nadia Marshall - "E-Learning Demo" - Produced by J Michael Collins at JMC Demos

Natasha Marchewka - "Explainer Demo" - Produced by Kim Handysides

Nicole Fikes - "Explainer Demo" - Produced by J Michael Collins at JMC Demos

Shaquana Bell - "Narration Demo" - Produced by Jeniffer Sims at Edge Studio

Stacey Kimble - "E-Learning Demo" - Produced by J Michael Collins at JMC Demos

Zack Sage - "Welcome to Canada" - Self Produced
Demo Reels - Best Performance - Political
(USA/Canada Voices Only*)
Adam Brown - "Political Demo" - Produced by J Michael Collins at JMC Demos

Deanna Johnston - "Political Demo" - Produced by J Michael Collins at JMC Demos

Diane Hayes - "Political Demo" - Produced by J Michael Collins at JMC Demos

Erikka J - "Political Demo" - Produced by J Michael Collins at JMC Demos

Jeff Bachar - "Political Demo" - Produced by Brandan Perry at Sound Nectar

Michelle Blenker - "Political Demo" - Produced by J Michael Collins at JMC Demos

Vicki Liston - "Political Demo" - Produced by J Michael Collins at JMC Demos

Vincent Eury - "Political Demo" - Produced by J Michael Collins at JMC Demos
Demo Reels - Best Performance - Promo
(USA/Canada Voices Only*)
Carin Gilfry - "Promo Demo" - Produced by Tim Friedlander at West Coast Demos

Dave Hoffmann - "Promo Demo" - Produced by Unknown

Emma O'Neill - "Promo Demo" - Produced by Harry Dunn

Joanne Lichtenstein - "Promo Demo" - Produced by West Coast Demos

Liana Bdewi - "Promo Demo" - Produced by J Michael Collins at JMC Demos

Lindsey Rodriguez - "Promo Demo" - Produced by Lisa Bigg at Dream Bigg Studios

Mauri Walton - "Promo Demo" - Produced by Mike Harmon and Voice Coaches

Mike Mcgonegal - "Promo Demo" - Produced by Chuck Duran at Demo's That Rock

Stacey Kimble - "Promo Demo" - Produced by J Michael Collins at JMC Demos

Stewart Jeffrey - "Promo Demo" - Produced by Chuck Duran at Demo's That Rock
E-Learning & Medical Narration - Best Overall Performance
(USA/Canada Voices Only*)
Anna Caputo - "Horses for Mental Health" - Produced by TJ Packer

Amanda Utter - "History of Western Society" - Produced by Will Stonefield

Brigid Reale - "Mind Blowing Science: Lifting the Venus Curse" - Produced by Trisa & Kevin Barnhill

Connie Wallace - "ShiraTronics CryoSternotomy Medical" - Produced by Stephanie Pheneger

Dandrell Scott - "Hope Christian Schools" - Produced by Jeff Tudor

Matt Dratva - "Glyphic Biotechnologies" - Produced by Unknown

Randy Latta - "Out of Hospital Trends" - Produced by Frank van Bracht

Ruben Corrales - "Stape" - Produced by Diogo Silva

Tracy Lindley - "What Alcohol Does to Your Body" - Produced by Hilary Wescount
Gaming - Best Performance - Female
(USA/Canada Voices Only*)
Alicyn Packard - "Call of Duty: Modern Warfare II" - Produced by Infinity Ward

Ally Murphy - "Bendy and the Dark Revival" - Produced by Lauren Synger for Joey Drew Studios

Amy Selma - "Starship Troopers Terran Command" - Produced by David Sharrock for Slitherine

Astrid WS - "Loud" - Produced by Hyperstrange for QubicGames

Gina Scarpa - "Sara Kaasen in The Walking Dead: Last Mile" - Produced by Pipework Studios for Skybound Entertainment

Jessica DiSalvo - "Vampire: The Masquerade - Swansong" - Produced by Patrick Pligersdorffer for Big Bad Wolf

Toni Senator - "MomentoMori: Cerberus" - Produced by Bank of Innovation
Gaming - Best Performance - Male
(USA/Canada Voices Only*)
A.W. Miller - "The Last Days of Lazarus" - Produced for Grimtalin Games

André Santana - "Recursive Ruin" - Produced by Curtis & Chad McKinney for Iceberg Interactive

Andy Barnett - "Triangle Strategy" - Produced by Toni Smith for Square Enix

David Cui - "Live A Live" - Produced by Josh Weedon at Pitstop for Square


EnixIan Russell - "Burnhouse Lane" - Produced by Rem Michalski for Feardemic

Joshua Graham - "My Little Pony: A Maretime Bay Adventure" - Produced by Beny Levy for Melbot Studios

Mark Harrietha - "Ready or not" - Produced by Daniel Krok for Void Interactive

Mike Bodie - "Rough Justice: '84" - Produced by Jeremiah Costello for Daedalic Entertainment

Paul Cartwright - "Empire of Embers" - Produced by Poleaxe Games
Movie or Game Trailer - Best Overall Performance
(USA/Canada Voices Only*)
Alicyn Packard - "Forspoken" - Produced by Eric Shoquist for Square


EnixBrian Arens - "Great Lakes Untamed" - Produced by Merit Jensen Carr for Arte

Ian Russell - "Charons Staircase" - Produced by Judit Hierro

Janet Peters - "We Are One" - Produced by Melanie Bartl

Louis Lambert - "Trollverse-Play the Planet Back Into It's Natural Balance" - Produced by Bart Valdkemp

Mike Ciporkin - "Crossfire: Legion" - Produced by Maverick Media

Moe Rock - "One More Multiverse - Blades in the Dark: Official Trailer" - Produced by Tiffany Li

Tre Mosley - "Mech Arena Game Trailer : Neymar" - Produced by Randall Ryan at Hamsterball Studios
Outstanding Live Event Announcer
(Voice of God) (USA/Canada Voices Only*)
Amy Selma - "Wendy's Leadership Awards 2022" - Produced by Rick Stull

Brad Hyland - "National Football League Conference Opener VOG" - Produced by Gary Molander

Brigid Reale - "KKR Global Conference VOG" - Produced by Matthew McCollum

Connie Wallace - "The Godfather: 50th Anniversary Event" - Produced by Joe Rocco

Jen Lawson - "DoubleLine Round table Prime - Geopolitical Risk" - Produced by AJ WalkerJustin Brown - "Mickey Bell Tour Intro" - Produced by Mickey Bell

Kayla Jackson - "Summit High School Winter Percussion: The Steps to Success" - Produced by Unknown

Ron Hollingsworth - "VOG" - Self Produced

Shana Pennington-Baird - "Toy of the Year Awards 2022" - Produced by Matt Gore
Political Commercial - Best Overall Performance
(USA/Canada Voices Only*)
Carin Gilfry - "Background Checks - Sandy Hook Promise" - Produced by Reid Pierce

Carman Wilson - "Potential - Robert White" - Produced by Jesse Strauss

Connie Wallace - "The Christian Taliban" - Produced by Matthew Ford

Bob Johnson - "Dan Crenshaw - He's got our backs" - Produced by Tom Anderson

Brigid Reale - "Miguelina Camilo - Her Father's Bodega" - Produced by Unknown

Dan Nachtrab - "The Ballot" - Produced by Ben Howe

Frankie DiVita - "Everytown For Gun Safety" - Produced by Andrew Zucker

Janet Simmons - "Groundwork "We Are The Economy" - Produced by Jim Kennelly

Michelle Sundholm - "Pay More, Get Less: The True Cost of Washington" - Produced by Mike Lurie

Robynne Orr - "Pramila for Congress - Progressives Win" - Produced by J Toscano
Radio - Commercials Best Performance - Female
(USA/Canada Voices Only*)
Aleesha Bake - "Sunwing Travel" - Produced by Jaysen Cole

Emma O'Neill - "Haven Toronto "We All Know It"" - Produced by Dave Calvert

Gina Scarpa - "Burger King 911" - Produced by Lupita AlvarezHannah


Laurel Richards - "The NorthFace - It's Everything" - Produced by David Cuetter

Janet Simmons - "AARP Atlanta" - Produced by David Cuetter

Jenn Henry - "Ohio Lottery Holiday" - Produced by Michael Exner

Jenna Birmingham - "Cinema Cafe" - Self Produced

Jennifer Antkowiak - "Fallon Care" - Self Produced

Lucy Parkinson - "Airbnb" - Produced by Matt Keith

Tracy Lindley - "Xumo TV" - Produced by Ricky Roo
Radio Commercials Best Performance - Male
(USA/Canada Voices Only*)
Andy Barnett - "A to B Radio" - Produced by Bart Smith

Chris Miranda - "Modelo" - Produced by Alex Yin

Jas Patrick - "PirateShip.com Savings Shanty" - Produced by Ben Prindle

Jay Myers - "Shamrock Plumbing" - Produced by Salescomm

John Malone - "Mercedes Benz Vans - Unlock Your Potential" - Produced by Alexander Kobak

Joe Passaro - "Daikin AC/Furnace" - Produced by Unknown

Lou Johnson - "Can't Wait" - Produced by Mike Suarez

Sam Albertsen - "Zing Zang Canned Cocktails" - Produced by Brian James

Stetson Turner - "Garcia Moto" - Produced by Jeff Nelson

Will Vincent - "Gillette Intimate" - Produced by Liz Lazich
Radio Imaging/TV Affiliate - Best Overall Performance
(USA/Canada Voices Only*)
Amuche Chukudebelu - "WXII 12 - Our Foundation - Change the World" - Produced by Cory McRa

Cam Cornelius - "Hell Yeah! Radio" - Produced by Joe Edwards

Chadd Pierce - "KUPL - Turkey Giveaway Promo" - Self Produced

Dave Hoffmann - "70 Years of WIS TV" - Produced by Jared Stepp

Denise Kelly - "Monday night NFL Promo" - Produced by DJ Turner

Mark Rider - "KROQ" - Produced by Unknown

Stephanie Nemeth-Parker - "First Coffee of the Morning" - Produced by Raul Hernandez

Susan Wise - "Yacht Rock Radio" - Produced by Adam Ritz

odd Menesses - "Bayou 95.7 Big Guy radio sweeps" - Produced by Unknown

Tracy Lindley - "Songs of the Summer on iHeart Radio" - Produced by Ricky Roo
Best Voiceover Services Provider Of The Year
(Public Vote)
Celia Siegel (Branding)


Cleanfeed

George Whittam (Home Studio)

Marc Scott (Marketing)

Source Elements

Uncle Roy Yokelson (Home Studio)

VO Boss (Marketing)

Voice Actor Websites

VO Websites

VoiceOverView
Television - Documentary/In-Show Narration - Best Overall Performance
(USA/Canada Voices Only*)
Beau Davidson - "Back to Iran" - Produced by Puria Ravahi

Bill Larson - "Resident Evil" - Produced by Eric Wickstrom

Brad Hyland - "Hold At All Costs - The Siege At Bastogne" - Produced by Joergen Geerds

Ian O'Donnell - "Atlanta Bujinkan" - Produced by Dean Velez

Jenn Henry - "Dawn Patrol. Why We Rise" - Produced by Eliel Hindert

Jessica DiSalvo - "Fighting Wildfire" - Produced by Stephen O'Shea

Maria Pendolino - "U2 Rockumentary" - Produced by Danielle Winter

Mark Rider - "Shark Week" - Produced for Discovery Channel

Paul Cartwright - "The Pursuit" - Produced by Brandon Orton

Tre Mosley - "Behind The Shield : The Las Vegas Raiders" - Produced by Silver & Black
Television/Web - Promo - Best Overall Performance
(USA/Canada Voices Only*)
Amuche Chukudebelu - "ESPN NHL Stanley Cup Playoffs" - Produced by JeanLuc Ladouceur

Beau Davidson - "Visa Super Bowl" - Produced by Stas Lipovetskiy

Chris Burnett - "Big Bang Theory" - Produced by Warner Bros.

Deb Munro - "Makeful TV" - Produced by Andres Ortiz

Dennis Kleinman - "Sherwin Williams" - Produced by Michael Eisenbaum

Joe Passaro - "I Am Nascar" - Produced by Nascar

Laya Hoffman - "X Games 2022" - Produced by Shawn Howard

Lindsey Rodriguez - "Respawn with Dunkin" - Produced by Ivan Dixon & Sean Zwan

Mark Rider - "Diesel Brothers" - Produced by Unknown

Torran Wakefield-Thompson - "Arthur: The Final episodes" - Produced by Erica Moriconi
Television/Web - Commercials Best Performance - Female
(USA/Canada Voices Only*)
Alaina Wis - "Rocket Mortgage" - Produced by Brett Warkentie

Alicyn Packard - "Zenwise" - Produced by Hawthorne

Anne Cloud - "MdBy" - Produced by Unknown

Carin Gilfry - "Citi Escalator" - Produced by Rachel Tierney

Denise Kelly - "Waterpik Difference" - Produced by Bob Maple and Robin Schmachtenberger

Laya Hoffman - "Big Groomed Energy" - Produced by Jessica Holmes

Pamela Uhrmann - "Waypoint Insurance" - Produced by Kyle Whitrow

Rivka Rothstein - "Western Union" - Produced by Katie Bernet

Sarah Armstrong-Brown - "Edible Fresh Fruit Smoothie" - Produced by Halle Griffee

Trekina White - "Carter's Working Mom" - Produced by Coast to Coast
Television/Web - Commercials Best Performance - Male
(USA/Canada Voices Only*)
Darren Roebuck - "GUN OIL | Lay Pipe" - Produced by Ian Harrington

Dennis Johnson - "Five Steps to Take After a Car Accident" - Produced by Chris Trafford

Joshua Graham - "The WRXOUT" - Produced by Harry Knazan

Nathan Nokes - "The Power of Audio Branding" - Produced by Unknown

Ozzie Wilson - "A New Chapter for Salomon" - Self Produced

Reid Montague - "Fracture TV Spot 'Favorite Moments'" - Produced by Cory Monteiro

Robert Barker - "Cmax System Foldable Housing" - Produced by Nicolás García Mayor

Tom Dheere - "Humane Society of the United States" - Produced by Liz Thibodeau

Shane Magwire - "Cuisinart 'Rise and Grind'" - Produced by Gloria Lewis

Spencer Cannon - "Opendoor" - Produced by Guin Frehling
Voiceover Artist Of The Year - Female
(USA/Canada Voices Only*)
Alicyn Packard

Anna Caputo

Brigid Reale

Carin Gilfry

Emma O'Neill

Erikka J

Gina Scarpa

Laya Hoffman

Melique Berger

Morgan Meadows
Voiceover Artist Of The Year - Male
(USA/Canada Voices Only*)
Andy Barnett

Brad Hyland

Cam Cornelius

Chris Burnett

Louis Lambert

Mark Rider

Paul Cartwright

Robert Barker

Torran Wakefield-Thompson

Tre Mosely
For more about this awards program and the
One Voice Conferences
, visit:

Your Daily Resource For Voice-Over Success