---
The audio workstation outside my recording booth holds lots of equipment, including two computers (one for admin and one for recording). Also note two LCD monitors, which mimic two screens in the booth. Screen on the left is for reading copy - no paper!
Building My 'Basement Dream'
Studio: A Daily 2-Flight Commute

By Rory O'Shea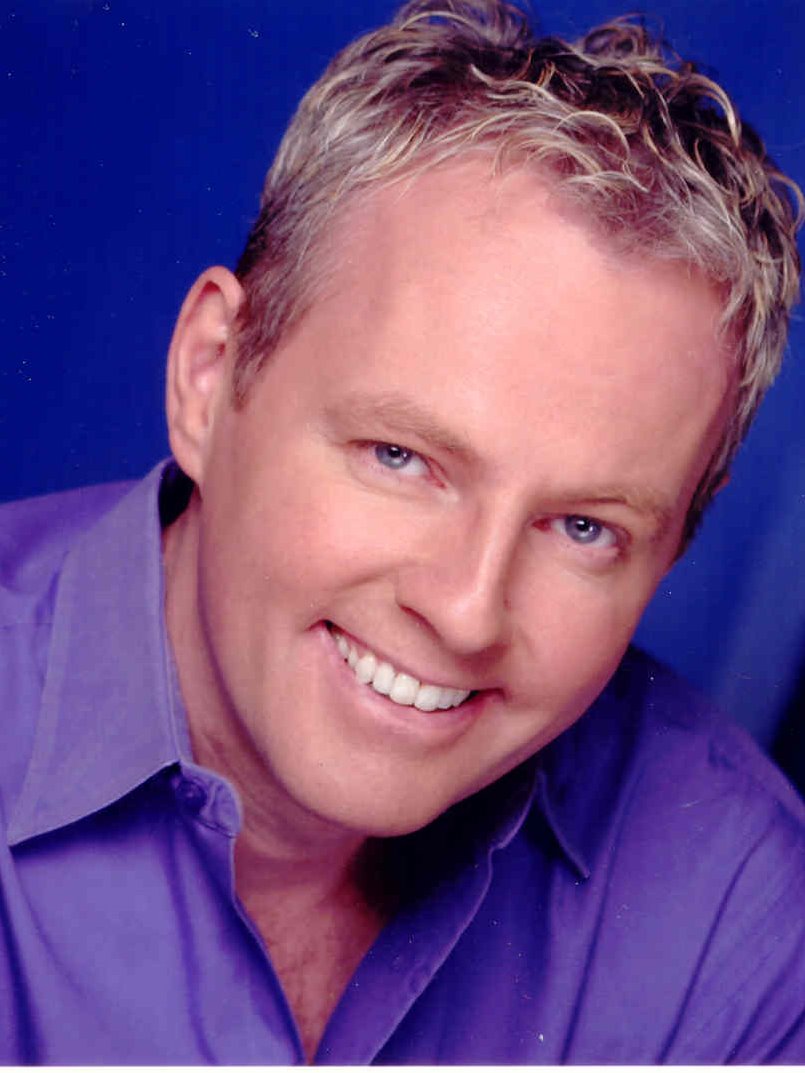 Home is where the heart is. Home is also where my studio happens to be.
This provides for a beautiful synergy when you happen to love what you do for a living.
Include the fact that I can also spend time with my four-year old daughter and toddler son at home, and the planets have indeed aligned for a blissful balance in life. Provided they're sleeping when I need to record!
BASEMENT DREAM
We bought our house over seven years ago. This was my pre-procreating era and a period when I was putting all my focus into voice-over on a full time basis.
Therefore, I wasn't envisioning any sort of rec room or potential play areas.
Our new place (it was actually a NEW place in 1923) had an unfinished basement (massive understatement), which was about to become the studio I had dreamed of owning.
FIRST, A CLOSET
In my early session days on the previous home front (i.e. bachelor pad), I would merely drape soundproofing over my head and hit RECORD.
When my new best friend (approaching 10 years now) and I moved into our new digs it was like The Jefferson's "movin' on up," and I actually migrated to a closet.
Not a walk-in closet. That would have been luxury. No, it was one of those 80-year-old numbers that I had to shoehorn myself into and hope enough oxygen would filter through the cracks for me to read a 30-second spot.
I removed the bar (something I would never usually do, but this was a 'bar' to hold clothes), soundproofed the walls and door, and set up a microphone, light and wall clip for scripts.
Humble, yet effective. It sufficed while construction was happening on the subterranean level two floors below.
MASSIVE PROJECT
The bare-bones basement was my canvas to create a work environment that would be conducive to, well, working full time.
The massive project entailed moving ducts, the washer/dryer/sink-combo, major plumbing, re-wiring, building walls, dry walling, laying down flooring, installing doors and designing a VO booth that would not induce claustrophobia.
The entire project took the better part of three months over a snowy winter, with skilled contractors doing the hard stuff and yours truly relaying the desired plans which I had sketched on a restaurant napkin earlier that year with Marlene while dining out.
(In case you haven't gathered by now, this is the unabridged version of how my current home studio came to be.)
FLICKED THE SWITCH ...
When it was finally time to fire up the official new studio I was like a kid in a candy store.
I had a work space that resembled a professional studio, albeit cozy and homey.
When I flicked the switch and started to do some test recording, I was thrilled. Initially, that is.
I was getting a low frequency signal in my sessions.
WHERE'S THAT HUM?
Now came the fun part (not so much). Tracing where that buzzing interloper was originating.
Here's the rub: All wiring was enclosed and sealed up inside the wall of the booth, above the ceiling, and down behind the opposite wall to where I plugged in all the gear.
There were several possibilities for the problem, including the power cables interfering with the audio cables.
I had also installed dimmer switches in the basement for the 10 pot lights and the track lighting in the booth - a fundamental mistake, any studio engineer will tell you.
COLD CULPRIT
After turning the troubleshooting process into a precise controlled experiment and utilizing the expertise of several colleagues who know this stuff far better than I, we finally deduced that all dimmer switches in the joint were not the issue.
The mic cables and power cords were getting along just fine together.
Everything was patched in properly and all software and hardware were playing nice.
It turned out to be the big ol' ice box overhead! Whenever the refrigerator came on, the disturbance came a-knockin'. Or a-buzzin' in this case.
The simple solution: unplugging the fridge prior to any session. Any really lengthy e-learning or medical narrations meant we were eating meat that night.
RESEARCH FIRST
Before I detail the evolution of my studio, I can't stress enough that you need to research as much as possible on home studio construction and consult with experts before you start burying cables and throwing up soundproofing.
My experience was at times extremely frustrating, but definitely one from which I learned a great deal.
Since the formative stages of my home studio, I have invested at each and every opportunity to bring it to the next level.
I don't buy toys for myself. They go to the kids. Whatever cash injection outside the house or the family is business-related, and therefore a biz expense.
MIC #1 TOOL
It makes sense. This means upgrading everything from monitors to microphones over the years.
The latter is significant. That's the #1 tool. It is also a very subjective preference, with every voice being unique.
I went from using the old radio stalwart RE 20 dynamic microphone to the Audio Technica 3035 condenser mic. I then graduated to the RODE NT1, and then finally settled on the selection I now use exclusively, the Neumann TLM 103.
I felt like Goldilocks at the three bears pad - too flat, too thin … ahhh, just right!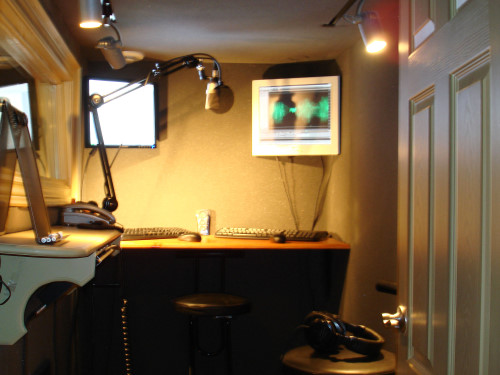 Inside the 9' x 4' recording booth: Neumann TLM-103 mic and two computer monitors with dual keyboards and wireless mice.
UPGRADES & TWEAKS ...
Other tweaks and improvements along the way included:
1. Two computers. I have one computer for administration (email, scripts, browsing, etc.) and a second computer to handle all recording and audio files exclusively. This prevents any possible interference from programs that are isolated to the admin computer.
2. Phone patch. I added a JK Audio phone patch for clients to listen in to sessions. My previous incarnation was engaging the speaker phone while in the booth, or actually holding the receiver up to the microphone.
Trust me, get the phone patch. It's cost-effective and more efficient. ·
3. Source-Connect. Using Source-Connect to connect digitally in real time with other studios is the growing trend, as a much cheaper alternative to ISDN.
I did, in fact, have ISDN installed but found that with a monthly rental fee regardless of usage, it just wasn't viable for my purposes.
I have done Source-Connect sessions with London, England, and Los Angeles and it rocks! (Some hiccups are the occasional drop-outs.)
4. Audio desk. The QUIKLOK audio desk is a professional audio work station that accommodates my:
MACKIE 1402-VLZ PRO mixer,
FURMAN power conditioner,
keyboards for my two computers (one for administration and one for recording / Windows XP / DELTA sound card / ADOBE Audition 3.0), and
dual 22" Samsung computer monitors (Symetrix 528E voice processor and Yorkville ACTIVE monitors).
'GREEN' SCREEN
The most recent metamorphosis was going paperless. This move was inspired by friend and colleague, Todd Schick.
Being a complete computer/tech guru, as well as a talented and successful voice artist, Todd has been my key advisor on staying ahead of the curve.
Over the course of a couple of evenings together, we reconfigured my studio so that I would never require another hard copy script again.
Going green not only saves trees by saving paper, but also saves print toner, trips to Staples for aforementioned, and simply a lot of time.
The cost up front is worth the investment in the long run, and really streamlines the whole process of recording auditions and projects by simply reading off the screen of one computer while recording onto the other.
BOOTH SCREEN SOLUTION
Now, many voice actors already read from the screen instead of printing out the script.
However, I have the isolated booth that's, ya know, well…isolated, and away from my actual work station.
So in the upgrade sessions we installed two 17" monitors in the booth (one was an existing monitor from previous configuration) and ran USB extensions for additional keyboards (wireless mice).
Also, passive 'Y' splitters join the new 22" LCD monitors (monitors supported on a Neo-Flex by Ergotron mount) outside the booth at my work station.
The monitor set-up inside the booth mimics the monitors at the work station. So, I can stay in the booth to edit and send a session, or return to my desk to do post production there.
THE STUDIO TODAY
Overall, my basement dream studio today includes;
VO booth (9' x 4') with acoustic insulation, angled glass, dual doors, 1" acoustic soundproofing, headphone/mic jacks to accommodate three talent simultaneously, Behringer headphone amp, Sony MDR-V600 cans, dual 17" LCD screens with dual keyboards and wireless mice, TLM-103 on boom stand with Stedman pop filter.

Work station with pro audio desk beside not-so-pro previous desk, which now accommodates a printer - which, of course, is not being used for scripts now - and other administrative supplies.
This all beats throwing soundproofing over my head and hitting RECORD.
But what do I tell the two kids upstairs in a couple of years?
"Daddy hijacked your potential rec room, but he loves you very much."
ABOUT RORY ...
Rory O'Shea is a very busy voice actor and owner of ImEdge Communications. Based in Toronto, Ont., Canada, the firm offers corporate and media clients a full range of voice-over services.