---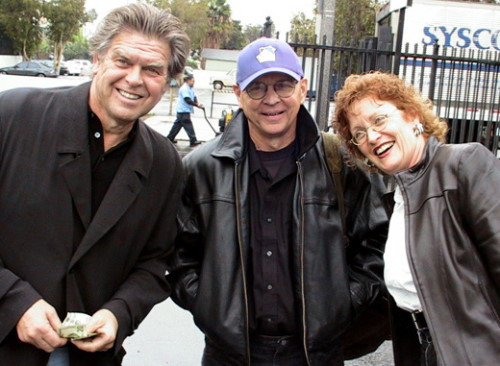 L-R: Author Pat Fraley, watercolor artist DeWitt Hardy, and voice-over talent/web site designer DB Cooper.
Creating A New Web Site Design
- With Style & Branding in Mind
By Pat Fraley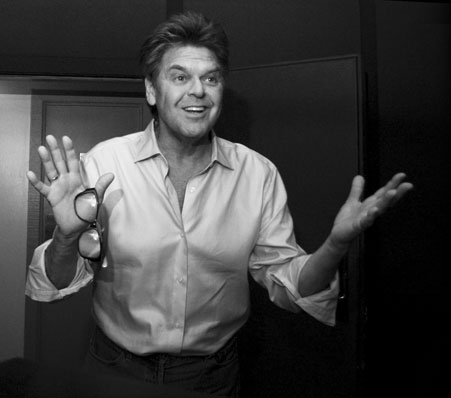 About a year ago, DB Cooper - voice-over talent supreme and web site designer - and I decided that I needed to redesign my web site, patfraley.com, in order to reflect my changing style and my increasing involvement in teaching, directing, casting and producing.
DB's husband, DeWitt Hardy, is one of our foremost watercolor artists, and his eye is always over her shoulder. A big plus for me.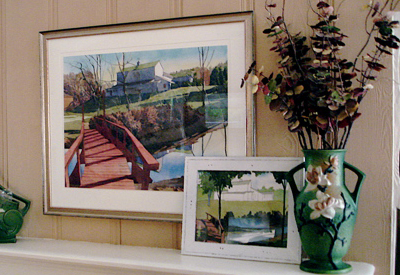 Everyone in my family is an artist, and my wife and I have purchased a few of DeWitt's paintings, one of which - and its study - grace our den, as shown here ...
DEFINING MY STYLE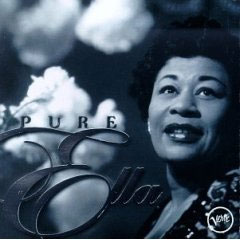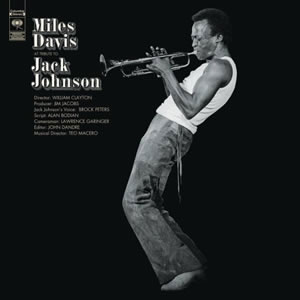 First, DB and I wanted to create a web site design based on Verve and other Jazz album designs from the '50's and '60's.
This was just because they are so cool. It was a start. The design became an "influence." We circled back and defined my style. DB assisted me in this definition:
Accessible
,
Engaged
,
Encouraging
,
Exaggerated
.
This is not to be confused with my personality, or the "real me." I wish I possessed more of some of these qualities - and less when it comes to the "exaggerated " bit - but true style is created by flaunting one's limitations as well as one's skills, and a "salting" of aspirations.
BRAND THE STYLE
Then the journey continued with creating the branding of my style. Both DB and I make a distinction between "style" and "branding":
Branding is the promise of what is to come. It is the form.
Style is the content.
There must be a direct connection. The word, form, in Greek is "morph." I like to think that style (content) "morphs" into the brand (form).

DB and I decided that most all the verbiage would be about the person viewing the pages, as it is, after all, "all about them."
For example, instead of the menu reading, "teaching," it reads "learn." Instead of "store," it is "shop."

We also decided that each page of my web site would have a photo as a background to text, and that most would have a photograph of me engaged with a seen or unseen audience/student(s) in an encouraging way.
This was to address the aspect of my style, "Accessible." After all, I'm not a company - I answer my own email and phone.
We also landed on photographs for a key element to the web site as they most clearly present a mystery for the viewer to solve: Where is he? Why is he there? What is he enjoying? Who is he producing, entertaining or teaching?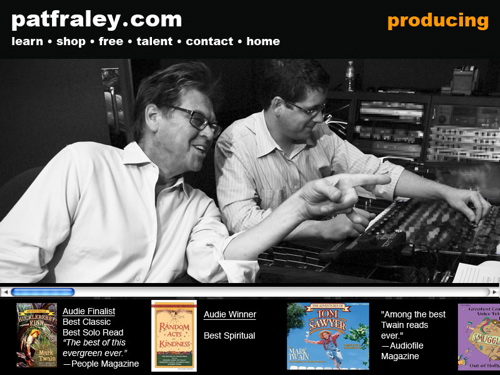 Here, the viewer might wonder: What's he doing?

In all art and craft, I believe there must be something that requires the audience to engage in. I always ask myself: Where's the miserable little mystery that the audience must solve? For example ...

In my logo, why is money floating in the air?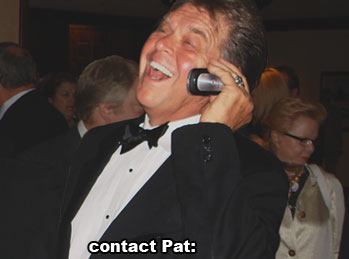 My redesigned web site also has a dose of self-deprecating humor, as it's part of my style ...
All in all, the journey with DB and DeWitt was so satisfying; DB is the Creative and Brains, DeWitt my "Art Angel."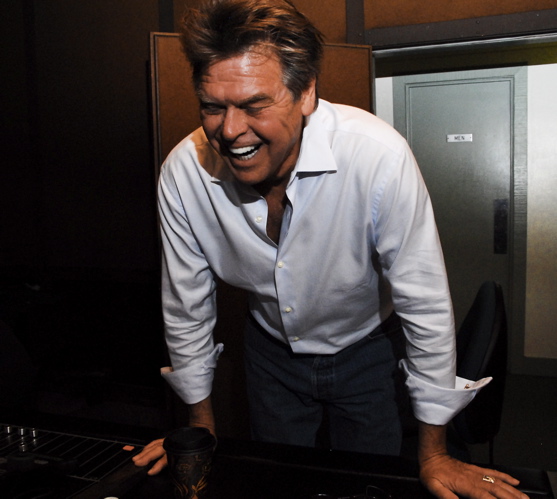 And me? I'm the delighted client.
Based in Hollywood, Pat Fraley is the multiple award-winning voice talent and teacher, who has created more than 4,000 characters in animated programs. He conducts Master Event workshops throughout the U.S., and is author of many voice-over how-to books and CDs.