---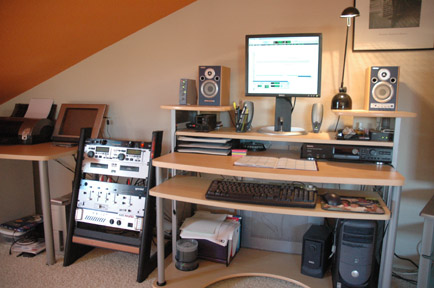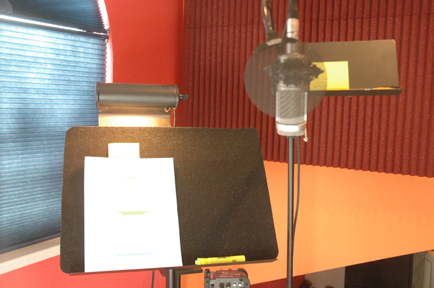 Sound-proofed media room features a Dell PC, Digidesign MBox and Pro Tools software. Right photo: an Audio-Technica condenser mic.
Luis Garcia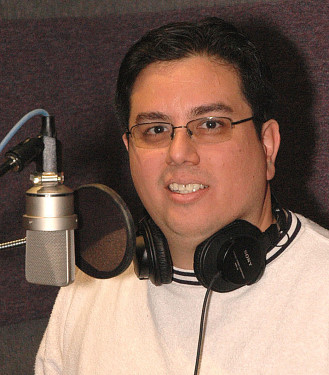 As a voice-over talent and recording engineer, my "home" studio is just an extension of my "work" studio.
Being lucky enough to work in an actual recording studio, I can bring my work home and vice versa. I work at
Nakamoto Productions
,
where we edit using Degidesign Pro Tools on Mac computers.
I use the same editing software at home on a Dell PC, along with Digidesign's MBox.
It's small, portable, and has never let me down. It's a great interface for small set-ups, and now they even make several different options for the MBoxes.
Pro Tools

Audio-Technica condenser mic

Edirol desktop monitors

Samson headphone amp

Gem Sound amp

Furman power condenser

Phillips CD recorder

Gemini dual CD players
HOME MEDIA ROOM
I don't have a sound booth, but I sound-proofed a media room in my house to lay down the best audio quality possible.
I glued Auralex sound baffles to the wall with their special Foamtak adhesive, which sprays in a "spider web" pattern, and is removable if you use a light coat.
You don't need much to have a basic home studio, but I would recommend investing in a good pair of studio monitors and a set of headphones.
I use Edirol monitors and Sony headphones, which are probably not the best, but I am comfortable with their reproduction.
As soon as I land another great paying gig, I would consider "upgrading" the monitors. It is essential to have the ability to listen to every detail of your recording.
Luis Garcia is one of Northern California's most talented Spanish voice actors, also known for creative direction in commercials and other projects. He hosts numerous radio programs for the Spanish-speaking community, and is an on-camera TV personality covering news and sporting events. He is most often seen on CBS 13 News, the Sacramento, CA network affiliate via the Secondary Audio Program (SAP) channel.
The professional studio at Nakamoto Productions, Sacramento, CA
,
where Digidesign Pro Tools is used on Mac computers.