---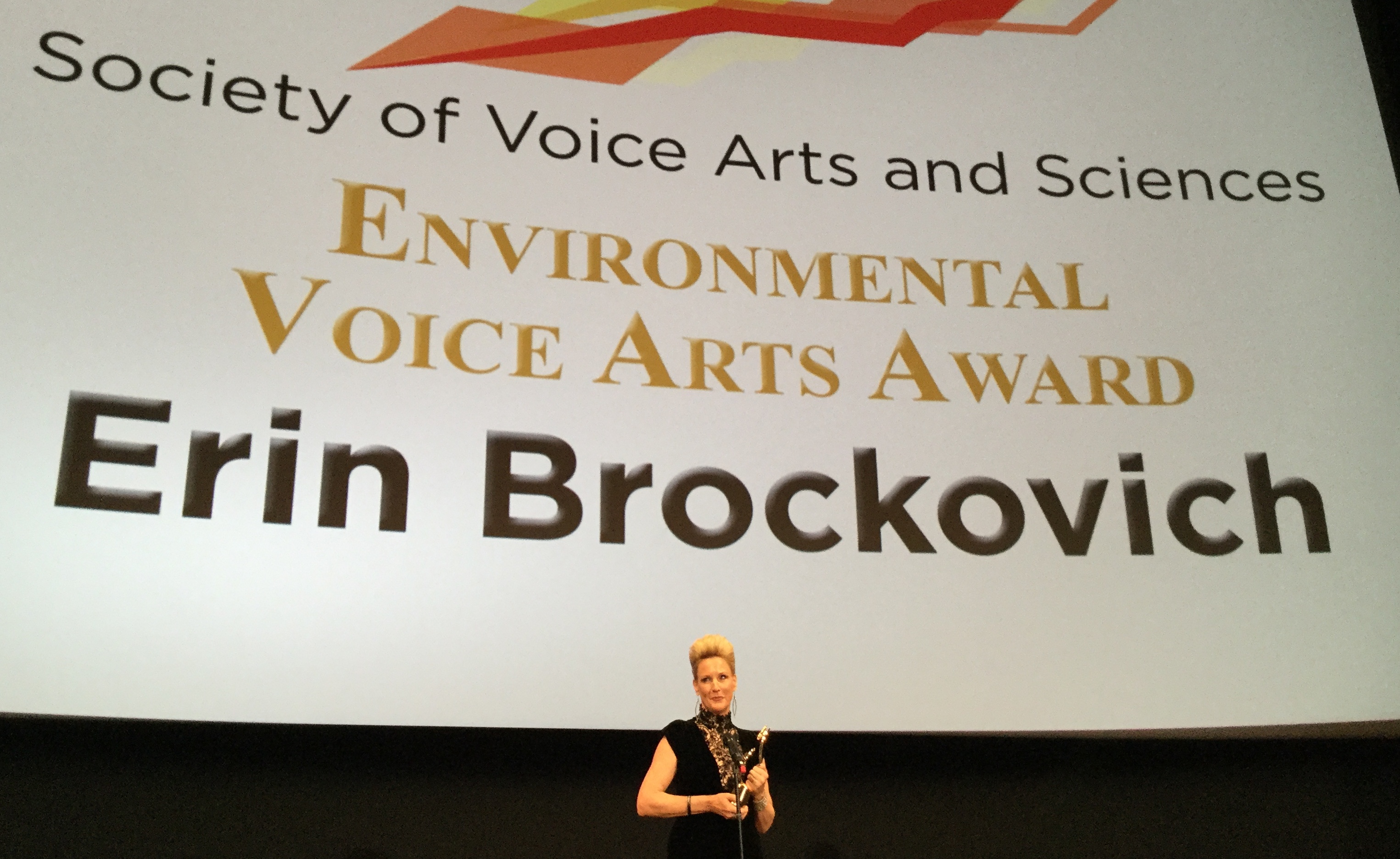 Erin
Brockovich receives the Environmental Voice Arts Award Sunday night at the
Voice Arts Awards Gala.
AWARDS
3rd Annual Voice Arts
®

Awards Gala Celebrates
Winners, Unity And Passion For Humanity

November 16, 2016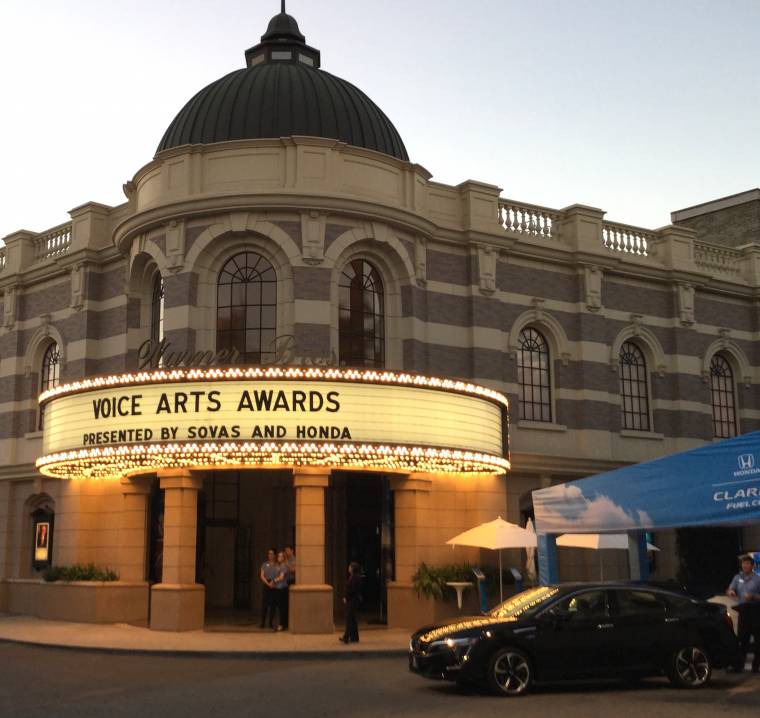 Story and Most Photos




By Martha Kahn




VoiceOverXtra




Rudy Gaskins

and

Joan Baker

(pictured below with

Pat Fraley

) collected many of the industry's finest talent to come together in a supportive and loving environment at the

3rd Annual Voice Arts

®

Awards Gala in Burbank, CA.

The Gala culminated the international competition for 2016, sponsored by the

Society for Voice Arts and Sciences

(SOVAS) that drew entries, nominees and winners in scores of categories.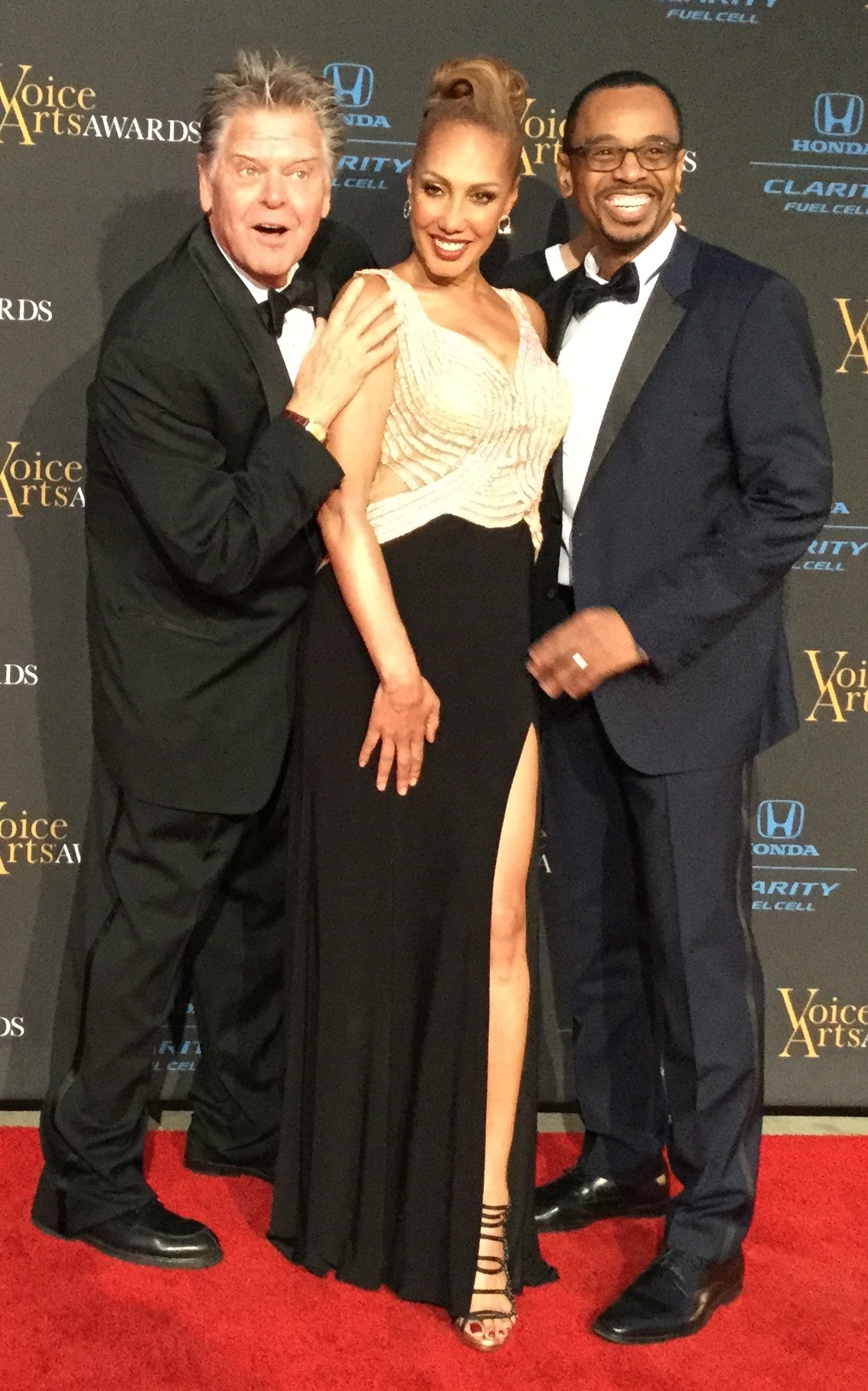 Yet we were at the Gala to not only honor our industry's achievements, but also to pay tribute to those who had lent their voices to not only the industry, but to our planet.

"Voice acting, when done artfully, has the power to engender great joy, laughter, understanding comfort, knowledge and many other positive influences that impact our global humanity," Gaskins wrote in the Gala Program.

"The word is the realm of the voice actor," he added, "or anyone who wants to make a positive difference. I take that to mean that every time we speak is a new beginning."




VOICE OVER UNITY



Following a week that rocked our nation and which was very much felt at this ceremony, the theme that carried throughout was one of unity.



J. Michael Collins

- three-time 2016 VAA winner (

Outstanding Radio Commercial

,

Best Voiceover

;

Outstanding Political Announcement - Image

,

Best Voiceover

; and

Director of Outstanding Narration Demo

) - set the tone for the evening by noting that in this industry: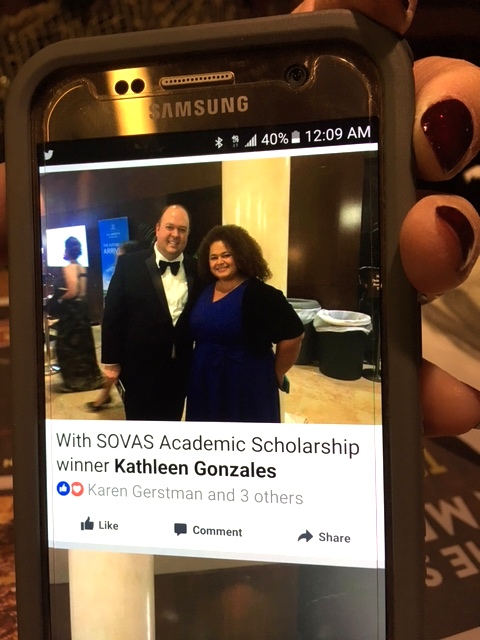 "There is no backbiting. We will always come together with love, peace and inclusion."

Collins was also one of the sponsors of the

SOVAS Scholarship

, and was invited on stage to present to this year's winner,

Kathleen Gonzales

(pictured, right).

Each year, the scholarship offers one worthy recipient thousands of dollars worth of complimentary coaching, equipment and event access designed to fast track the winner's career.



LAUGH LINES ...



Along with the presentation of awards for outstanding achievement were some outstanding belly laughs!



Christian Lanz

, an immigrant to the U.S. at a young age who learned how to speak English by watching

Scooby Doo

- and winner of the

Outstanding National TV Commercial, Best Voiceover

category - accepted his award with: "I'm gonna try to make this quick and I'm gonna try to make this conversational!"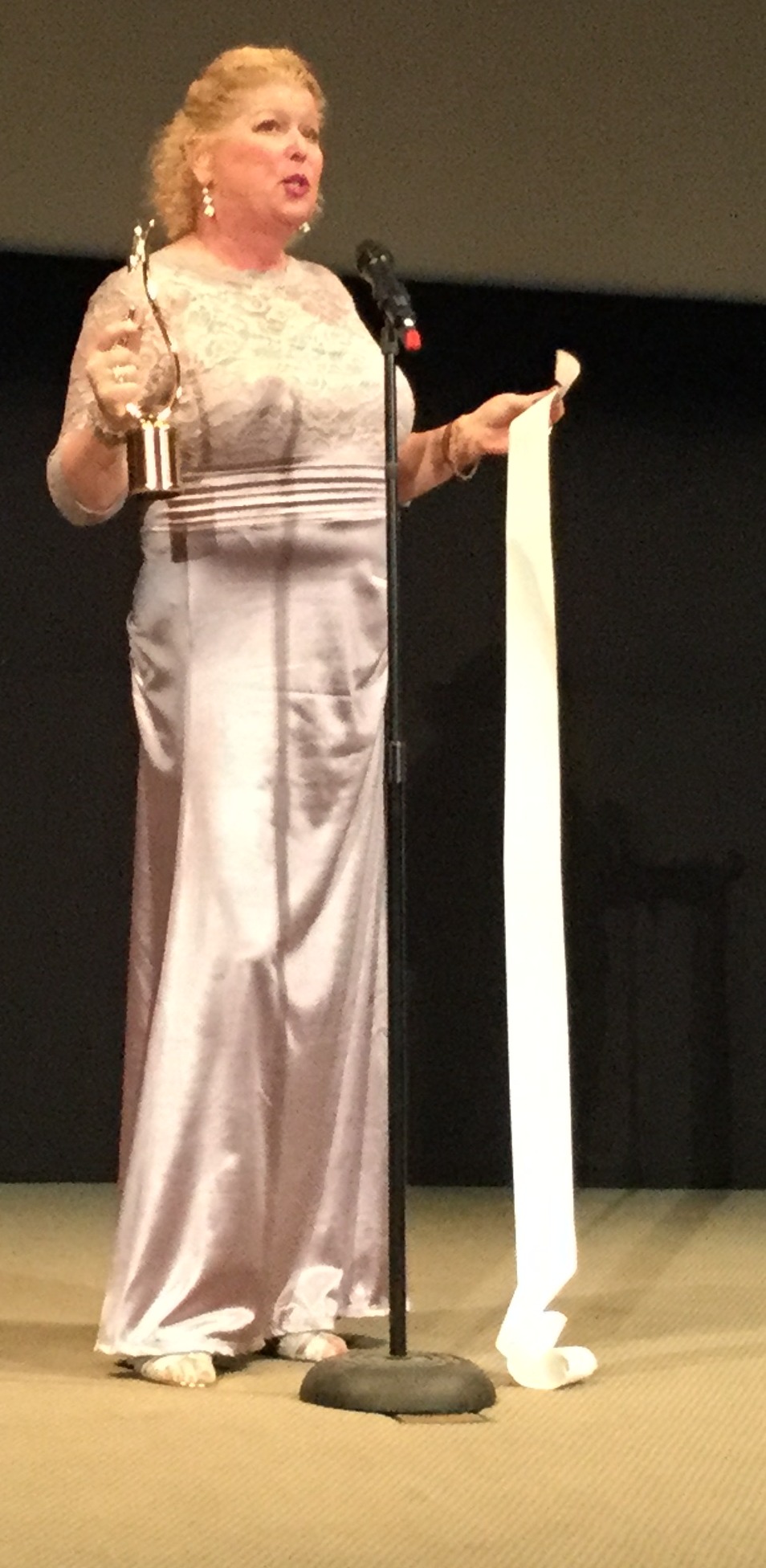 Susan Bernard (pictured) had us in hysterics as she accepted her award for

Outstanding Narration Demo Reel, Best Voiceover

when she pulled out an acceptance speech on a tally sheet that went to the floor.

Her message, however, spoke to all of us who work alone - and who have self-doubts - when she said: "It's about the promise. The promise to myself that I can do it."

And how could we not chuckle when

Audiobook Narration - Short Story Anthology, Best Voiceover

winner

Hillary Huber

thanked our industry for giving her an opportunity to work all day in a 4 x 4 padded cell!

Our big congrats go to

Bill Ratner

for

Outstanding Body of Work

,

Voiceover

!

Ratner remarked that this was the second time he had been acknowledged for his voice - the first time, he said, was in LAX, where he was recognized while buying a pack of gum!



PASSION AND OPPORTUNITY



And then there's the passion.

When two-time VAA winner

Debbe Hirata

(

Outstanding National TV Commercial Campaign, Best Voiceover

; and

Outstanding Consumer Sales Video, Best Voiceover

) accepted her awards, she remarked how we as an industry have the opportunity to use our voice to "speak greatly about our product" - a theme that echoed throughout the evening.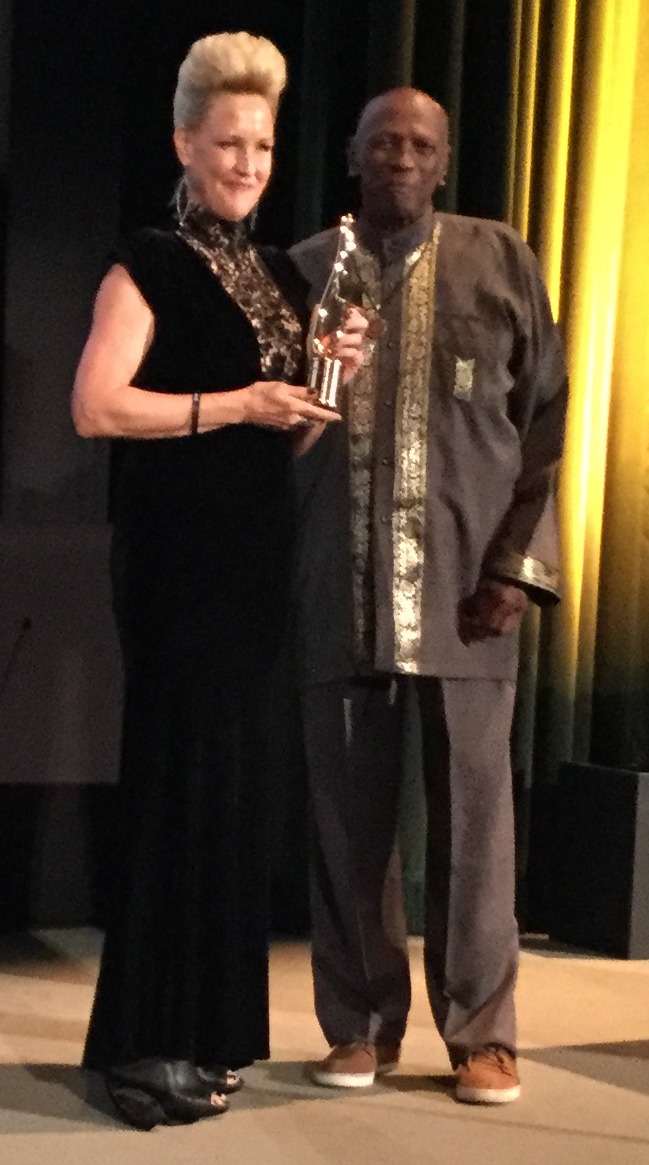 This was the perfect lead-in for

Louis Gosset Jr.

to introduce the

Environmental Arts Award

winner, consumer advocate

Erin Brockovich

.

Brockovich proclaimed, "No, I'm not Julia Roberts!" and went on to share how important it was for us to use our voice for environmental issues.

"Using the voice is good work because when we use our voice, good things happen!" she said. And Brockovich fervently declared that "change is opportunity in disguise."

When she added that "water is a human issue, not a political issue," Brockovich received cheers and a standing ovation.




READY TO RUMBLE!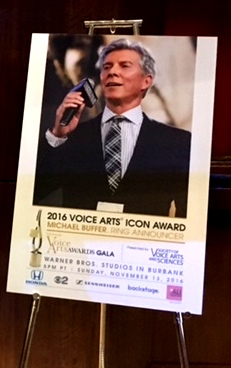 Another highlight of the evening was hearing

Michael Buffer

, introduced by

Jim Lampley

, as this year's recipient of the

Voice Arts Icon Award for Lifetime Achievement

.

The popular boxing and pro wrestling ring announcer - with the famous "Let's get ready to rumble!" slogan - said he feels lucky to have a free seat at the fights.

Buffer noted that he began his career doing live announce after watching

Looney Toons

as a kid, and that he dreamed of doing radio work and voice acting.

Today, he's grateful to use his voice to make a living, and he let us know that he embraces every day as the best day of his life.

FOR THE HUMANITIES


The recipient of the

Muhammad Ali Voice Of Humanity Honor

- President

Barack Obama

- for obvious reasons was not in attendance!

However, the co-recipient of this first annual award was

Muhammad Ali

.

Accepting this award on behalf of The Greatest was his daughter

Maryam Ali

(pictured), who recited a beautiful poem the Champ had written, and shared with us that her father wasn't the greatest because he said he was, but because no one would dare argue otherwise!

The audience was beyond touched by a video about how Muhammad Ali used his voice to make a change toward acts of social justice that impacted our world. His passion, his voice affected us all.



EMCEES REUNITED ...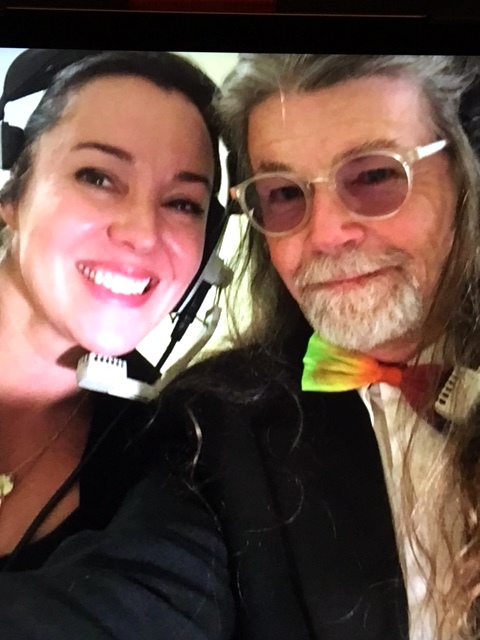 I would be remiss if I didn't mention that the Gala was flawlessly live announced by Emmy announcers reunited,

Rebecca Riedy

and

Beau Weaver

(pictured).

And how lovely it was to pay memorial tribute - as in the Oscars, Emmys, et al - to those who had lent their voice to, and impacted our industry: Alan Young, Ken Barrie, Christine Cavanaugh, Jason Wingreen, Joe Alaskey, Yuko Mizutani, Erick Bauersfeld, Phife Dawg, Marvin Kaplan, Tomoyuki Dan, Janet Waldo, Stan Freberg, Isaac Hayes, and of course, the late great Don LaFontaine

Winners of the

Outstanding Voiceover Podcast

award -

Stacy J. Aswad

and

Chuck Duran

, of the

VO Buzz Weekly

show, beamed out positivity with:

"Go big, dream big, go with what's in your heart and your passion - we're all winners! Embrace our differences!"



'VOICES OF THE WORLD'



And as the almost three-hour ceremony came to an close, voice actor/coach/studio owner

Marc Graue

looked out at the filled auditorium and declared, "We are the voices of the world."

Indeed, voice over is a $1.7 billion industry, and with the vision of

Joan Baker

and

Rudy Gaskins

, SOVAS' Voice Arts Awards have recognized not only talents that shine in the industry, but lights that shine in the world.

One voice at a time. Making a difference.

And with that I leave you with:

In the beginning is the word. A voice actor is born.


-------------------------------------------------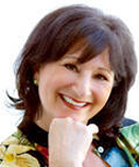 ABOUT MARTHA
Martha Kahn is a voice actor based in Southern California and well known in the voice over industry for her participation in numerous groups and activities. She is also Marketing and Sales Director for

VoiceOverXtra

.


Email: martha@VoiceOverXtra.com and martha@MarthaKahn.com
Webs: www.VoiceOverXtra.com and www.MarthaKahn.com


Your Daily Resource For Voice-Over Success