---
Rebuttal: Newspapers for the Blind ...
It's 'Newspapercasting' For A Charity
Editor's note: A recently-published article by voice actor Paul Strikwerda about a job payment situation with William May, editor of Newspapers for the Blind, has created quite a stir, with many comments. (Click here for that article.) Below is a rebuttal to the article from voice actor Mark Finfrock, who voices for NFTB. Mr. May has also been invited to add comments to the article below ...
By Mark Finfrock
Voice Actor & NFTB Newspapercaster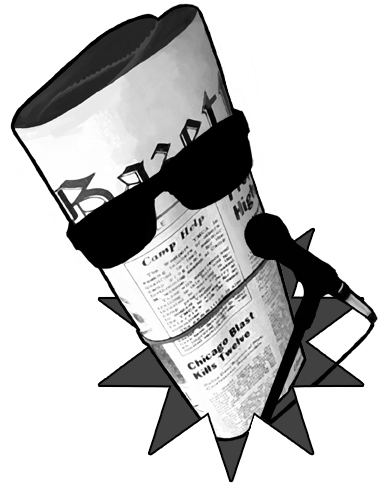 I wish to offer a rebuttal and some insight into the posting of the fired NFTB reader. I am currently a reader for this Non-Profit organization, and have been from the start.
For whatever reasons, the reader in this case, Mr. Paul Strikwerda was let go; those reasons are between Mr. Strikwerda and Mr. May of the NFTB: I understand he was faking the dates of the news articles.

In my opinion, disputes should be kept private.
To air one's "dirty laundry" in a public forum is in my mind, distasteful and shows poor judgment. Should he have posted this on his own web page, as he has, fine. He owns it, do what you want.
Therefore I am equally surprised that it would be allowed to be posted publicly to begin with; without rebuttal opportunity. This, not to mention the slander incorporated in the posting. That's item one.

Item two; NFTB is a Not for Profit organization, to date funded by Mr. May and his family.
It is also in a start-up phase. Grant requests, contributions from those utilizing the service and subscriptions have all been very slow to non-existent at this current time.
There is a Board of Directors, of which Mr. May is not a part, due to his role as editor.
Reader payments are slow; this much is true; we were told they would be.
BOARD AUTHORIZES PAYMENTS
But since the board only meets monthly, payments are authorized and distributed as soon as they can be processed. These are not "payroll" checks; there is no formal payroll department.
These charitable contributions are from the board of trustees.
This does cause a lapse in time for payments, as the trustees have to calculate payment. Also, when there are questions of payment, as in the case of incorrect readings, as in the case of Mr. Strikwerda, there is adjustment.
IT'S NEWSPAPERCASTING
Mr. Strikwerda is right in the fact that opportunities like this for a voice artist - steady work - are few and far between.
But the thing to know and realize is, this is not voice-over work. This is Newspapercasting.
This is not a one-shot voice acting gig to get a point across to a mass audience for advertising. This is daily relaying of the news to those with disabilities. In this case, the visually- and hearing-impaired.

That raises another point. As to why, certain voices are used and others not.
Simply, the need for the lower end - deep, baritone or bass - voices, rather than the higher - alto & soprano - is due to those levels being decipherable to those that are typically hearing impaired.
Our web site, as well, has been designed for the visually deficient and blind.
Both functions are the best there is for the dual-impaired, as determined by audiologists and ophthalmologists, for use on the web.

As for the personality of Mr. May, I can't say that I've had an issue.
In fact, Mr. May has more than helped me in this and in other endeavors in voice-over work.
Eccentric is a word that comes to mind. Mean-spirited, you say? Not in my experiences with Mr. May.
But I now believe these things to go with a person who at this point now has to defend himself against those who feel they have been wronged.
I also believe the descriptions given are of a person who only desires to have this endeavor done with the highest regard of perfection. As any employer or contractor would require in any business.
It's the old standard of, "If you are going to do something, do it right. And do it honestly."
THE BAD EXPERIENCE
In closing, I am sorrowful that Mr. Strikwerda feels he had a bad experience with Mr. May and NFTB.
In today's world it is easier to try to tear down one's character than it is to approach in confidence in a manner of understanding.
I had a school principal whose motto in finding out the truth was, "He who cries first, is the guilty one."
I have to ask myself, why one would go to such great lengths to have the name of someone blacklisted from the voice industry or tarnished in a public forum? Is it merely due to a business deal gone sour between two people for whatever reason?
I also have to ask, due my defending of the NFTB and offering my insight in the dealings of Mr. May, am I too to be blacklisted?

ABOUT MARK ...
Mark Finfrock is an on-air radio and voice-over talent.

Your Daily Resource For Voice-Over Success