---
Business Card Basics: Be Clear
And Consistent With Your Brand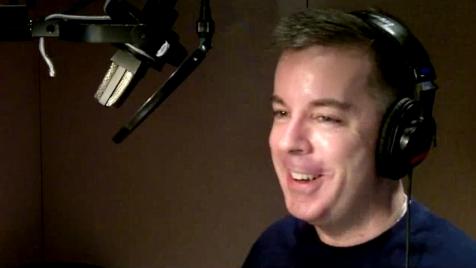 By Peter K. O'Connell
I just redesigned my business cards, and want to share five things I learned.

Take a look at the front and back views of my old (on top) and new (bottom) cards, and see if you agree.
WHAT I LEARNED ...
1. Be consistent, you moron!

The old cards didn't really match the overall look and feel of my branding.
I know better than this, so how could I be so dumb?
2. Less is more, because the old more was unreadable!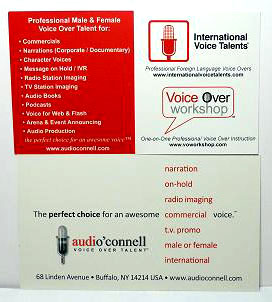 It was a few years ago, and I thought every detail of my business had to be on one card.
But all that stuff basically confused the heck outta people or made the card unreadable and useless. Not good.
3. White space is your friend!

Font vomit and logo diarrhea are not your friends, yet the old card had both of them and none of the white space.
Ya gotta give people's eyes room to read and even relax a bit with a card. They'll probably retain more info that way.
I'm still not sure if the main logo and the secondary logo will throw people off, or if it won't matter much to anyone.
4. Oh, you do voice overs, too?

Somewhere in the old card, you might be able to tell that the president of the company may have, at one time in his career, actually performed voice overs himself.
In the new card, especially on the front, that should be clearer now.
Titles are for suckers, and it appears at one time I was a sucker for titles.
5. If you are creative, show it!

It took me some time, but on the back I created a design to show the company, everything the company offered, and tied in the logo all without making people's eyes bleed.
Extra points: In a year or so, I'll do another article on how I have come to hate my new card design, too.

Now these are my takeaways, but your opinion on the old versus new business card may be vastly different.
What do you think? Please share!
ABOUT PETER ...
Peter K. O'Connell has been a professional voice talent since 1982 and is president of audio'connell voice over talent. His company provides English-speaking professional male and female voice-over and audio production services for national and international clients. The voice-over needs of foreign-language clients are served through another O'Connell-owned company, International Voice Talents. He also operates Voice Over Workshop, which provides professional voice-over training to novice and experienced voice talent worldwide, is author of The Voice Over Entrance Exam, an e-book that examines the business and performance realities of becoming a voice-over talent, and writes a very informative blog on voice-over marketing and advertising, voxmarketising.

Your Daily Resource For Voice-Over Success