---
TwistedWave: Fast & Simple Audio
Editing For Macs, iPads & iPhones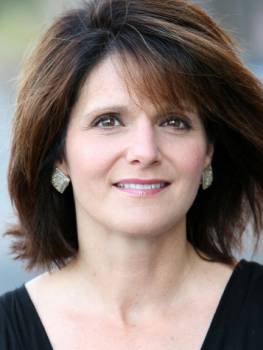 By Lisa Rice
(pictured)
Today's voice over landscape requires us to be sharp, quick and fearless. Kind of like warriors with a computer.
Not knowing what it's actually like to be certified warriors, we can only testify to facing multiple voice over projects and auditions that need conquering.
Producers and talent seekers typically ask for dry audio files enabling them to sweeten things on their end. They also require extremely quick turnarounds.
This makes having an efficient DAW (digital audio workstation) crucial.
MAC WAVES
In rolls TwistedWave, a serious plug-and-play audio editor for Mac computers and now, for iPads and iPhones.
TwistedWave touts a clean, simple interface making recording and editing just that.
Clean and simple - with an impressive selection of file formats from which to choose.
LEARN QUICKLY
It has a short learning curve, so getting started is a breeze.
Select your preferences and recording, editing and saving files becomes second nature.
The easily navigated waveform window makes editing sessions smooth and easy.
No waiting for files to bounce to disk either. Save what you want and you're on to vanquish your next project.
ADDED EFFECTS
Want to take it up a notch?
TwistedWave comes with many effects (both audio units and vst), and the ability to create, save and edit unlimited effect stacks.
Keyboard shortcuts are customizable.
And just like its competitors, it offers streamlined batch processing.
One thing TwistedWave doesn't have, at least for now, is a dedicated noise reduction filter - though we've heard de-esser and noise removal capabilities are being considered for future builds.
SUPER SERVICE
The best part of all? TwistedWave's customer service.
Most issues are answered by the easy-to-understand user's manual.
However, Thomas Thiriez, the program's designer, personally answers questions via email.
There's also an online blog and quickly growing knowledge base.
TESTED TOOL
TwistedWave has some good company.
One of our own, the great Beau Weaver, acted as a consultant during its creation, and George Whittam of ElDorado Recording Services recently began offering reasonably priced tutorials.
TwistedWave provides the tools you need to handle jobs and auditions with warrior-like success.
Why, before you know it, you'll find yourself feeling fearsome.
ABOUT LISA ...
Lisa Rice has worked as a writer and producer for both radio and television in addition to on-air and on-camera stints. Her voice over portfolio includes commercials, narrations, e-learning projects, promos and telephone prompts for a wide range of customers, large and small.
ABOUT HELENE ...
Hélène Janover has voiced film and audiobook narrations, commercials, web promos and telephone greetings. She is also a writer and editor.

Your Daily Resource For Voice-Over Success