---
See Pat Fraley's Free Lessons ...
Help Him 'Sleep At Night' Again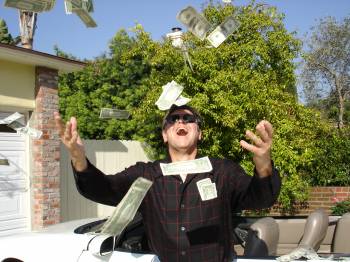 (VOXtra) -
Pat Fraley
, the LA-based voice over star with a passion for teaching, has a problem. He can't stop posting free video voice over lessons at his website.
"Why do I do it?" he asks VoiceOverXtra readers.
"I have a heart for the economic problems in this day and age, and personally am suffering difficulties due to money.
"Lately, I can't sleep at night. I wake up thinking, 'What am I going to do with all this money? When is all this money going to stop pouring in?' "
Well, the tongue in Pat's cheek might have something to with him having ceated more than 4,000 animation characters (doing silly things with the mouth), which places Pat in the top 10 of all time to be cast in animated TV shows.
Anyway, do check out his growing library of free video voice over lessons, which range from audiobook narration skills to animation, characters voice and dialect, home recording and more.
Ready? Here's your link:
Now, Pat. Please get some sleep!
PS: Check Pat's learning events and products, too:

Your Daily Resource For Voice-Over Success