---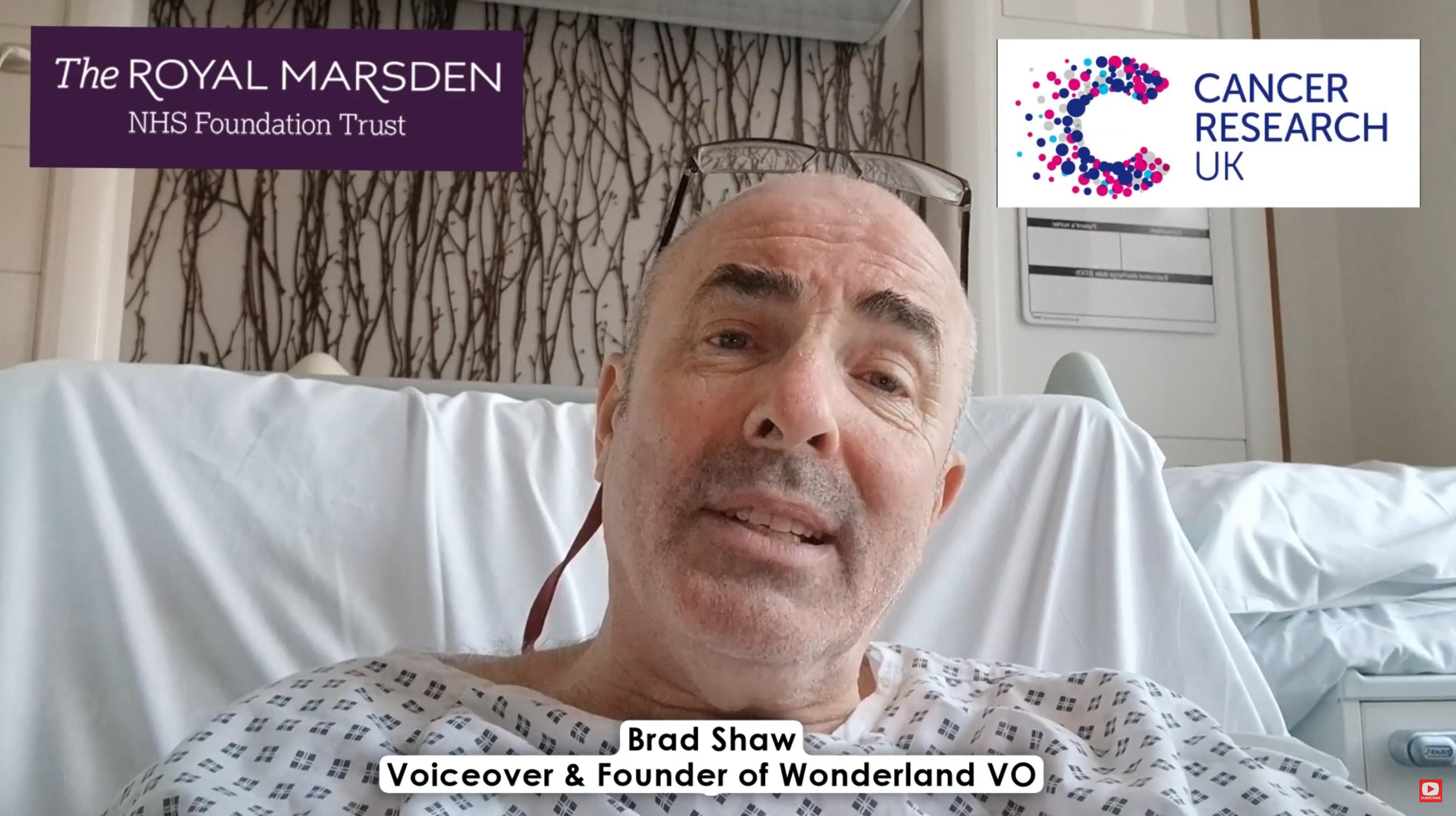 Hospitalized in April but now cancer-free, voice actor Brad Shaw is raising money for cancer research with an audiobook of 'Alice Through the Looking Glass,' recorded by a cast of voice talent, actors and celebrities.
Voice Actor-Cancer Survivor Brad Shaw Raises
Money For Cancer Research With Audiobook

LONDON - Voice actor and three-times cancer survivor
Brad Shaw
called in 174 voice actors and celebrities this year to raise thousands of pounds for Cancer Research UK.
They each recorded a minute of
Lewis Carroll
's
Alice Through the Looking Glass
for an audiobook that will be released one chapter at a time as a series of podcasts during December.
Among those taking part this year are
Phyllis Logan
,
Downton Abbey
's head housekeeper Mrs. Hughes, and
Pirates of the Caribbean
star
Kevin McNally
.
Brad, 59, from Chiswick, was diagnosed with stage three malignant melanoma in June 2019. After a year of immunotherapy treatment, he was clear of cancer for two years. But in January last year, he needed treatment for prostate cancer and had a pioneering operation using high intensity focused ultrasound, which aims to kill cancer cells with high frequency sound waves.
And then, in April this year, the skin cancer returned, and he needed further treatment to remove lymph glands.
RAISING MONEY FOR RESEARCH
Following his first diagnosis when the world was in COVID lockdown, Brad came up with the idea of The Wonderland Challenge, inviting fellow actors to record an audiobook of
Alice in Wonderland
to raise money for the NHS.
Among those taking part were actors
Michael Palin
, Dame
Juliet Stevenson
,
Ruth Jones
and Dame
Harriet Walter
.
Now, nearly three years later, Brad is about to launch The Wonderland Challenge 2 -
Alice Through the Looking Glass
audiobook to raise money for Cancer Research UK.
MY WAY OF SAYING 'THANK YOU'
Brad, who runs a voice over training community called WonderlandVO, said:
"I've had cancer three times now but I'm alive and cancer free! So, I decided to do the Wonderland project again as my way of saying thank you for the treatment I've had, and to everyone who has helped save my life - three times!
"This time I split the book into 174 one-minute chunks with each actor, voice actor or celebrity recording one minute each, and donating at least £10 to Cancer Research UK.
"I then called on all professional voice overs to take part," Brad explains. "I was inundated with offers. Each recording came with a supportive message and a tale of how their family has been affected by cancer. It was then my task to edit all these wonderful pieces together to produce a wonderful audiobook."
Phyllis Logan said she enjoyed being part of the Wonderland team:
"It's been a great privilege to be involved with this wonderful project and to know it has raised money for Cancer Research UK - a cause which is close to everyone's heart, I'm sure. Bravo Brad, for your time and commitment!"

Kevin McNally added:
"It's such a pleasure to be part of this wonderfully entertaining fundraiser again. Well done, Brad!"

Donations have already reached £4,660, and Brad is hoping there is much more to come when the first chapter of the audiobook is released as a podcast on December 4.
A further chapter will be released every two days until December 22.
DONATIONS WILL BE APPRECIATED
Every year, around 36,500 people are diagnosed with cancer in London
Cadena Sampson
, Relationship Executive for Cancer Research UK, said:
"We're delighted that Brad is putting all this time and energy into the Wonderland 2 project to raise money for Cancer Research UK. As someone who has received treatment, Brad is well aware of the need for further research and better and kinder treatments for all types of cancer.
"We're really grateful for his support - and that of all his fellow actors and voice actors who are taking part, too," she adds. "It is our supporters who will help us make those desperately needed breakthroughs in the future."

Some of the actors taking part have posted about the challenge on Facebook.
To find out more about The Wonderland Challenge 2, visit:
To donate to Cancer Research UK:
And to listen to the first chapter on Spotify:

Your Daily Resource For Voice-Over Success