---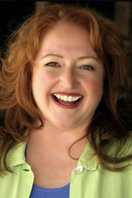 From John Florian and Your Friends




VoiceOverXtra, February 17, 2014





Dear Vanessa,



It's tempting to ask, 'How are you doing?' - like we're still the email buddies chatting about upcoming article ideas and your projects.

But there's a feeling that you're doing fine now ... that you're increasingly aware of the joy you brought our lives ... and that you're happy to learn how much you enriched and nourished our voice over careers - more than you probably realized at the time.

Please forgive me, but I pried a bit to learn what happened, and a close friend of yours shared with me that you experienced renal failure - previously undiagnosed - and that following some time in the hospital you felt better but then collapsed last Tuesday (February 11).

I imagine you're aware of the shock wave that ensued online amongst your friends! And I invited them to share thoughts and memories about you here, as well.

Vanessa, you'll see that as we get beyond shock, we recall an ever-smiling, warm, bubbly, helpful, energetic, and thoroughly talented and professional voice actor, audiobook narrator and "honey-with-a-kick" coach.

Your early departure reminds us that ...

Life is fleeting, but
Friends are forever

Vanessa, your forever-friends want to share memories and wishes with you now, too ...



Bobbin Beam ...


Vanessa Hart was my dear friend, with a generous heart, who cared deeply for her students of audiobook narration.

She worked tirelessly on the formation of the Audiobook contract, dedicating much effort to the Audiobook Steering Committee, for the benefit of hundreds of

SAG-AFTRA

members working under its provisions today.

Vanessa was a talented, tough, and a trusted friend, who was always there when you needed her.

We shared an apartment in New York together last Spring during the APAC conference, which was a highlight for us both. We scheduled a weekly accountability "Stand up" group conference of two, every Friday for the last three years. In each delightful conversation, we reveled in respecting our differences, celebrating our wins, sharing our career plans, laughs, hits, and misses. As to hits, listen to her stellar performance of

True Believers

by Kurt Anderson.

Vanessa Hart is a lovely, smart voice, now on pause ... way too early in the game. But her legacy lives on. I will miss her deeply.



John Pruden ...




I don't know how. I don't know when. I don't know why. But I do know it was unreasonable, it was too soon, and it doesn't make sense. Shocking, saddening, and unfair are words that come to mind. Vanessa became a friend through many conversations online and over the phone about all things audiobooks. She was kind, caring, giving, and above all vibrant. She will be sorely missed. My prayers and thoughts go out to her family. Rest in peace, V.





Robin Eller ...




Carissima Vanessa,


Iím not sure where to begin because the shock hasnít quite worn off; however my heart knows itís true. You had to leave without warning. Iím sure you were chosen for something larger than we can imagine. Iím betting it was a surprise to you as well to be called upon so quickly.

Selfishly, I am saddened by the fact that we had so many chapters left in our friendship to write. It is said that itís not the quantity of time, itís the quality. I canít help but feel robbed of the "quantityĒ as Iím certain so many who loved you do.

There is great comfort in knowing that we had quality moments together. Last month, we were sipping mimosas at your house on Super Bowl Sunday, watching the game, laughing, sharing stories of our lives, and cementing our friendship. What a special afternoon! Just a few weeks ago we were laughing together after the Audible event. We hugged each other goodbye and said "I love you Öweíre getting together soon!Ē

Grazie di cuore, Vanessa, for sharing your talent, generosity, wisdom and for your friendship. Iím holding tightly to your smile and infectious laugh. Bella donna, you touched so many lives! You were loved tremendously!

Thereís an empty space in our hearts; however weíll find comfort in our memories of you. Iím sure when we least expect it, youíll shine your bright light of southern charm down on us to say hello. Arrivederci dolce amica mia, non ti dimenticherÚ mai (Goodbye my sweet friend, I will never forget you). Riposi in pace (R.I.P.) - May angels lead you in.



Don Leslie ...


Vanessa Hart certainly had two distinct sides. On one, an emotional, caring, 'softee' she was often hesitant to reveal and on the other, a fierce strength that joined with her moral sense of right and wrong. What a wonderful combination! We laughed a lot. She let me in. We were close.



Stephanie Riggio ...


Vanessa and I not only shared VO in common, but also a deep love for the well-being of animals: when she found herself ready to adopt new kitties a few years back, she contacted me (knowing of my work in rescue) at the start of her search. I did my best to help her find her new kitty family members, whom Iím sure would add to this tribute if they could. My heart breaks for her family - human and furred - and friends. We will all miss her bright smile and infectious laugh.



James Alburger & Penny Abshire ...


News of Vanessa Hart's passing came as a real shock. Vanessa was known for her nurturing of budding talent with a unique kindness and patience as a coach, and for her incredible talent as an Audio Book narrator. She was a good friend and supporter of the VOICE convention and we will dearly miss her. Her passing is a great loss for the voice acting community.



Deb Munro ...




Oh my goodness - NO WAY! It is with deep sorrow that I write this today, however it is with great pride that I celebrate the life, success, talent and incredible personality of Vanessa Hart. For those of you who knew of her, but didn't know her personally, Vanessa was giving, kind, and loved what she did and we are blessed to have had her share her experiences and talent with us. IN VOICE WE STAND MY DEAR FRIEND! Today i celebrate you Vanessa! You will be greatly respected and forever missed. All my love



Rich Owen ...
I donít remember where I met Vanessa, but we were friends at least in the social media world. Last year she reached out to me and invited me to narrate an audio book on a project she was doing for Audible. It would be my first try at long form although I had taken several classes on audiobooks and felt prepared for what I was about to experience.

Vanessa was always available to give critique and feedback and answer questions. She was always supportive and encouraging as I struggled to get the book read. I will always remember her as a kind sole with much patience who was able to give clear direction as she helped this fledgling out of the nest. I will miss her very much!

Denice Stradling ...
Vanessa was my audiobook narration coach, and also my friend. I first met her at APAC when it was here in Los Angeles about 6-7 years ago; I can't really remember. That meeting led us to form a small VO support group we called "VoxChicks" ... we'd meet every now and then for support, insight, and friendship, as we navigated our own individual ways in our chosen VO paths.

From there, I began to work with her as a coach, and our work relationship, and more important, our friendship flourished. I learned so much from her, in regards to work and life! Vanessa exuded warmth, humor, love and incredible support, I think, to all who worked with her.

I will miss her deeply, but my life has been enriched and blessed by her in it, and it will continue to be. I put a picture of her in my studio - and I can feel her presence when I work!



Anne Ganguzza ...


Vanessa, your light will continue to shine strong and bright in this community, as evidenced by the outpouring of love for you that has been radiated back by your gorgeous spirit to us. What a beautiful gift you have given us! Love and Light. We will miss you dearly. xoxo.

Johnny Heller ...
Vanessa was a warm, effervescent person who brightened every room by simply entering it. Her sudden passing is a complete shock and a great blow to the audiobook community and to the world.

Dawn Harvey ...
When I first ventured into the world of audiobook narration, I did a number of coaching sessions with Vanessa via Skype and she worked with me on one of my first demos. Vanessa was so easy to work with, so encouraging and she made me feel welcome in the audiobook world. I will miss not seeing her smiling face and hearing her infectious laughter. RIP my friend.



John McLain ...




Vanessa Hart was fun to be around because she loved life. She was always bringing out her wonderful laugh, and her quick wit often made her the life of any party she attended. She was gifted not only as a performer, but also as a coach, teacher, and mentor to many voice actors who are enjoying fine careers today. I only worked on one project with Vanessa; an audiobook in 2012 ,which happened to be my first science fiction title. I found her to be engaging, warm, and always a champion for the performer. Vanessa was not only a great citizen of the voice acting community, but also one who truly made that community feel like a family. She will be greatly missed by the many people she touched.





Kurt Kelly ...




Saddened to hear the news. Another great voice is silenced for now; but not to the great recordings of time! I remember well the last time that I saw Vanessa and her warm effervescent smile ... it was Friday, August 16, 2013 at Bow & Truss with Bob & Debra Deyan for the private Audiobook Creation Exchange hosted by ACX.com. Vanessa knew how to light up the room with her delightfully charming personality and amazing voice talents. Oddly, Roy Yokelson and I were just talking about working with her in the past week. Thoughts of love, healing and understanding to her family and friends.





Bob Souer ...




I am deeply saddened to learn of the passing of Vanessa Hart. She was a bright light, full of talent and life, and served as an inspiration to me for several years in the audiobook world.





Darla Middlebrook ...




It is hard for me to wrap my head around the thought that Vanessa Hart is no longer with us. Vanessa was my coach and mentor. She believed in me and helped me believe in myself. She was a wonderful person who was a definite believer in "paying it forward" and gave me the boost to "go for it" as an audiobook narrator. I loved Vanessa and will miss her greatly.





Alex Hyde-White ...


Here is a short audio memory of Vanessa - a very recent friend:


www.voiceoverxtra.com/podcasts/vanessa_hart.mp3



Cyndee Maxwell ...


Vanessa was my first VO coach and helped me land my first audiobook. I loved her no-nonsense approach combined with her charm. She will certainly be missed.





Bettye Zoller ...




Stunned and saddened by the untimely demise of voice talent Vanessa Hart, a resident of California. We taught together and met for the first time at Disneyland in California. I would have liked to have known her better. We also shared emails. Rest in Peace.





Dave Courvoisier ...




Vanessa Hart; loved by many Öaudiobook narrator par excellence, VO coach, friend, and lover of life has reached the end of her Earthly path. She will be greatly missed by a vast community of voice-actors and an Audiobook community who loved her.





Deb Coloma ...




I am so shocked, so sad, can't help shedding tears over Vanessa leaving this earth much too soon...I will never forget Vanessa, her velvety, smooth voice and her kindness, a class act all the way...Heaven has a new voice over angel...RIP Vanessa.





Terry Daniel ...




Vanessa Hart was always excited to be a part of the "Annual Voice Talent Holiday Greeting" every year. In honor of her creative efforts, I have put together her last three submissions from 2011-2013. She was a hell of a talent and a good friend. We will miss you, Vanessa!




https://soundcloud.com/voiceoversbyterrydaniel/in-loving-memory-of-vanessa





Maxine Dunn ...




Vanessa, what a light to the world you are! Loving, lovable, talented, beautiful. I will miss you very much and send you blessings on your Journey. You memory will live on in our hearts forever.





Benita Ellena McShan (Miss Bee) ...




When I first expressed an interest in narrating audiobooks, Vanessa was one of the first people to reach out to me. We corresponded for a bit and finally met at VOICE 2012 in Anaheim. She was delightful warm and courteous. I was looking forward to seeing her and having a narration session with her next month in Atlanta. I am so shocked and saddened by the news of her passing.



Cliff Zellman ...


This news is so sad to hear. Vanessa was an innovator. She set the standards for the industry she loved so much.She was a master, a teacher, a mentor, a family gal and a friend. Forever encouraging and tirelessly generous. Dear Vanessa, you will be missed, but your voice, spirit and "Hart" and soul will be heard loud and clear for generations to come.



Stephanie Ciccarelli ...


Vanessa's warmth, sincerity and generous spirit will be greatly missed. She was an original whose vibrant personality filled every room she entered, and more importantly, every heart she touched.





Susan Bernard ...


Vanessa (I called her 'Ness - sometimes "Good-Ness Gracious-Ness"), was an early VO coach of mine and I was impressed with the way she sounded when I first heard her recorded voice, and the way she breathed her words to life. Her smoky, sultry voice pulled me in after she suggested I listen to a few of her audio books.

I knew I was hooked because she lost me in what she was reading and her take seemed so effortless, but still had a huge impact on me. I was hooked and I thought I wanted to do audio books at that time, so I received coaching from her and we were diligent for several sessions throughout our time together, but slowly, I realized I wasn't as interested in audio books as my niche like I had thought, and my interest waned.

Still, I kept calling her to discuss my career as a VO talent, and to get advice, and to gain insight and understand the 'inner circle' of VO, and we became friends.

Once, I was admonished by her for being slow to the race, but I was also genuinely encouraged by her to run my own race and forge a footprint with originality. I was chided once for not doing exactly what she said to do with my recorded sample she had asked for, but in the very same phone call she laughed at how strong-willed we Southern gals can be!

Vanessa was always up front with me, and she was careful not to mince words but she had a big heart and she was very impatient - very much like me - and, we would pick at each other in fun.

I spent 4+ years getting to know her via phone, until she said she was going to be at VOICE2012, and we could meet f2f and hang out. I met her there briefly and was chatted just before her session with a promise of a later meeting. Unfortunately, I couldn't get together with her when she could, and later found out she was 'holding court' with many of the various VO talents late one night at the conference.

I was looking to re-connect again this next month at the upcoming Atlanta VO conference. I had a little gift for her in appreciation of all she had shared and given to me, and the last time we talked she gave me a very important lesson. She said (paraphrasing message), 'Always get paid for what you do, but do things for yourself in this business, and when you are happy with the results be proud of your stuff, then let it go. Don't let anyone tell you you can't do something, or you aren't good enough... YOU KNOW YOU BETTER THAN ANYONE!' I think those words are so true to live by and I will remember her for all that she was while she was here. Definitely going to miss her!



Graeme Spicer ...




All of us at Edge Studio are saddened to hear about Vanessa's passing. George Whittam knew her best - and he knew her only remotely through the VO community, but we know she was universally loved by her students and her VO clients alike. Our thoughts are with her family, friends and students.





Stephen Lowell ...




This is truly shocking and saddens me. Although I only got to know Vanessa Hart at Voice123 some years ago through emails, I always knew she cared about making things better and was always willing to contribute helpful advice. It is easy to see how special she was to the community. This is a terrible loss for the voice over community. I wish her friends and her family the very best during this difficult time.



Phil Williams ...


I met Vanessa three years ago. I was introduced to her through John Grove, and I was fortunate enough to get face-to-face audio coaching sessions with her at her house. Even though she wasn't feeling well that day, she still carried on with the lesson, and it was a joy to listen and watch her work. She got me started in Audio Books, and we spent many an hour on the phone working through my often stumbling, but slowly progressing learning process. I will miss her sultry voice, and happy smile. She made a huge impact on my life, and I will miss her greatly. Love you girl!



Leslie Diamond ...


Talented Vanessa was kind and caring, giving and sharing, bubbly and sweet. What a loss! May we find the strength and grace to comfort each other and her family.





Michael Miro ...




It's with a great deal of shock and sadness to learn of Vanessa Hart's passing. I had the privilege of working with her in the "Three Voiceketeers" seminar in Las Angeles a while back. I truly enjoyed my time with her and appreciated her insight, wit and encouragement.





Annette Rainesalo ...




From my very first correspondence with Vanessa years ago, I was greatly impressed with her warmth, wonderful sense of humor and bubbly personality. She was an amazing voice-over talent and a supportive, encouraging friend. I'm honored to have known her and am thankful for the great memories I have of her.



Christine Padovan ...


Vanessa introduced me to the world of audiobooks in early October 2011. I learned the art of book prep, character voices and correct word pronunciation from her. Her recommendation to a publisher got me my 2nd audiobook deal within a week of my first. Vanessa's voice was indeed 'honey with a kick' and she will be sorely missed in our industry.



Kimberly Geter ...


Every audiobook session that I had with Vanessa Hart made me love books even more. I absolutely loved training in audiobooks with Vanessa and embraced my training. She was fun to work with and I was very glad to complete my five month training with her before Thanksgiving 2013. We talked about future plans to attend the VO Atlanta 2014 conference since I was going to assist her during that time period. I never got to meet her. Blessings and Peace to her family and friends at this time.





Randye Kaye ...


Vanessa, I didn't know you well, but I loved meeting you at APAC last year and before that eagerly listened to both your narrations and your audiobook training productions. What a talent,"honey with a kick", and what an amazing woman. RIP.



Brettt Bumeter ...




Terribly sad to hear about this. Seems like I just talked with her a couple weeks ago. She was always so full of energy and life...





Susan Iannucci ...




Vanessa was all about identifying the strengths in each voice. Her insights and direction were spot on. Always cheerful, encouraging, eloquent and frank. I will miss her presence.





Shelly Steele ...




My heart hurts for all close to Vanessa. She touched so many lives.





Gary Moore ...




Vanessa Hart did what all VO professionals want to do, she made it sound simple and natural.





Rick Lance ...




I was as shocked as anyone in our community to hear about Vanessa. I can't say I knew her very well. I only had a glimpse of her character from occasional comments on FB and a few brief online chats we had. I knew she was an in-demand, talented lady and certainly left us way too soon. I feel for her family and for those who did know her well. May she rest in peace.





Sue Bilich ...


Vanessa Hart was a beautiful, and generous person. She always reached out to everyone with her generous spirit. Our hearts are saddened knowing that Vanessaís person will no longer be visible, but we are lucky to have her delicious voice recorded. Vanessaís star will shine in the heavens.

Scott O'Neill ...


Thank you for memorializing Vanessa in this manner. Am honored to have known her and been part of two anthology collections with her. Stunned to learn of this loss to our realm. Wonderful, nurturing, talented spirit and beloved colleague. Am honored to have known you the brief time I did, Vanessa. Peace with your transition.





Jill Goldman ...


Sad news indeed. I didn't know Vanessa, apart from knowing her name, seeing her photo, and hearing her voice. I can only say it seems like she was a lovely person with a beautiful smile and fabulous voice. I send sympathy to all who knew her. I wish all her family and friends to find peace through their grieving processes.



Marissa Ampon ...


Oh my gosh! I never got to meet Vanessa but have heard great many things about her. I may have even read one of her articles. It hurts to hear about anyone passing at such a young age and within the voice over community. My condolences to her family and friends.



Joe Stofko ...


What a shock. I knew her only via our Facebook friends connection...but I knew her work and her tireless efforts to lend a helping hand to all those who reached out to her. She will be missed.



Matthew Rosenzweig ...


Very sorry to hear the news. My condolences to her loved ones, family and friends.



Paul Payton ...


I didnít know Vanessa, but itís sad when anyone goes too soon. My condolences.



Jeff Gelder ...


I met Vanessa very briefly but have always remembered her incredible smile. Seeing it in pictures online always makes me smile! R.I.P Vanessa.

Karen O'Bryant ...
This is such sad and shocking news. Vanessa was such a warm, welcoming and giving person. She was always ready with a smile, a hug, and kind and positive words. Her spirit and her heart will truly be missed.

Andrea Wright ...


God Bless Vanessa's family and friends. Thank You for blessing the world with your gift.



Chris Coulter ...


I remember being on one of James Alburger and Penny Abshireís free tele-seminars when Vanessa Hart was the featured guest. She gave a presentation on audiobook narration. She talked about every aspect of narration and made it all very clear. I asked a couple of questions in the Q&A part of the seminar and she was very gracious in her responses. She was gracious with everyone on the call. I know she will be missed.





Carol Knizek ...


I didn't know Vanessa, but saddened to hear about her passing. Her family and friends are in my thoughts and prayers.



Rich Brennan ...




So sad. My deepest condolences.



Kerri Kane ...


Oh my gosh I hope this news is somehow a mistake. I did not work with Vanessa, but only heard great things about her both as a person and as a great voice talent.



Dan Hurst ...


It's all so sad. I'm so very sorry to hear of her passing.





Lynne Marta ...


I did not have the pleasure of knowing Vanessa. From her photo, she looks delightful ... and very familiar. I'm so sorry, and send my

condolences to her friends and family.



Al Richardson ...
We are all united in our desire to pay our respects to Vanessa Hart, a talented, gifted and successful audiobook narrator, producer and coach. Today through VoiceOverXtra, we can say "thank youĒ for the way you brightened our lives. And I think this poem is a fitting tribute to our very own Vanessa Hart:



Success


by Ralph Waldo Emerson (1803-1882)

To laugh often and love much;
To win the respect of intelligent persons
And the affection of children; T
o earn the approbation of honest critics
And to endure the betrayal of false friends;
To appreciate beauty;
To find the best in others;
To give of one's self;
To leave the world a little better,
Whether by a healthy child,
A garden patch
Or a redeemed social condition;
To have played and laughed with enthusiasm
And sung with exultation;
To know that even one life has breathed easier
Because you have lived -
This is to have succeeded.



TO COMMENT AND LEARN MORE ...



Please feel free to add your thoughts to Vanessa in the COMMENTS below.

To learn more about her voice over career, you can visit Vanessa's website: http://vanessahart.info. And The

Los Angeles Times

published this obituary on February 16: http://bit.ly/Vanessa-LosAngelesTimes.

Bobbin Beam adds

that Vanessa's sister

Dana

will be posting information on Vanessa's

Facebook

page about a Memorial service that may be held in about two weeks. That page is: www.facebook.com/vanessa.hart?fref=ts. Condolences may also be sent to Dana at her address, which is posted at the Facebook page.

Thank you all for participating in this very moving tribute to our friend Vanessa Hart.



Your Daily Resource For Voice-Over Success