---
Auditions On The Internet: 'Like
Mini-Acting
Classes All Day Long!'
By Connie Terwilliger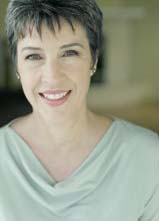 I have never auditioned so much in my life as I have since Internet casting and remote recording came in vogue.

Auditioning is actually like taking mini-acting classes all day long!
Back in the 80s I rarely auditioned for anything, which I'll explain below. I'll also share recent auditioning experiences - including what happened for a spot that many friends auditioned for, as well.
THE EARLY YEARS ...
Years ago, when I was a live staff announcer at KFMB-TV in San Diego, the door to my tiny room would open and the production manager would hand me copy to record.
Or I would wander down the hall to KFMB-Radio and do multi-voice spots with one of the DJs.
After landing an agent (Nanci Washburn, Artist Management) I still didn't see much of a difference for the voice-over work. She simply called to book me on a job, and I drove to one of the fine recording studios in town.
BOOKED FROM DEMO
Of course, I auditioned for on-camera work, but the VO stuff – more often than not – just got booked off the demo.
This may have partially been due to my location - outside the big 3: New York, LA, Chicago. And that at that point in time, I was a pretty big fish in my particular pond.
THE VO WORLD CHANGED
After about a 10-year hiatus from VO work while wearing lots of hats - producer, writer, on- and off-camera talent, supervisor - in the video department at General Dynamics in San Diego, I started to ease myself back into voice-overs.
And boy oh boy, had the world changed!
It seems that the moment I had the ability to record out of my home studio and send voice files over the Internet, I suddenly had to prove that I could read specific words.
FRUSTRATING AT FIRST
No longer was the artfully prepared demo enough.
I'm not complaining, but it was a big change.
I didn't realize that at first, though. Not only was I simply not used to it, but it was time consuming.
And frankly, I don't think I was all that good at auditioning for certain kinds of scripts. I felt the frustration of auditioning with no sense of return.
But somehow, I managed to find clients in those areas where I was strong – many of whom are long-term repeat clients.
COMMUNICATING THE COPY
Today, voice-over auditioning is part of the job. And the competition is fierce.
So I began to treasure those opportunities to try something brilliant with the copy.
Digging under, around, and above each word to communicate the meaning and the emotion of the copy.
And I am finally getting the hang of it!
After many years in this business, I am starting to have the opportunity to go vocal cord-to-vocal cord with some of the best, most well-known talent in the industry.
ON THE SPOTS
My ear is caught many times a day by the radio or the TV, as spots that I have auditioned for fly out of the speakers.
I have heard the Geico Pothole and Parking Column spots. The new Chinet spots. Something for weight loss. And several more.
I have returned to my audio files to compare what ended up on the air with what I submitted.
And I know that my audition was truly competitive – but being the subjective business this is – I was just not the voice in the head of the people making the decisions that day.
It is a mystery, for sure, sometimes as to why one voice is selected out of all the choices submitted.
GOT THIS ONE ...
However, I WAS the voice in the head of the decision-makers recently for a national spot for Kaopectate.
The audition was the basis for a great deal of chatter in the voice-over community, since the dialogue for two of the roles being cast consisted of "uh-oh." Well, the woman also had to say "fast."
Many of my voice-over friends - virtual and real - auditioned for this spot. Yet, m
y audition caught someone's ear and resulted in a fun 15-minute recording session in my ISDN studio.
... BUT WHY?
But I have to wonder just what it was about my audition that stood out above all the other wonderful women's auditions?
Was my delivery so much different?

Was it my place in line?

Was it the agency that submitted? (All three talent in the spot were cast through Voice Talent Productions.)

Was it something to do with the way I slated?
I did the slate just a tad differently than "normal." Although there is nothing normal about our business.
Hard to tell what the magic "uh-oh" was for the client. But I'll be keeping my ears open to catch the spot when it runs.
Only problem is that it will fly by so "fast" that I'll probably miss it!
ABOUT CONNIE ...
Connie Terwilliger is a full-time voice talent working out of her professional home studio with ISDN and phone patch. Her past life included many years as a producer/writer and on- and off-camera talent for major corporations, both in-house and independent. Today, in addition to voicing radio and TV spots around the country, her voice is heard in major retail stores, e-learning projects, corporate communications and marketing, the animated Dilbert cartoon strips, and as many different characters for the New Yorker animated cartoons (search YouTube for "RingTales"). She is also an instructor of voice-over at San Diego City College, and webmaster and newsletter editor for Media Communications Association-International (
www.mca-i.org
).

Your Daily Resource For Voice-Over Success