---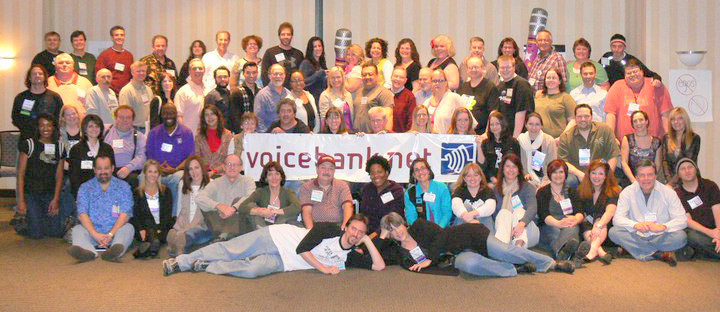 FaffCon2 attendees "faff" for a group photo (Photo by Mrs. Hughes)
FaffCon2 - Voice Over UNweekend
Of Non-Stop Learning & Networking
By John Florian
It's not unusual to return home from a busy conference exhausted, with eyes and mind half shut from too little sleep.
But FaffCon2 - the UNconference in Atlanta this past weekend - gave "going home" a special twist. Eyes and mind were WIDE open with an "avalanche" (thank you for that term, Bob Souer) of how-to ideas and enthusiasm for the profession of voice over.
"I landed home safe and sound - although I was so elated after the conference, I think I could've quite possibly flown back flapping my own arms!" says voice talent Mara Junot.
WHAT IS THIS?
And so it was for the 80 or more attendees at Atlanta's Westin Peachtree hotel, huddled in a variety of learning sessions that they themselves had chosen to create and attend during an initial "concept" meeting on Saturday morning.
Session titles and times were posted on an agenda board and the result was the sharing of experiences and knowledge amongst voice over pros.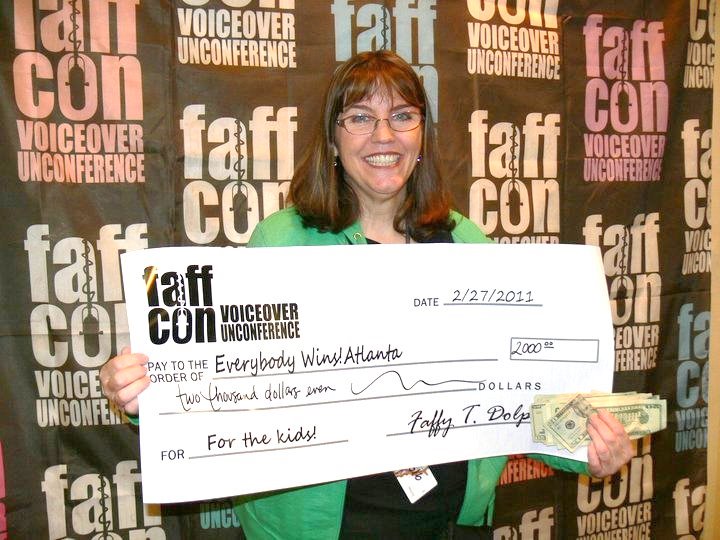 Ingenius and bubbly voice talent and event creator / producer Amy Snively (pictured, with a "check" for charity explained below) notes the guiding principle as: "Get what you need; share what you can."
FaffCon's name derives from the UK phrase, "faffing about" ... or goofing off. But in this case, faffing is meant as a departure from traditional convention formats.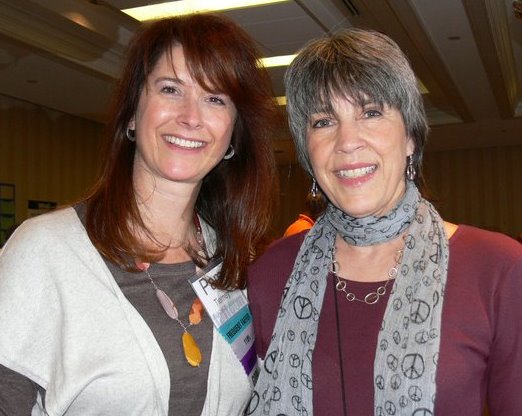 Snively's frequent guidance and reminders put us in the sharing spirit. And her staff, including voice talents Pam Tierney (left in photo) and Connie Terwilliger (right) kept it all running smoothly.
EVERYBODY WINS
Among the event's rules: No commercialism.
Sponsorship by VoiceBank.net, Edge Studio and Bob Souer helped keep attendee registration cost under $200, Snively explains. But otherwise, no company promotional activity was allowed.
Yet money did flow charitably, as participants raised $2,000 for FaffCon to donate to the Atlanta charity, Everybody WINS! Atlanta.
NEXT IN HERSHEY
The FaffCon experience debuted last September with a weekend UNconference in Porland, OR.
And FaffCon3 has been announced for Sept. 23-25, 2011 in Hershey, PA, home of Hershey chocolates, of course.
Congratulations, Amy and staff for giving us an ingenious and marvelous learning and networking experience.

Your Daily Resource For Voice-Over Success