---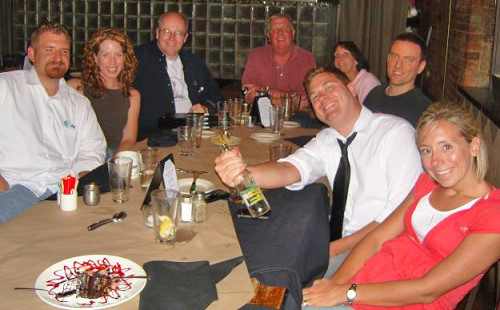 Bob Souer, third from left, meets with VO friends - and makes new ones - wherever he travels. Here, he enjoys the company of several Dallas area voice-over artists while he was recently in that city on business.
VO Interview
Bob Souer: Everyone's Friend Shares
25 Years Of VO Lessons Learned ...
By John Florian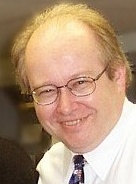 Voice-over people are the nicest and most helpful you'll find anywhere. And if you already know voice actor Bob Souer you'll likely agree that he's at the top of our industry's "nice guy" list.
In his daily blog, The Voiceover Boblog, Bob refers to people as "my friend." Indeed, he's made many friends over 25 years voicing commercials, narrations, podcasts, e-learning, promos, imaging - you name it - for an array of faithful clients.
Stories unfold naturally in Bob's rich, baritone voice (hear his demos). And we found so much to learn from him during a recent interview, that this VoiceOverXtra feature comes to you in three parts:
Part 1: Radio Days to Voice-Overs
Part 2: The Keys to Voice-Over Success
Part 3: Voicing the Bible - a monumental, year-long narration project for Thomas Nelson Publishers, for which Bob recently voiced the final session.
Following is Part 1, humorous recollections of Bob's early days in radio and his start in voice-overs. If your own career is rooted in radio, you may find yourself nodding and chuckling along ...
VOXtra: Bob, you've been a voice actor for - how long?
1983 is the year that I mark as the beginning of my professional voice-over career, though I did one job prior to that in 1974 - but it hardly counts.
As I recall, that's something related to your marriage?
Yes, yes, it was literally an answer to a prayer.
I didn't have the money to buy my wife's wedding ring and the session I did back in 1974 provided me with the funds to do that.
Then what got you back into voice-overs?
Well, I had been working in real estate and I sold a house to the program director of this radio station. He was looking for some part-time help, liked my voice, and asked me to come and audition, and I did.
As a radio personality?
It was the overnight guy's night off. So it wasn't much of a personality job. It was an easy listening, beautiful music kind of station, so it was just a staff announcer position.
He hired me for this job two hours before I found out that the real estate company, where I was sales manager, was going through a massive upheaval, the president was fired, the VP of S
ales who had hired me was demoted to my position, and I was one of the people let go.
So that was how God made it clear I was to get out of real estate and into radio. I mean, literally, those two things happened within two hours of each other.
Wow.
And three months later, I got a call from the program director as I arrived home from my overnight job - working as a security guard - asking me if I could come into the station and fill in for him on that day because he needed somebody right away on mid-days.
I said, "Well, can I have time to take a shower before I come in, because I just finished working eight hours?"
He said, "Sure," so I did.
The general manager of the station was out of town that morning. He came back sometime in the afternoon. Since the studios were in the basement of the building, I didn't see him when he came back and I'm working on the air, I had just finished doing a break, and bang!
The door of the studio literally slams open as wide and as hard as it could and here's this guy standing there, and he says, "I didn't think you could sound this good."
Bang! The door slams shut, and that was my introduction to the manager of the station.
His expectations of my abilities obviously were pretty low. But a week later he hired me to work full-time as the mid-day guy.
And you voiced commercials?
Yes, I started doing voice-overs there. In that sense, I don't really count that as professional voice-overs. It was just work for the local radio station.
But I was doing several commercials a day because the sales people liked my voice, I guess. Apparently some of the clients did, too.
But two years later, the general manager takes the entire staff out to lunch - except me. He even takes the receptionist to lunch, which means I have to not only work on the air, and do my production in between breaks, but answer the phones, as well.
So I'm sitting at the station having this gigantic pity party for myself because everybody else gets a free lunch and I have to work.
The phone rings, I answer it, of course, because it's my job, and the guy on the other end of the line says,
"Hello, my name is Mark Hislop. My brother Mike and I have just started a video production company and we're interested in knowing if anybody there would like to audition for a voice-over job."
I
said, "Well, what about me?"
He said, "Okay, do you have a demo tape?"
I said, "Come by at three o'clock and you can pick up my demo tape."
Of course, I didn't actually have a demo tape and my friend, Todd Beezley, who was the production manager of the station, came back from the lunch, and I told him, "Todd, we have to put a demo tape together. There's a guy coming for it at three o'clock."
So we take a few of my commercials and roll them onto a cassette tape, and put "Bob Souer's Voiceover Demo" on a label.
It was cheesy and small-time as possibly could be, but I didn't know any better, and they didn't reject me out of hand.
And that began your VO career?
Well, the guy came by at three o'clock, I handed him the tape, and months went by. I never heard from him. And I
moved to a new job at a union station in Chicago.
About nine months later, the operations manager called me over and said there's a phone call for you. So I picked up the line, and the guy on the other end of the phone said, "Hello, my name is Mark Hislop. I don't know if you remember me, but nine months ago or so I talked to you about doing a voice-over audition for us."
I said, "Yeah, I remember."
He said, "Well my brother Mike and I have in fact started our video production company and we have this job and it's for a government organization so it's taken us a long time to get all the details sorted out, but they would like to hire you."
And that turned out to be my first professional voice-over job. That was 1983 and I still do the occasional freelance job for the wonderful folks at that company!
I have been very grateful that over the years quite a few people have continued to hire me like that.
Thanks, Bob.
To contact Bob Souer: