---
Don't Fear The REAPER! For Voice-Over

And Audiobook Narration, It's A Great DAW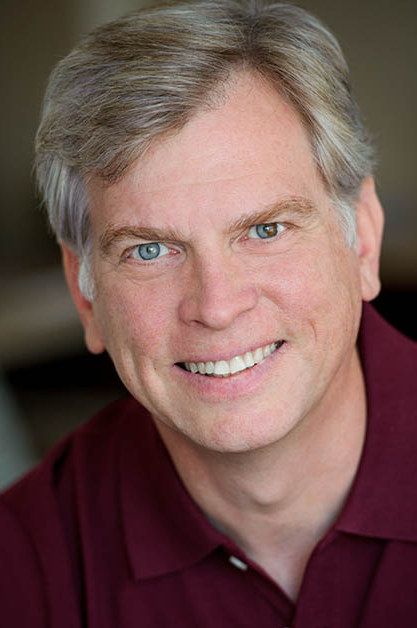 By James Romick
Voice Actor & REAPER Instructor
The most loaded question a voice actor can ask, second only to "What mic and interface should I get?" is:
There are literally dozens of
Digital Audio Workstation
(
DAW
) options to choose from in price ranges from free (
Audacity
,
OcenAudio
) to those with moderately priced licensing fees (
TwistedWave
,
Studio One Artist
,
Logic Pro X
) to expensive and/or subscription based (
ProTools
,
Adobe Audition
,
Ableton Live
,
Cubase Pro
), and nearly every price range in between.
But for me and many, many others, the best bang for the buck is
REAPER
($60 for two major upgrade cycles).
REAPER is also very stable on both
Mac
and
PC
.
Most DAWs were created for multi-track music production and are a "what you see is what you get" proposition. The
GUI
(
Graphic User Interface
) is static, and so are their features.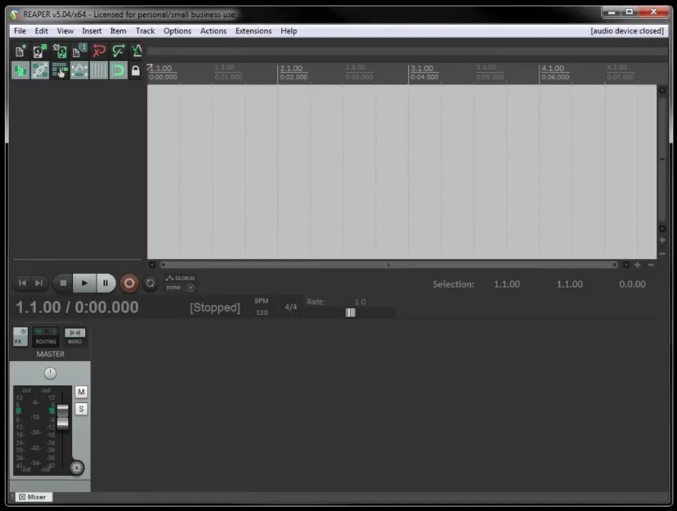 REAPER, however, can be customized to work, and look, nearly any way you'd like. This is what the REAPER Default Screen looks like when first opened. You can start customizing from here.
And by installing different Themes (which can be downloaded for free on the website), REAPER can be made to look like Ableton Live, Adobe Audition, Logic Pro and, yes, even ProTools. But the guts of the program are still all REAPER.

DIFFERENT TERMS FOR FEATURES
DAWs also have their own nomenclature.

Different terms may describe features that they have in common. Conversely, the same terms may describe entirely different things.

For instance: In Studio One, you start by creating a
New Song
. In REAPER, it's termed a
New Project
.
In some DAWs an individual slice of a waveform is called an event, whereas in REAPER it's called an
item
.
When you hit Record in Audacity, a track is created automatically, and recording begins. In REAPER you create or add a track and then you need to
arm
that track for recording. (Many other DAWs work this way as well.)
REAPER is also loaded with redundancy, meaning ­that there are multiple ways of performing the same task.

Every function or task in REAPER is an
Action
, from clicking on Record to selecting menu items to editing the waveform. And
Actions
can be combined to create
Custom Actions
(Macros in other DAW parlance).
When assigned a
Keyboard Shortcut
, many Actions and Custom Actions can be performed with a single key press or key combination of your choosing.
Menus can be personalized by stripping them of unnecessary or unneeded Actions. For instance: We're recording Voice Over. So, why would we need anything relating to MIDI, musical time signatures, music tempo changes, syncing time code for video (yes, REAPER can edit video too), and other things to muck things up?

REAPER can also be linked to two different
External Editors
, so you can bounce files back and forth between different DAWs or software like
iZotope RX
, for instance.
Up to 17 different
Tool Bars
can be created and configured with icons, and they can be parked anywhere on the screen simultaneously.
Editing is non-destructive.
Punch & Roll
capability (a must for audiobook work) can be performed three different ways.
And files can be rendered to nearly any audio format, although the
LAME MP3 Encoder
(the same one used by Audacity) needs to be installed to render MP3s.
Installing the
SWS Extensions
(free) and the
ReaPack Script Manager
(also free) - adds even more functionality. These are just some extras that the REAPER developers hadn't incorporated into the program.
REAPER comes with a host of its own
FX Plugins
which are, for the most part, rather bland in appearance with only numbers, sliders and some limited graphics. Nonetheless, they very effective.
REAPER also readily accepts various third-party FX plugins, from
iZotope
or
WAVES
for instance.
And there is a huge REAPER User support community.
Facebook
Groups. Instructional Videos. Blogs. The
REAPER FORUM
. And a 464-page
REAPER User Guide
, 85% of which you will never need to know for VO recording.
IMHO, the two best instructional video resources for specifically setting up and configuring REAPER for recording VO are:
Steven Gonzales
and
Mike DelGaudio
(Booth Junkie) - and for general use, the videos by
Kenny Gioia
(REAPER MANIA) on the REAPER website and
YouTube
. These guys will get you up and recording in no time.
For those who fear digital recording software thinking that "It's just too complicated," consider this. ALL DAWs ARE STUPID!

They only understand two things – the 1's and 0's that come from your mic through your interface and into your computer. The differences are in their GUIs, their features and how comfortable and efficient you are in navigating through them.

For voice-over and audiobook work, the process is much simpler than full blown music production:

One Voice.

One Mic.

One Interface.

One MONO Track.

Record.

Stop.

Playback.

Edit.

Punch & Roll to Correct Mistakes.


Render (and possibly Process) the Files.
You get all of that with REAPER in an affordable, powerful and customizable DAW.

FYI: Audible Studios in Newark, NJ uses REAPER in their audiobook recording studios.

James Romick figures he's in the fourth or fifth phase of a 40+ year acting career, who "never in my wildest imagination did I ever think that I'd be recording and producing audiobooks at home in my den from a vocal booth I designed and built myself. While investigating the world of audiobooks," he adds, "a seasoned narrator once told me, 'Actors are natural storytellers. Whether on stage, on film, on TV, in commercials, giving instructions or just telling a good joke. Actors can also create unique and interesting characters.' Hmmmm, I thought. 'Been there, done all of that.' Audiobooks just seem like another aspect of this actor's creative outlet. Being a singer/musician and taking a 9-month audio engineering course didn't hurt either." James also offers tutoring in voice-over and audiobook recording, and a PowerPoint presentation and accompanying PDF of the REAPER class he occasionally presents at the SAG-AFTRA Foundation (EIF) Voiceover Lab in New York City.

Your Daily Resource For Voice-Over Success