---
BBC News Reader "Hit By Giggling Fit"
- And It's Contagious! (Need A Laugh?)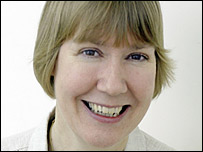 Hundreds of listeners recently contacted BBC Radio 4 after newsreader Charlotte Green dissolved into giggles while reading a bulletin on Today.

She lost control after playing a clip of the oldest known recording of the human voice.

Presenter James Naughtie intervened as she struggled to tell listeners about the death of screenwriter Abby Mann.

"I'm afraid I just lost it, I was completely ambushed by the giggles," said Green.

She admitted a similar giggling fit besieged her about 10 years ago, also on the Today program.
For the full story and a link to the giggling fit,
click here
. And we dare you not to start laughing, too!