---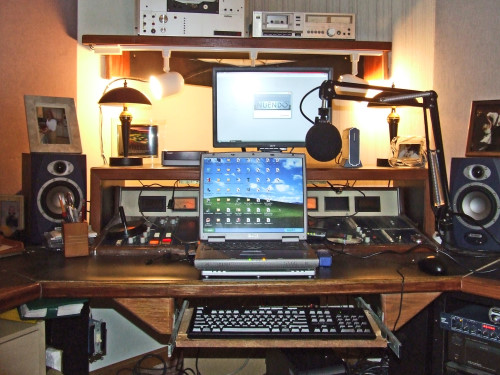 Radio hands: Do you recognize the console behind the laptop screen in Jon Specht's studio?
If you want to hear a rich baritone voice with "warm, caring, in-your-face intensity," listen right now to Jon Specht's demos – especially the Commercial demo.

He's blessed with great pipes, of course. But perhaps Jon sounds so comfortable at the mic because he got an early start in the biz – at age 12, operating equipment at a radio station his father bought. Two years later, Jon got his FCC license and moved behind the mic.
Today he has a nice, easy attitude about life, as well - noting in a web site bio that he's "blessed with a loving wife and kids. They live on a lake and he enjoys fishing with his girls and golfing with his wife, who many times beats him."
VoiceOverXtra

wanted to know about this warm and caring voice actor's career and home studio. So Jon explains ...

Based in Kansas City, commercial TV spots are my bread and butter, as I work for 17 TV stations as a freelance VO for stations in Pittsburgh, Tampa, Portland and more.
I'm the "station voice" for several radio stations and a few TV stations – I'm trying hard for more TV work this year - and I
produce Kansas City Chiefs promos for 60+ stations on the Chiefs Radio network in seven states and on satellite radio.
I've done a number of safety films, including a 100-page industrial safety film for Ford Motor Company, and a DVD for AMS Bow Fishing – which I know sounds strange, but it's actually a pretty well-done video.
I also recently voiced a two-minute TV commercial for a Christian album that runs on network TV, and I'm the voice of the Unser Racing Museum in New Mexico.
My gear is a

Dell

laptop - for email mainly, but it also backs up my main production machine, which does nothing but run

Steinburg's Nuendo

with a dual processor and 2 gigs of RAM and a 22"- wide screen.
A

Rode

broadcaster mic (I also have an

At 4050

) runs through a

Symetrix 528e

vocal strip and an

M-Audio Fast Track

with a USB to get into the computer. There's also an external hard drive.
In the accompanying picture, you radio people may recognize the console behind the laptop. It's a 10-channel

Auditronics

board. I had used it a lot, but not so much anymore.
Other gear is a single CD player, cassette deck (don't use it much anymore),

Symetrix

amp, and a

Sony

DAT.
Monitors are powered by

Tannoy Reveal 5As

. A bunch of other old gear isn't even plugged in.
What you can't see in the photo is an overhead angled section of

Auralex

soundproofing, hung by invisible wire, plus two sections of soundproofing on either side of the main picture.
Last word: In his web site bio, Jon adds that that his dad is retired from a long career as a radio station owner, his brother works at a radio station, and that his mother "is probably very tired of all this 'radio bizness.'"