---
Snuff Scam? Canadian VO/Actor Plays Victim
In Scary Scene; Director Charged With Murder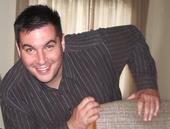 A Canadian voice talent/actor/comedian who answered a recent online casting call for a movie role as a murder victim may have narrowly escaped being stabbed to death on film for real.
His story is a warning to all entertainers: Beware red flags.
"I was the guy that got killed in the film," Chris Heward says of his role in House of Cards, a movie in which a participant in an online dating service is lured to a garage, duct-taped to a chair, tortured and cut into pieces.
The filming took place in a garage in Edmonton, B.C.
Heward's wrists and ankles were duct-taped tightly to a steel chair. Then duct tape was put over his mouth. And another actor - the "killer" - got threateningly close with a sharp samurai-looking sword.
It was all too real for Heward.
"I felt the blades and they were very sharp," he told the CBC News on Nov. 26.
"This is not a nice scene. I was nervous."
Heward convinced filmmaker Mark Andrew Twitchell to construct a dummy for the scene – a move that may have saved Heward's life.
CALL FROM POLICE
Two weeks after the filming, Edmonton, B.C. police contacted Heward about Twitchell. And they asked Heward if he knew anything about snuff films – in which people are actually killed on film.
"I can't even say how much that floored me," Heward told CBC.
Twitchell has been arrested and charged with first-degree murder in connection with the early October disappearance of another man. According to police, Twitchell used an online dating service to lure the other victim to a garage, where that man was killed similar to the House of Cards script.
Twitchell is to appear in court in Edmonton, B.C. on Dec. 3.
Heward is a voice acting student of Canadian voice talent and coach Deb Munro, who says a "media frenzy" is brewing over Heward's ordeal.
"I'll be helping him through this, as what has transpired is overwhelming" – including movie and book deals, she says.
Munro says Heward will appear on ABC-TV's 20/20 news program next week. In addition to the Nov. 26 CBC News interview, he is slated to appear this evening on CTV News.
Nov. 26 Brandon Sun ("Acting or A Brush With Death?" - unfortunately, only available online to that newspaper's subscribers).
"Chris got caught up in a vicious production, but he's out, safe, and alive to tell the story and we can all learn from this," says Munro.
On the bright side, Heward has a much happier story to tell, as well. He recently booked a 52-episode animation voice-over job.