---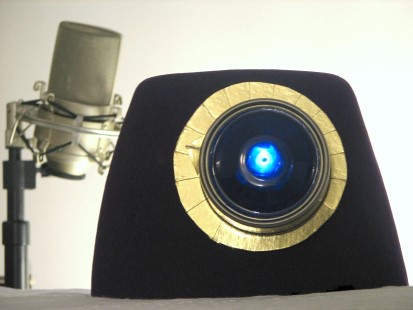 Soup Up Your VO! With The Incredible ...
Excalibur CB8001 Virtura-con
By Tom Edwards
Are you using a mobile preamp with Adobe 3.0 or Pro Tools Mbox 2 with the new and awesome Pro Tools 8.0?
Well, whatever you're using, throw away those Model Ts … the days of stone knives and bearskins is over! It's time to take your vocal abilities to the umpteenth level.
Why go just one, two or five levels from where technology is now? Why not jump to the UMPTEENTH level with the genius-inspired Excalibur CB8001 Virtua-con Voice Recording System!
IT'S SO SIMPLE ...
The Excalibur is the simplest system of voice capture you'll ever have to learn.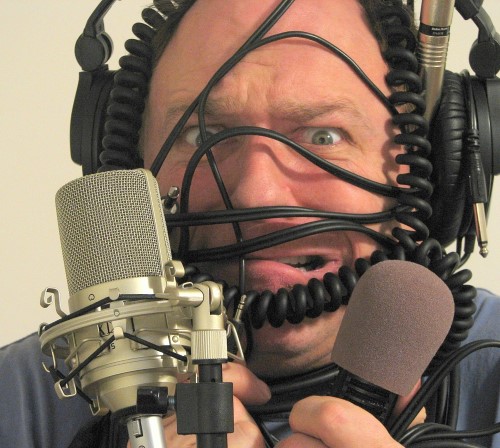 Surely you've been perplexed by your current recording program at some time or another.
"I've got to plug in all those cords, there must be at least three, four, wow, maybe five! I've lost count!

"What do all these buttons do? Some twist, some push in or out.

"And what's that little horseshoe sign beside the headphone jack?

"Words, symbols, female input, male output, RCA connectors? DI connectors, ¼ inch plug in, whaaaaaa?"
Well, now you can throw that complicated box of whats-a-whos-it out the window and go buy the Excalibur CB8001 Virtua-con!
MANY FEATURES ...
It's one box. It's PURPLE! With NO plug-ins.
It's WIRELESS!! You get five wireless signal senders to communicate with the Excalibur. Attach them to almost any device that you would normally use with your recording system. (A barbeque? Nope, sorry guys, that's not normal.)
Don't like the color? Just turn on the feng shui function and the Excalibur changes color at the molecular level to match the energy of your desktop and room ambience. I usually end up with "Puce"!
RECOGNIZES YOUR VOICE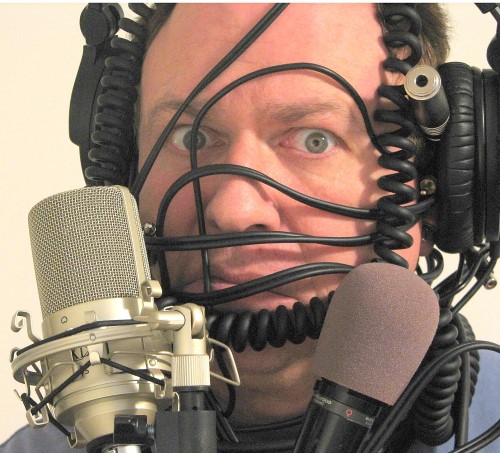 And, of course, the Excalibur features voice recognition. Just tell it what kind of project you are working on and Excalibur will make all the adjustments necessary for voice capture.
As you voice, you may get the odd of feeling of lightness and weightlessness. Hearing the Virtua-con in operation for the first time will make you swear that you are floating in outer space like an astronaut. Just watch your head, since you do have a ceiling in your studio.
ENJOY 'MINUS TIME'!
And if you think that floating ability is cool, then you're gonna get your rocks off with the time-crunching and shape-shifting abilities of this amazing product.
Don't ask how the designers did it, but the Excalibur CB8001 Virtua-con has a feature called … get this … Minus Time.
Up to a half day - a full 12 hours - can be regained by recording in Minus Time mode, so you can get that late-late-late project to the client in the nick of … "Time".
FAST LEARNER
The program learns, too! After 53.5 hrs of use, Excalibur has learned 99.999% of your nuances, timber, volume fluctuation and personality. And can take any script you feed it or write for it and duplicate your own reading if you can't be home to do it or don't have time.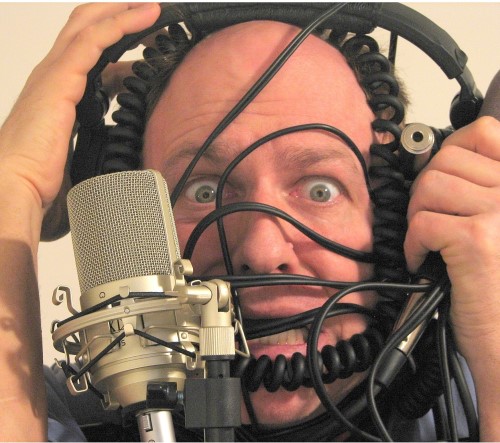 Listen back to the recording and tell us truthfully that that isn't YOU speaking, or the perfect delivery that you would have given.
We even throw in a calculated amount of mistakes or imperfections to give it that "human" edge.
As you use your Excalibur you will notice that a kind of relationship starts to develop between you and the system. This can be attributed to more that just familiarity. Excalibur is like a child to begin with, and learns everything it can from you at an incalculable rate.
Very soon, Excalibur will be able to predict what your voice can do and ALSO what it probably will be able to do.
GO FIGURE ...
With this imaginary knowledge, Excalibur makes a virtual design that doesn't really exist, yet makes a recording as if it does exist and interprets your voice as it could sound based on technology that does not yet exist … but perhaps will one day!
That is "Virtua sound!" What we cannot imagine, Excalibur does.
You will hear with your own ears the imaginary virtually realized. Don't try to figure it out. Let the physicists and engineers worry about the heady stuff. JUST GET VOICING IN VIRTUA SURROUND SOUND!!
WATCH WHAT YOU SAY
One last word on the Excalibur CB8001 Virtua-con.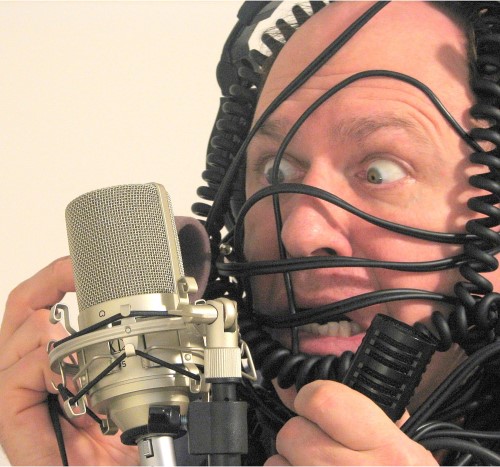 You may find yourself having, let's call it, a squabble with the Excalibur from time to time. As the system learns and performs more tasks for you without your consultation, you might be miffed at something it did or said on your behalf.
DO NOT even try to debate statistics with the Excalibur.
It will always win the argument. It will show you that statistically, you would have delivered the voice that way most of the time. You will have to cajole Excalibur. You will have to assure it that you trust it implicitly to speak for you.
And you're gonna love having make-up recording time with your new Virtua-con! The technology of today is going to be the technology of tomorrow … if Excalibur has anything to say about it. And it will. Believe.
The New Excalibur CB8001 Virtua-con voice recording system. The future of Voicing has been decided.
(*Note: the XB70i cordless earphones must be ordered separately, since an appointment with a specialized surgeon must be made to install the required bone implants necessary for proper skull signal reception and reverberation.)
Tom Edwards is a voice actor, humorist and owner of Demos 4 Dummies, a web site designed with the express purpose of adding a humorous flavor to voice-over demos.