---
Free Audio: Pat Fraley Reveals Formula
For Creating Unique, Evocative Characters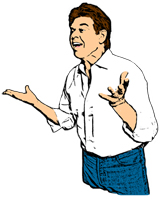 Quick: Create a voice-over character with XYZ (pick a few) characteristics.
If what emerges sounds rather stereotyped and shallow to you, Pat Fraley - voice-over trainer, creator of more than 4,000 characters and one of the top 10 performers of all time to be cast in TV animation - has a solution. Actually, it's a formula:
Content + Connection + Form = Character Voice
"It's a method for creating character voices that is rapid and addresses the character's inner life, uniqueness and personal style," Fraley explains.
It's all about the melding of your personal experiences and personality to create the characters, he adds.
In a free four-minute audio lesson, Fraley reveals the formula and demonstrates how to quickly turn a stereotyped character voice into a unique and evocative voice - one that's more likely to get you hired.
Click this link for the free lesson, Work Inside Out:
Fraley has taught character voice for 37 years and has developed the only system accredited at the university level. A member of The Voice and Speech Trainers of America, he holds a Masters of Fine Arts degree in Professional Acting from Cornell University.
IN-PERSON COURSE
The audio lesson is a prelude to Fraley's four-week Creating Character Voice Course, starting next Tuesday, April 27, in Los Angeles.
Voice acting students will meet on four consecutive Tuesday nights to learn how to create character voices for voice-over, including: versatility and character voice separation, understanding acting within the character, and rapid character creation and development.
Held from 7 to 10 p.m. at World Famous Buzzy's Recording (6900 Melrose Ave., Los Angeles),
the classes will be recorded for later study on your own.
Class dates are April 27 and May 4, 11 and 18. Tuition for the entire course is $595.
For details and to register, please visit:

Your Daily Resource For Voice-Over Success