---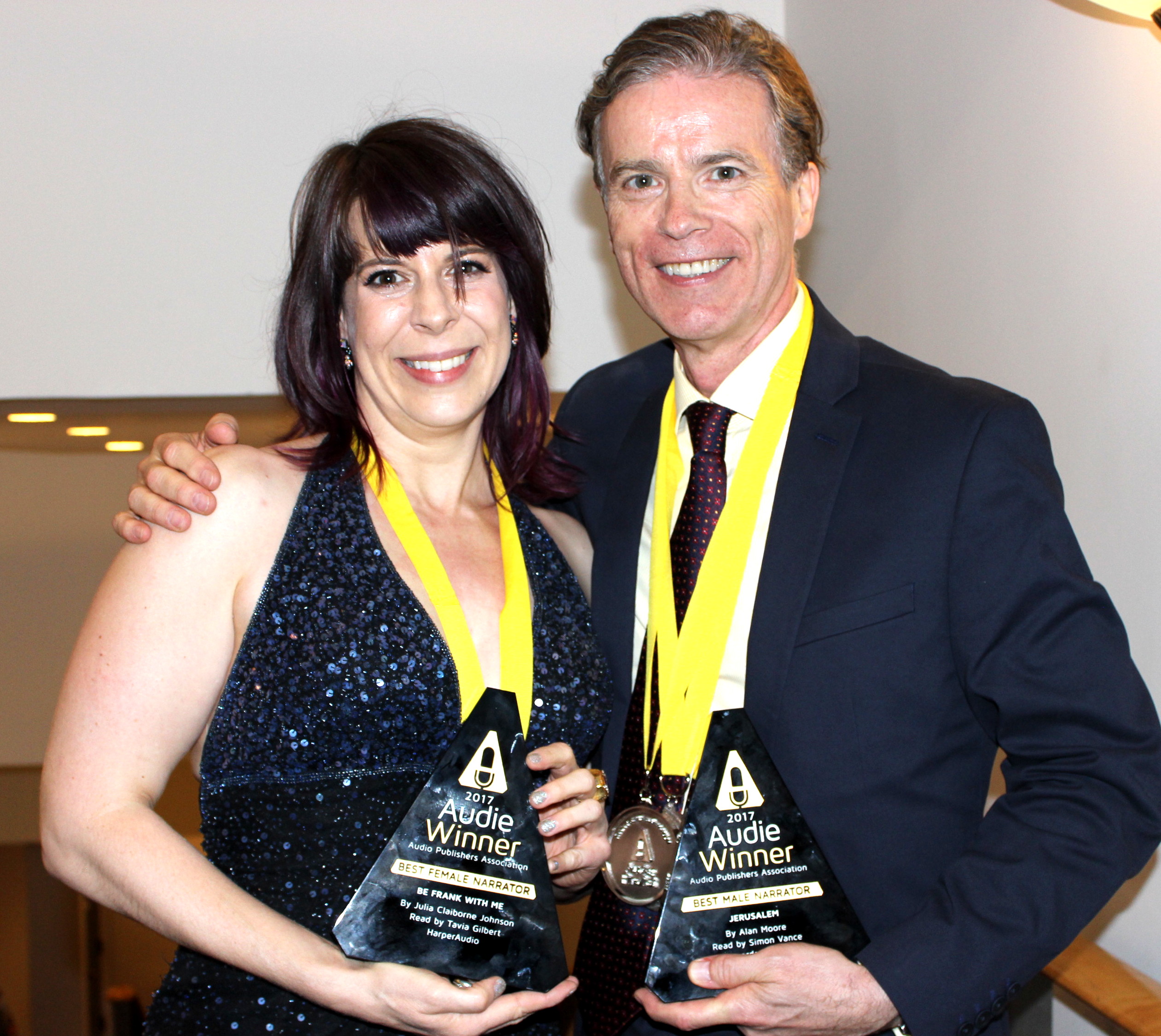 Tavia Gilbert and Simon Vance gleam after winning Audie Awards for Best Female Narrator and Best Male Narrator at the Audie Awards Gala Thursday night in New York. (John Florian photo)
AUDIE AWARDS
®
Tavia Gilbert, Simon Vance,

Hamilton

Win
Top Honors At 2017 Audie Awards
Gala
June 2, 2017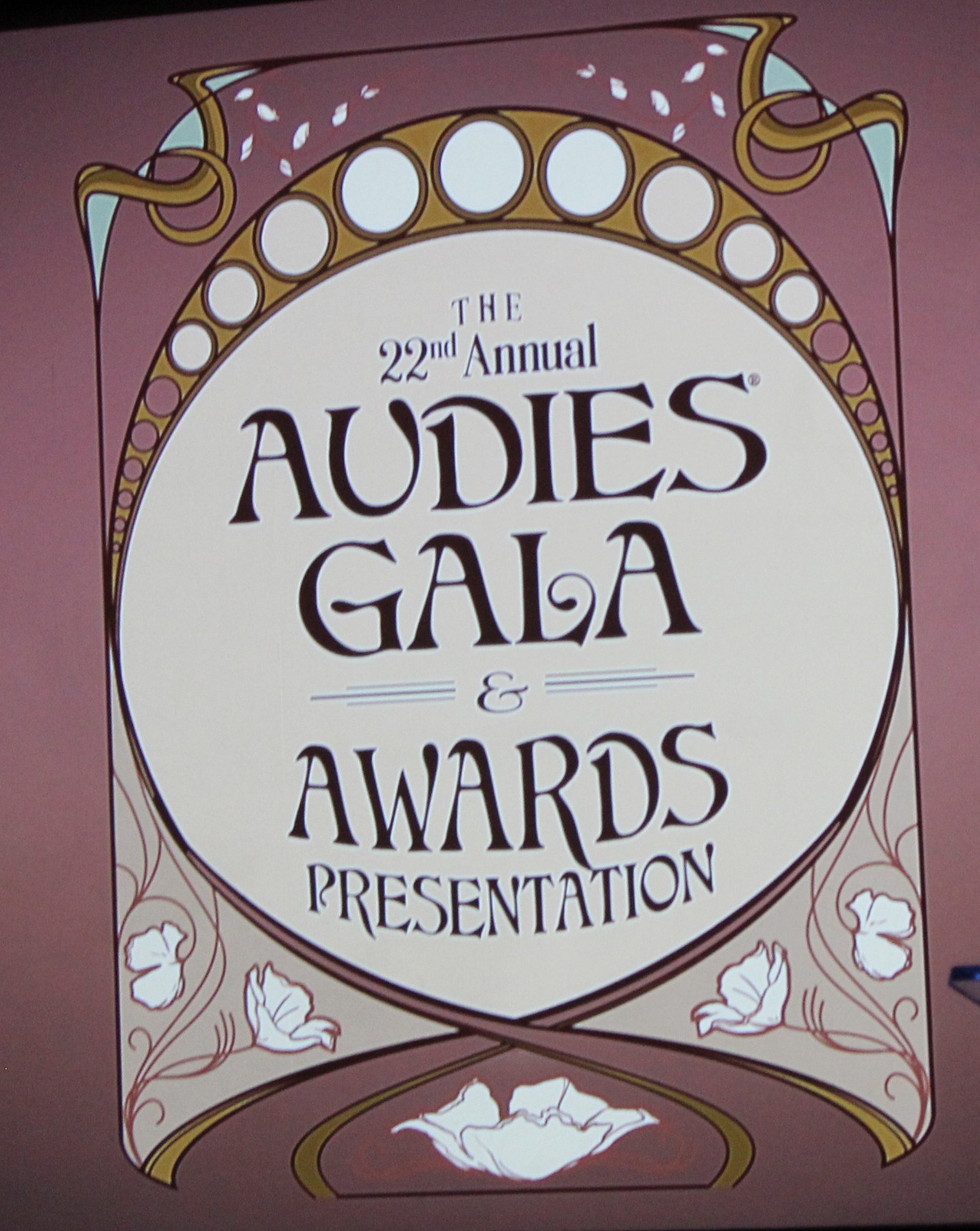 (VOXtra) - As the audiobook industry climbs to annual records in sales and titles, so too grows the number of audiobook narrators.

Yet known among the narrators is that bringing home a coveted Audie Award from the annual

Audie Awards® Gala

is recognition that they're among the best of the industry's very best.

Last night at the French Institute Alliance Francaise (FIAF) in New York, scores of narrators and publishers were announced and honored as Audie Award winners in the 22nd annual competition sponsored by the

Audio Publishers Association

(APA).

Congratulations to this year's big winners!

Tavia Gilbert

- Best Female Narrator,

Simon Vance

- Best Male Narrator, and

Hamilton: The Revolution

- Audiobook of the Year
Often referred to as the "Oscars of spoken word entertainment," the dressy affair was a gathering of authors, narrators and publishers excited to learn the winners of the most prestigious awards in the U.S. honoring audiobooks.

Award-winning comedian, author, and commentator

Paula Poundstone

emceed the awards portion for the second time, because, said APA President

Linda Lee

, "she would have been a tough act to follow after last year - so we invited her again." And Poundstone's off-the-cuff comments - even when reading a script - brought the house down with laughter.

Following an elegant reception, the shoulder-to-shoulder mix of the audiobook world moved to the theater for the presentation of awards ...

See all 22nd Annual Audie Award Finalists



AND THIS YEAR'S WINNERS ARE ...
AUDIOBOOK OF THE YEAR




Hamilton: The Revolution

by Lin-Manuel Miranda and Jeremy McCarter, narrated by Mariska Hargitay with the authors, published by Hachette Audio



AUDIO DRAMA




In the Embers

by Brian Price and Jerry Stearns, narrated by Robin Miles, Edwin Strout, Dean Johnson, et al; music by Mike Wheaton, published by Great Northern Audio Theatre/Blackstone Audio



AUTOBIOGRAPHY/MEMOIR




The Greatest: My Own Story

by Muhammad Ali with Richard Durham, narrated by Dion Graham, published by Graymalkin Media





BEST FEMALE NARRATOR




Be Frank with Me

by Julia Claiborne Johnson, narrated by

Tavia Gilbert

, published by HarperAudio



BEST MALE NARRATOR




Jerusalem

by Alan Moore, narrated by

Simon Vance

, published by Recorded Books





BUSINESS/PERSONAL DEVELOPMENT




Humans Need Not Apply

by Jerry Kaplan, narrated by John Pruden, published by Tantor Media, a division of Recorded Books



EROTICA




Marriage Games

by CD Reiss, narrated by Sebastian York and Elena Wolfe, published by Flip CityMedia Inc.



EXCELLENCE IN DESIGN




Geek Feminist Revolution

by Kameron Hurley, design by Jessica Daigle, published by HighBridge, a division of Recorded Books





EXCELLENCE IN MARKETING




Battlefield Earth: A Saga of the Year 3000

by L. Ron Hubbard, narrated by Josh Clark, Scott Menville, Jim Meskimen, Phil Proctor, Stefan Rudnicki, Fred Tatasciore and a full cast, published by Galaxy Audio



EXCELLENCE IN PRODUCTIO

N




Alien: Out of the Shadows: An Audible Original Drama

by Tim Lebbon and Dirk Maggs, narrated by Rutger Hauer, Corey Johnson, Matthew Lewis, Kathryn Drysdale, Laurel Lefkow, Andrea Deck, and Mac McDonald, published by Audible Studios



FANTASY




The Hike

by Drew Magary, narrated by Christopher Lane, published by Brilliance Publishing



FICTION




Sister of Mine

by Sabra Waldfogel, narrated by Bahni Turpin, published by Brilliance Publishing



HISTORY/BIOGRAPHY




In Harm's Way: The Sinking of the U.S.S. Indianapolis and the Extraordinary Story of Its Survivors

by Doug Stanton, narrated by Mark Boyett, published by Audible Studios



HUMOR




I'm Judging You

written and narrated by Luvvie Ajayi, published by Macmillan Audio



INSPIRATIONAL/FAITH-BASED FICTION




Risen: The Novelization of the Major Motion Picture

by Angela Hunt, narrated by P.J. Ochlan and Alana Kerr Collins, published by christianaudio, a division of Recorded Books



INSPIRATIONAL/FAITH-BASED NON-FICTION




The Awakening of HK Derryberry

by Jim Bradford and Andy Hardin, narrated by Milton Bagby, published by Thomas Nelson



LITERARY FICTION & CLASSICS




Homegoing

by Yaa Gyasi, narrated by Dominic Hoffman, published by Penguin Random House Audio / Books on Tape



MIDDLE GRADE




How to Train Your Dragon: How to Fight a Dragon's Fury

by Cressida Cowell, narrated by David Tennant, published by Hachette Audio



MULTI-VOICED PERFORMANCE




Small Great Things

by Jodi Picoult, narrated by Audra McDonald, Cassandra Campbell, and Ari Fliakos, published by Penguin Random House Audio / Books on Tape



MYSTERY




The Crossing

by Michael Connelly, narrated by Titus Welliver, published by Hachette Audio



NARRATION BY THE AUTHOR or AUTHORS




A Life in Parts

written and narrated by Bryan Cranston, published by Simon & Schuster Audio



NON-FICTION




Hillbilly Elegy

written and narrated by J.D. Vance, published by HarperAudio



ORIGINAL WORK




The Dispatcher

by John Scalzi, narrated by Zachary Quinto, published by Audible Studios



PARANORMAL




Ghost Gifts

by Laura Spinella, narrated by Nicol Zanzarella, published by Brilliance Publishing



ROMANCE




Dirty

by Kylie Scott, narrated by Andi Arndt, published by Macmillan Audio



SCIENCE FICTION




Star Wars: The Force Awakens

by Alan Dean Foster, narrated by Marc Thompson, published by Penguin Random House Audio / Books on Tape



SHORT STORIES/COLLECTIONS




The Brink: Stories

by Austin Bunn, narrated by Austin Bunn, Luke Daniels, Tanya Eby, Ralph Lister, Amy McFadden, Mikael Naramore, and Nick Podehl, published by Blunder Woman Productions via ACX



THRILLER/SUSPENSE




Cross Justice

by James Patterson, narrated by Ruben Santiago Hudson and Jefferson Mays, published by Hachette Audio



YOUNG ADULT




Salt to the Sea

by Ruta Sepetys, narrated by Jorjeana Marie, Will Damron, Cassandra Morris, and Michael Crouch, published by Listening Library



YOUNG LISTENERS (up to age 8)




28 Days: Moments in Black History That Changed the World

by Charles R. Smith, Jr., narrated by Dion Graham, William Jackson Harper, Zainab Jah, January LaVoy, Robin Miles, Lizan Mitchell,Jonathan Earl Peck, and Carter Woodson Redwood, published by Live Oak Media

"All the winners and nominees from tonight are to be congratulated in helping our industry grow to a higher level year after year," said APA President

Linda Lee

. "And this event allows us to show our appreciation to all of them for their tremendous contributions to our industry."

Congratulations to all!

ABOUT THE APA ...

The Audio Publishers Association (APA) is a not-for-profit trade organization founded in 1986, whose primary goals are to promote awareness of the audiobook industry, gather and disseminate industry statistics, encourage high production standards and represent the interests of audiobook publishers. It also conducts an annual conference (APAC), networking socials and many additional programs.

For more about the APA, it's programs and how to join, visit www.audiopub.org.

SEE MORE HELPFUL

AUDIOBOOK NARRATION ARTICLES

HERE



Your Daily Resource For Voice-Over Success