---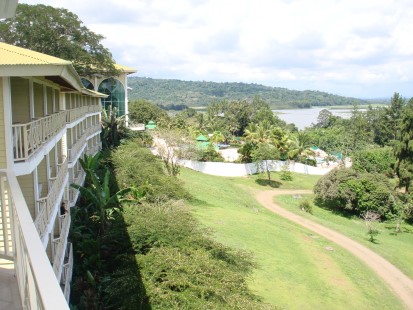 The beautiful scene from Rory O'Shea's hotel balcony in Panama became a night-time nightmare of tropical forest noise - too much for hotel-room recording.
Recording On The Road: Keeping
Clients Happy From A Rainforest
By Rory O'Shea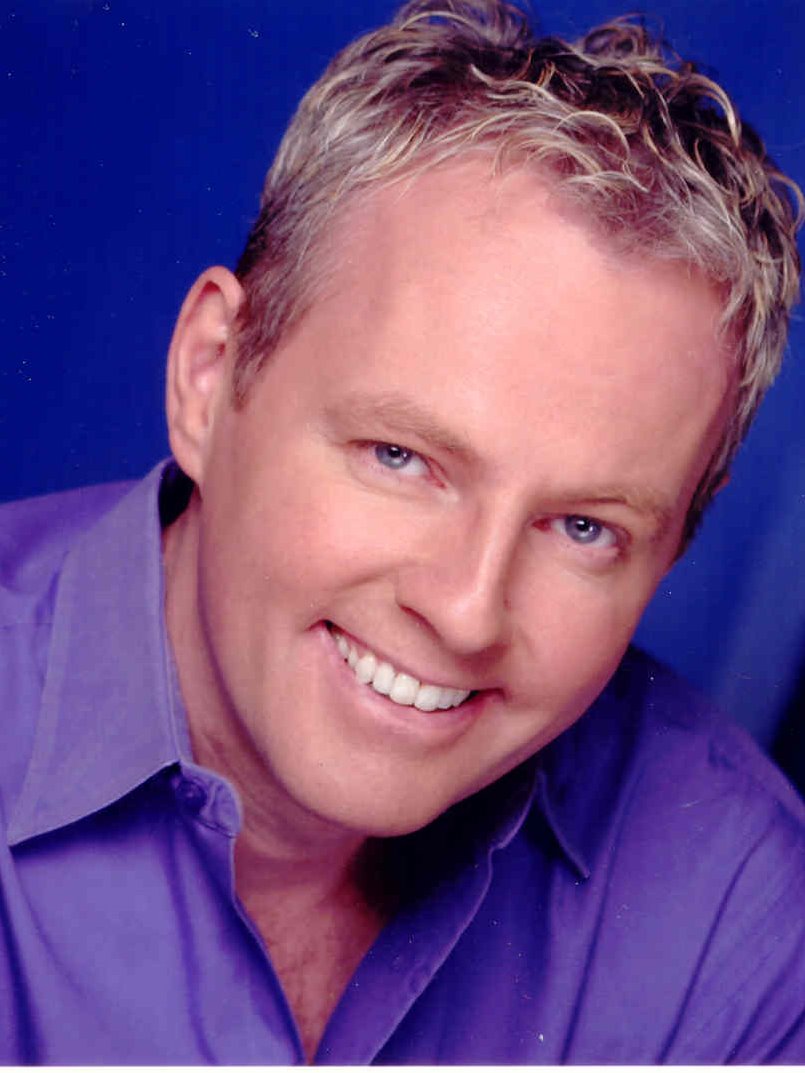 Enjoying what you do for a living while doing it from the comfort of your own home, no less, is a luxury.
However, when the time comes to leave your cozy dwelling for the noisy environs of the outside world, what then? A daunting proposition if you pay bills via voice-overs.
I once vacationed and took trips with hopes my VO clients would be there upon my return, essentially torpedoing my revenue stream for 7 to 14 days and playing catch-up when I got home.
And ...
H

ow many clients had to search elsewhere for their urgent project to be recorded?

Did they come back to me?

How many new prospects came knocking via email or phone, with my response essentially meaning "Gone fishing"?
NOT AGAIN
For some this is fine. Perfect, even.
Being incommunicado is the only way to truly relax and have a genuine break. I understand. No cell phone, Blackberry, laptop, business center, nothing! Cut the digital umbilical cord, so to speak.
I respect that. I've done that. I still will for two- or three-day trips.
But longer stints just don't make economic sense anymore.
My dilemma? I needed a portable recording studio that was, ya know, portable. I didn't want to be hauling around some 'Cone of Silence'-styled rig that would barely fit in a car trunk and certainly wouldn't be classified as carry-on at any airport in the free world.
REALITY OF REMOTE
Question: on the home front, is your home studio a state-of-the-art setup - a fully isolated, soundproofed booth with assorted uber-tech bells & whistles?
Or have you improvised your own 'Dead Zone' with blankets, pillows and egg cartons that, well by golly, does the trick?
Regardless of your domestic recording scenario, it's a different story when you have to set up shop at a remote location with a scaled-down version of the home-sweet-home studio.
And it better sound the same or darn close to the basement audio you currently deliver if you require continuity for file matches while you're splitsville.
MICPORT PRO SAVES ME
My salvation materialized in the form of the MicPort Pro, an itty-bitty thing (technical term for 24-bit/96kHz broadcast quality USB mic preamp that fits in your pocket) used by the big networks and the likes of us in VO.
This little mic-to-computer audio interface eliminates the need for a sound card and mixing board, thus making the travelling studio that much more streamlined.
It's a cost-effective tool at less than 200 bucks including S&H. It features separate headphone/ microphone gain knobs with phantom power.
I could finally sling the whole kit'n'kaboodle over my shoulder along with my Harlan Hogan Porta-Booth compressed in my suitcase. I was ready to record on the road.
PACKED TO PANAMA
Now, if you were to think up a remote location to christen your remote studio do you suppose, say, the rainforest would be considered remote enough? Perfect.
So there I was in the heart of the Panamanian rainforest staying at a resort where I was MC'ing a conference.
This particular client had retained my hosting services several times before, always in exotic locations for a week. The burdens we endure.
Yet I never had a studio on wheels, so to speak, and therefore my voice-over clients were put on the back burner until I returned home.
HOTEL ROOM STUDIO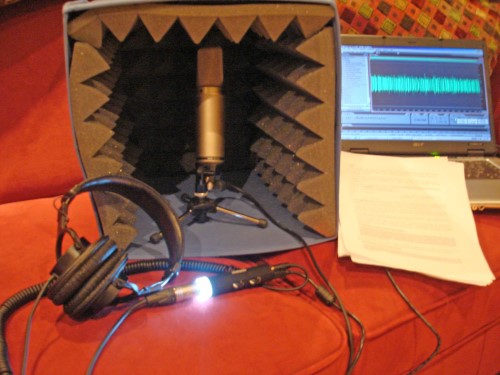 This time was different. As soon as I entered my hotel room I unpacked and started plugging things in. I must admit I was excited and just as curious to see how the gear would work in the actual environment as opposed to my practice sessions back home.
Before I booked my flight south I had already established that the hotel where I would be staying offered high speed Internet - a must for sending files.
I used YouSendIt, delivering files directly to clients, avoiding any potential glitches from my FTP server in my absence.
I used my flash drive to download scripts, printed off in the business center.
A biz center in the jungle? Look, not everyone will have this luxury while travelling. Other methods for transferring scripts include iPhones to read from, err .... longhand to copy content, photographic memory, etc. Try to get a printer though.
NOISY TROPICS
The next step was to eliminate any extraneous sounds form the hotel studio equation.
This included air conditioning blasting in the room, a hum from bathroom lights which vanished with a flick of the switch, and noise emanating from the mini-bar.
I pulled the plug on that little party and the sound I was surrounded by was golden.
But not for long. I was blissfully recording ... then dusk set in. The noise from the tropical wilderness beyond my balcony door could pierce 5-inch steel let alone quarter-inch glass!
So, after recording for 30 minutes and realizing I couldn't pull off an effective 'noise reduction' on the man-eating crickets, I called it a day.
KEPT CLIENTS HAPPY
I resumed the following afternoon when all crickets, birds, bats, etc. were on sonic hiatus.
On days 2, 3 and 4, I started my session work earlier to avoid the imminent arrival of the great outdoors infringing on the silent indoors.
Following my MC duties each day I was able to squeeze in some quality recording time, edit files, add a dash of EQ to brighten the audio to better match my home style offerings and - all clients were looked after from thousands of miles away.
An imaging client, Canada's Weather Network, got a big kick out of the fact I was sending them files from the rainforest!
Look, I'm not stating I was like Marconi testing the trans-Atlantic wireless signal from Canada to Ireland a century ago. The digital remote set-up has been around a few years. I simply finally found a user-friendly rig that worked well for me during my adventures and thought I'd share the experience.
Rory O'Shea is a very busy voice actor and owner of ImEdge Communications. Based in Toronto, Ont., Canada, the firm offers corporate and media clients a full range of voice-over services.