---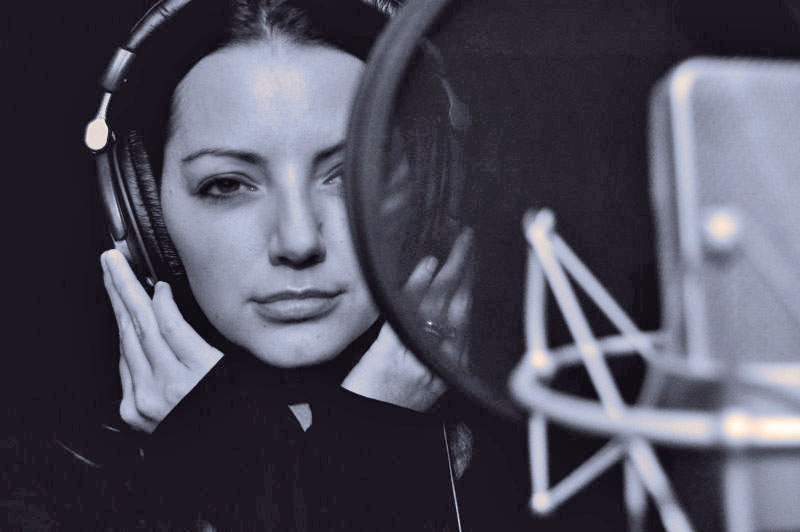 Kara Edwards: "5:30 a.m. I have just woken up in a hotel room in Las Vegas .... This day is anything but normal ...."
Peek Inside Kara Edwards'
Personal Voice-Over Diary ...
Would you let a stranger's eyes roam through your personal diary? Probably not.
But we recently came across some pages from the diary of talented voice actor Kara Edwards, and ... heck, we're all friends, here, right? ... here's a peek:
March 27, 2007

5:30 a.m. I have just woken up in a hotel room in Las Vegas .... This day is anything but normal .... I am going to try to go back to sleep after I drink some water. The dry air is making it hard to breathe. Please don't let me lose my voice or have it get scratchy, not this week.

7:30 a.m. I can't sleep anymore. I'm still on East Coast time. The very first annual voice conference begins today. Voice actors from all over the world have converged on Vegas, networking and praying that this will be the week that changes their career. I am the one doing most of the praying. After five years as a radio co-host, I made the decision to quit my job …. I became a full-time voice actor six months ago ...

7:49 a.m. Time to check my emails and try to find some work for next week ....

2:02 p.m. I am sitting in the closet of room 303 at the Marriott. I have hung all the clothes I can inside to absorb sound reflection. It's time to record auditions and send them out ...

6 p.m. It's time to go and meet everyone else .... I can feel the excitement soaring through this incredibly crappy (Palace Station) hotel ... Suddenly I am more nervous about the damage (from smoke) that is going to be done to my throat and lungs than I am about meeting all these people! My hands are shaking.

10:27 p.m. … This is a week that will change my life. I can feel it.
AN OPEN BOOK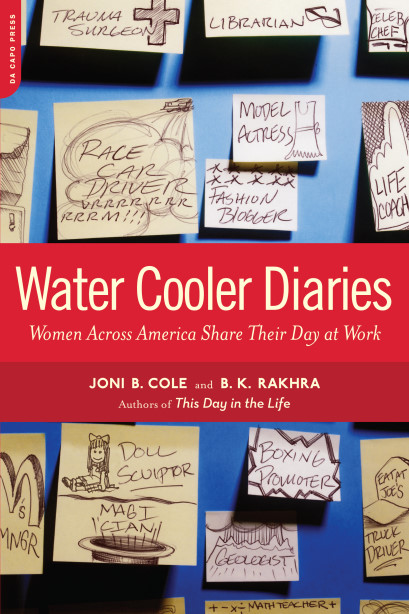 In truth, Edwards wrote this - and much more - with the intention of a public viewing. It's featured in the acclaimed new book, Water Cooler Diaries: Women Across America Share Their Day at Work (Da Capo Lifelong Press).
"Last year, I was asked to submit a day diary containing all my thoughts and activities for a full 24-hour period, on March 27," Edwards explains. "
I was shocked to later learn I am one of 35 women being featured!
"This is an amazing collection of stories from working women across the U.S.," she adds. "You will find me sandwiched between an intake counselor and a government worker. This book is a celebration of all types of working women."
On diary day last year, Edwards - a relatively new full-time voice actor at that time - had just arrived in Las Vegas for the VOICE 2007 conference.
She was anxiously awaiting face-to-face hellos with friends she'd only know by email. And she was to learn that a hotel closet can become a suitable recording studio.
MANY FANS
Today, fans know Edwards as the voice of Goten, one of the main characters on the Cartoon Network's DragonBall Z, and as the green puppy, Razzles, on the new PBS kids' show Raggs. She's also recorded commercials for hundreds of products, from Clinique to the local chicken shack.
"Kara's day diary offers a great first-person perspective into realities of making it in this competitive field - the auditions, the fast turn-arounds, the start-up costs and stress of leaving a regular gig as a radio co-host to pursue her dream as a full-time voice actor," says series creator and editor Joni B. Cole. She selected Edward's entry to feature in the book, and interviewed her as part of the project.
"Kara is an inspiration," Cole says.
"Kara's got the talent to succeed, but also the spirit and energy. She's just a very gifted and giving person."
Water Cooler Diaries also shares an excerpt from another voice actor, Sue Scott of Prairie Home Companion, who worries that a bout of ear trouble might affect her next performance.
SHARING LIVES
The book makes a point to mix the mundane with fame, including day diaries from model and actor Angie Everhart, television chef Sara Moulton, race car driver Sarah Fisher, and "SnakeBabe," a.k.a. Maria Gara, billed the world's sexiest magician.
In soliciting hundreds of women to share a day in their lives, Cole and her partner in the project, B.K. Rakhra, advised contributors to simply write their activities, thoughts, and feelings throughout the day, without censure or second guessing.
The result of this relatively simple exercise, Cole explains, "is a window into a woman's head and heart, including all those fleeting insights, observations, and meaningful moments that are usually lost in the multi-tasking madness of an 'ordinary' day."
The book is the third volume of the popular "This Day" series. In early reviews, Publisher's Weekly calls the book "… both fascinating and eye-opening." Booklist writes, "Skimming through this collection is not a good idea. There are sentences that will make readers stop, laugh, tear up, nod, and otherwise savor common and out-of-the-ordinary experiences."
DON'T STOP WRITING
The diary "gig" also had a profound affect on Edwards.
"I'm so thankful to Joni for giving me this opportunity," Edwards tells VoiceOverXtra, "not just for appearing in the book, but for the experience of writing down my thoughts that day. I
t's hard to believe that was only a year ago - so much has changed since!
"I want to write another diary on this coming March 27th - just for my own use. I think it is cool to see where my business is going."
Let's hope she shares that new entry, as well.