---
VOICE ACTING
How To Bring On The Energy - Hands, Body,
Emotion, Enthusiasm - To Book More Jobs
January 7, 2015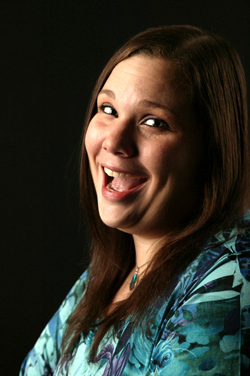 By Laila Berzins


Voice Actor

/

Singer




with a special note from




'Uncle Roy' Yokelson




Producer/Director

/

Coach



One of the biggest tips I received from casting directors or agents when first starting my voice over career was so simple but immediately made sense:

"That was a good read, but it needed more energy."
- Anonymous Critic

Voice overs require tons of energy! So the question is: How do you get more energy consistently?

In on-camera acting, an actor can convey a thought or feeling with a single facial expression or gesture. In voice over, your voice is all you have. No one can see you, so everything you do needs to have extra energy.

Tap into your own energy by incorporating movement.



SIT OR STAND AT MIC?



First, are you standing or sitting?

Unless itís a very long project like an audiobook, I highly recommend standing. When sitting, the diaphragm is compressed, making it harder to take large breaths; but when standing, your airways open up and allow for better breath control.

Standing also allows for greater freedom of movement.



CONVEY CONFIDENCE



Next, do you feel proud, strong, and happy about what you are saying, or are you second guessing yourself?

Get those negative thoughts out of your head. Leave them at the door and embody the attitude of your character.

If itís a straight read, think about the motivation behind the action words of the script. Look for the verbs and adjectives in the copy. Determine what words are most important. Take a deep breath, or even laugh - then jump in!



YOUR BODY TALKS, TOO



Try this: Read a piece of copy with your hands at your sides.

Does it feel a bit strange or stilted? This is because when we talk to people face to face in conversation, we use gestures to emphasize our points.

Now read the copy and any time you get to a point you want to emphasize - use your hands as you would in normal conversation.



BECOME YOUR CHARACTER



If it feels unnatural donít worry; try reading the copy while picturing the person you are talking to. Just use your arms as a guiding point and the body will follow. You can also take on the physicality of your character ... whoever that may be.

Do you know how Sebastian (

Samuel E. Wright

) in

The Little Mermaid

sounded so small and meek? The sound engineer literally positioned the mic up in the air so that Samuel had to talk upwards, as though he were small!

Think of how your character stands, reacts, and moves.

Do you think

Bill Farmer

, the current voice actor for Goofy, stands up straight when he reads? I donít think so. AHYUK! :)



FOR FAST LEGAL COPY



Here is another technique I learned for reading very fast legal copy (i.e. disclaimers at the end of pharmacy advertisements).

Lace your hands together and rest both hands on top of your head. Notice how your airways open up further when your arms are above your head. Now, take a deep breath and start reading the fast copy - don't act, just read.

Disclaimers are very fast, so articulation and speed are key.

MOVE YOUR HANDS!

What are important aspects to punctuate in your project? Emphasize them with your hands!

This will help give the words more natural motivation, which leads to better reads.



A DIRECTOR'S POINT OF VIEW:

MARKING YOUR SCRIPT FOR EMPHASIS
Tip from 'Uncle Roy' Yokelson
Director/Produce

r

/Coach



The first order of business is to figure out which words or ideas are the most important in each sentence. There may be more than one correct way of reading a sentence.

Test this out: Try emphasizing different words that seem important, such as action words, adverbs, qualifiers, and quantifiers.

Once you've figured this out, underline your key words to remind yourself - this will also help with being consistent take to take.

When I am coaching I remind my students to take my direction very lightly. A little emphasis goes a long way. Don't hit me over the head with emphasis.

Some script writers try to help (ugh) by making text bold, using ALL CAPS, underlining words or by using lots of exclamation marks!!!



Roy's Big Hint:

Unless you are doing a high-energy retail spot, use emphasis very gently, and try to avoid using volume as a tool for emphasis. You can raise your pitch one note or slightly elongate the word to make your point.

FINAL THOUGHTS ...



Each of the movement techniques listed above can be used to incorporate more energy and enthusiasm into your reads.

Being confident at the mic will bring strength to what you are saying. Emphasizing points with your hands, or gesturing during a performance will allow for a more natural and conversational flow.

Body language can be used to change the mood of what you are saying, and changing your posture can help you "get into character," particularly for animation, gaming, and commercial reads.

Roy points out that energy does not equal volume, and in order to convey the right level of energy you need to know which words to emphasize.



BELIEVE WHAT YOU SAY



Finally, draw from your own experience to make each read more personal. Remember - If YOU don't believe what you are saying, why should we? How can you best convey the message and action points of the piece?

Portraying the confidence, enthusiasm, and emotions of the copy are what will get you booked! The client essentially wants to think "this person gets it. They understand my message.Ē

With continued vigilance, you will be able to make even the most bland piece of copy sound exciting - which will impress your client, and lead to more bookings.

So get behind that mic, bring ON the energy and "break a lipĒ!


---------------------




ABOUT LAILA


With over a decade of acting experience, years in professional choruses, a BA in Communications, and a wild imagination, California-based Laila Berzins brings a fun-loving attitude to voice over projects. Her numerous male/female character voices range from young to old, and sweet to sassy. Clients include Marvel Entertainment, Hasbro, Febreze, Houston Zoo, Moving Pix Studios, Illuminata Pictures, S2Games, and Red 5 Studios.

Email: info@LailaBerzins.com
Web: www.LailaBerzins.com
YouTube: www.youtube.com/user/LailaberzinsVO/videos
Newsletter: http://lailaberzins.com/newsletter



ABOUT ROY


'Uncle Roy' Yokelson is an Emmy-winning audio director who has been providing expertise in the voice over and music industries for over 30 years. Having worked on staff and freelance at many major New York City recording studios, he has been involved in every aspect of the audio business that involves voice overs, including radio production, TV soundtrack production, narration for documentaries and other long format TV shows and award-winning films, radio imaging, TV promos, animation dialog recoding and directing, ADR, audiobook direction, recording and production, translation services and telephony sound file production. He is also a voice over coach, demo director and producer, casting director, and talent agent.

Email: AntlandProds@aol.com
Web: www.AntlandProductions.com



Your Daily Resource For Voice-Over Success