---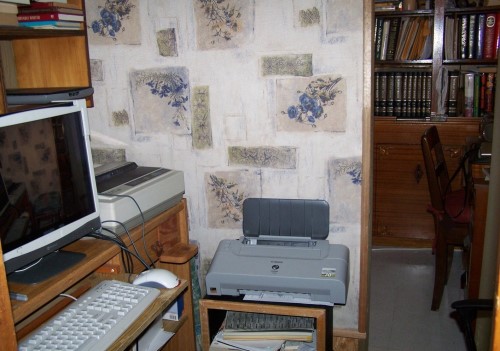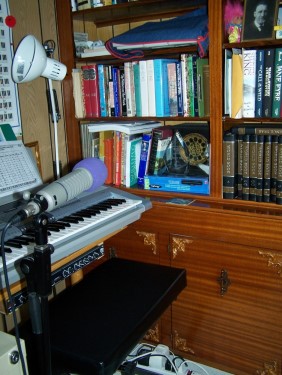 A wall of fabric and foam, and a door, separate the space for writing novels (above) and a voice-over studio (right).
Voice Actor & Suspense Novelist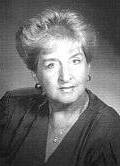 Originally what was one room (12 ft. by 7 ft.) where I did my writing, is now two tiny rooms.
My husband put up a door and wall in the middle of the room to create a voice-over recording studio (6 ft. by 7 ft.). He soundproofed the studio by attaching two-inch foam to the door and wall.
I added fabric to the wall, and had purchased both the foam and fabric at a fabric center. The door between the rooms shuts tightly.
The books in my floor-to-ceiling bookshelves help to soundproof, as do heavy drapes on the window opposite my Yahama keyboard. I play a little, so I'm multi-tasking in this space. Behind the solid wall opposite the window is my bedroom clothes closet, which is also a big help in keeping things quiet.
There's a desk and chair in front of the window. And that's it. Works for me.
My studio equipment is minimal:
EV PL 20 mic

dbx 286A preamp

Cool Edit 2000 recording/editing software
I chose this equipment because it seemed best for someone who is very definitely not an audio engineer. I wanted to keep things simple.
Along with lots of trial and error when setting up the studio, I received valuable advice from many pros in the field. I like the sound of my voice on this mic and it's very forgiving of any sibilance, which I have a slight tendency toward. It's a lovely mic.
The DBX 286A was recommended by

Todd Schick

, a wonderful voice talent. I use it strictly as a preamp because I didn't know what the hell I was doing with the compressor.
At Joan's web site, hear her read a passage from her novel,

Chill Waters

, winner of the Golden Wings and
Bloody
Dagger
awards. Based in New Brunswick, Canada, her voice-over work includes commercials, narrations and audiobooks.
She is also author of the suspense novels,

Nowhere to Hide

and

Listen to the Shadows

, and wrote and produced

Write Your Novel

, a how-to guide that she narrates and also sells as an e-book.