---
ONE VOICE AWARDS
One Voice Awards 2018

Competition Honors
'Best In UK Voiceover' At London Ceremony
May 7, 2018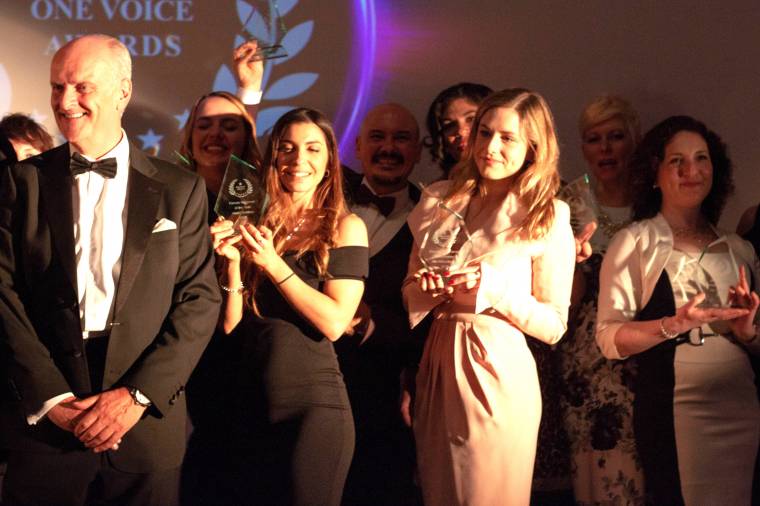 Peter Dickson joins female winners of the One Voice Awards including (l-r): Hannah Melbourn, Olivia Scarlett, Alexia Kombou, Terry Burns, Toni Frutin, Alix Wilton Regan, Kate Flamman and Helen Goldwyn.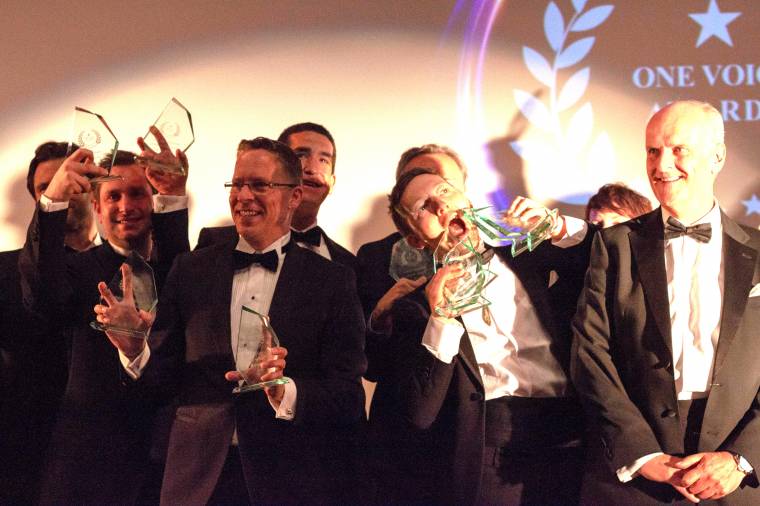 Peter Dickson (far right) joins male winners of the One Voice Awards including (l-r): Paul Albertson, Ian Brannan, Armin Hierstetter, Darren Altman, Marcus Bentley and Toby Ricketts.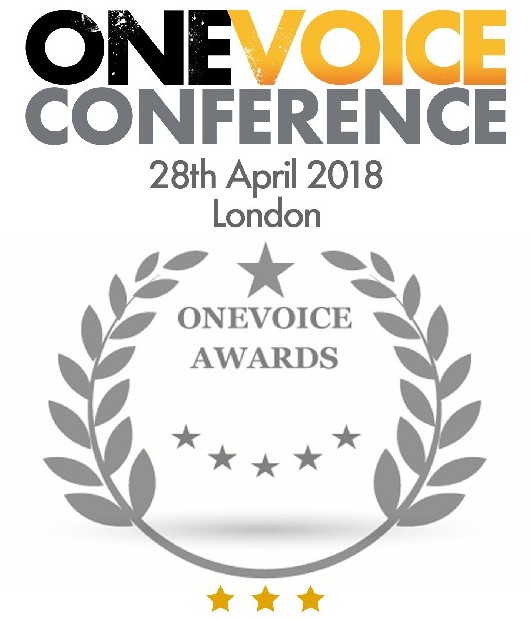 Note: The

One Voice Awards 2018

ceremony was a feature of the

One Voice Conference

presented by

Gravy For The Brain

Ltd., a voice-over training company based in the UK, on April 26-29, 2018.



By Harvey Clayton-Wright




Marketing Coordinator, Gravy for the Brain



Saturday April 28 saw the inaugural

One Voice Awards 2018

, a new voiceover award ceremony attended by 151 guests at the DoubleTree Hilton Hotel at the Docklands Riverside in London's Canary Wharf.



Voice-over man

Peter Dickson

, who is the iconic voice behind

The X Factor

,

Britain's Got Talent

,

E4

and hundreds of other adverts and television shows, was the host of the evening.

Dickson was also the co-founder of the awards, along with

Hugh Edwards

, a voice director and casting director.

Guests were welcomed to the awards with a drinks reception, followed by a three-course meal before the ceremony was kicked off in style by an incredible skit in which the proceedings were interrupted as host Dickson had gone missing ...

The live announcer,

Gina Mellotte

, who is also the live announcer for the Bafta Awards, was heard arguing with Edwards about Dickson's location.

Through a live stream, Edwards tracked down Dickson, who was wearing nothing but a string vest, heart boxers and covered in mustard and beans, not aware the awards were starting. What followed was an epic run through the hotel as Dickson rushed to attend the awards, at which point he appeared to run through the crowd and dashed behind the stage before emerging fully donned in his tuxedo for the night.



JUDGES FIND 'BEST IN UK VOICEOVER'



The ceremony then kicked off with 32 categories detailing the best in UK voiceover, ranging from best newcomer, best international talent, best service provider, best voice artists across the industry and even the best of the worst: best outtakes of the year.

All the nominees had put their own names forward, with the submissions open to absolutely everyone in the industry who been involved in a project within the last year.

From there, all 1,500 submissions were whittled down to between four to eight nominations in each category by 15 judges who stemmed from all areas of the voiceover industry, including voice actors, advertising heads, casting directors, heads of creative, agents, producers and demo producers.

None of these judges knew the identity of each other, nor did they know the identity of the submissions they were judging, allowing for complete anonymity and preventing any kind of bribery or "friendship voting."

The identities of the judging panel were finally revealed at the start of the ceremony.

Being nominated was such an achievement by itself, and the winners represent the best talent working in our industry today.



THE 'ONE VOICE AWARD 2018' WINNERS


Male Voiceover of The Year -

Toby Ricketts

Female Voiceover of The Year -

Alexia Kombou

Voiceover Legend -

Marcus Bentley

Audiobooks: Best Factual Performance -

Angus King

Audiobooks: Best Fiction Performance -

Toni Frutin

Voiceover Newcomer of the Year -

Olivia Scarlett

Animation: Best Female Character Performance -

Emma Maclennan

Animation: Best Male Character Performance -

Darren Altman

Best Children's Voiceover Performance -

Harriet Lamb

Voice Job Site of The Year -

bodalgo

(

Armin Hierstetter

)

Best International Voiceover Performance - Lou Lambert

Corporate/Explainer: Overall Best Performance -

Toby Ricketts

Demo Reels: Best Male -

Toby Ricketts

Demo Reels: Best Female -

Kate Leaman

E-Learning: Best Overall Performance -

Sara Starling

Gaming: Best Female Performance -

Alix Wilton Regan

Gaming: Best Male Performance -

Glenn Wrage

Outstanding Live Event Announcer -

Katie Flamman

Radio - Commercials: Best Female -

Della Phillips

Radio - Commercials: Best Male -

Terry Burns

Radio - Drama: Best Female -

Helen Goldwyn

Radio - Drama: Best Male -

Paul Albertson

Best Outtake of The Year -

Ian Brannan

Radio - Promo: Best Overall Performance -

Hannah Melbourn

Telephony/IVR - Best Overall Performance -

Mark Ryes

Television - Commercials: Best Female -

Heather Long

Television - Commercials: Best Male -

Toby Ricketts

Television - Documentary: Best Female -

Vicki Blight

Television - Documentary: Best Male -

David Turner

Television - Promo: Overall Best Performance -

Stefan Frank

Toys/Physical Games: Overall Best Performance -

Kayleigh Thadani

Voiceover Service Provider of The Year - bodalgo



FOR MORE INFO ...

For more about the One Voice Conference and Awards, please visit www.onevoiceconference.com.

SEE MORE ABOUT VOICE-OVER AWARD PROGRAMS HERE



Your Daily Resource For Voice-Over Success