---
Audiobooks: Recording Efficiently -
Studio
Set-Up & Using 'Quick-Punch'
Voice Actor & Audiobook Narrator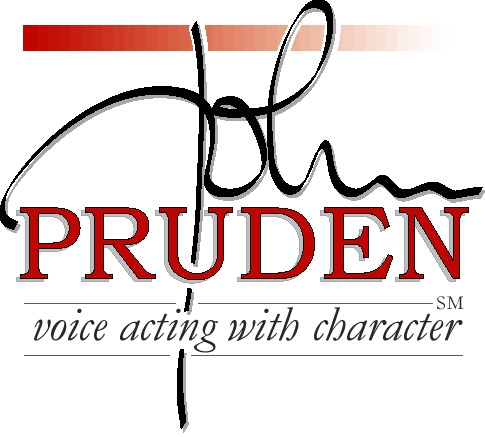 When recording audiobooks at home, it is extremely important to do it as efficiently as possible, as this will maximize your profit as a narrator.
I
n Part 1 of this two-part series, we discussed how audiobook narrators are paid and the difference between "finished hours" versus "labor hours."
In doing the simple math of calculating the difference between those hours, we saw how they relate to each other and that minimizing the labor hours will maximize your hourly rate.
Now in Part 2, we discuss two very important things you can employ with your recording setup to record more efficiently and thereby increase your hourly profit for labor:
putting your computer's monitor, keyboard, and mouse close to your microphone, and

using a feature called "quick-punch" with pre-roll to edit-on-the fly while you record.
In the first article, we touched on the fact that while recording a 10-hour audiobook, you may actually be recording for 20 to 30 hours. That's hours, not minutes!
Welcome to the world of long-form narration, my friend! If you're not organized in your methods, then that time may be even longer.
Let's look at two scenarios that will illustrate this point, and also see what we can do to be more efficient.
This scenario represents a common home recording set-up in which the microphone and computer input devices are

not

located together with the microphone.
Rather, the computer monitor, keyboard and mouse are on a desk situated away from the microphone - which may be isolated in a booth or closet or behind partitions.
You hit the RECORD button on your computer keyboard, you go into your booth, closet, the next room, behind the partition, or whatever, sit down in front of your microphone, then begin reading out loud.
You read until you make a mistake, and read that line again, and maybe again a couple times, then continue on with the rest of the text.
All the while, your computer is recording and you haven't stopped it because you're busy reading and the keyboard is out of your reach.
You keep doing this for a number of hours, taking occasional breaks and only stop recording during those breaks.
You feel like you're making progress because you've read 40 pages in four hours! But when you listen to your recording, you realize something.
You've estimated that each finished page will be about two minutes long, which means you've recorded about 80 minutes of the book.
But you look at the length of the actual recording on your computer and see that it's 210 minutes long! That extra 130 minutes is all those mistakes you made, and you have to edit them out.
That's not the bad news, though.
Not only do you have to listen to that entire 210 minutes to edit out all the mistakes, but every time you hear a mistake you have to figure out exactly what to edit out.
This means you will listen to the same stuff and rewind many, many, many times throughout that 130 minutes, effectively making it twice as long.
If you made two or three or four mistakes on just one line, you may spend two or three or four times more than you need to on that one line.
Result: it could take you up to five hours to edit out two hours of mistakes to get your 80 minutes of good audio.
That's time you could spend doing something else like, oh, say - making money recording another project!
If you took good notes about your mistakes on your script while you recorded, you'd be able to use those notes as a guide while you edit which would speed things up a little. But that takes valuable concentration away from your performance.
There has to be a better way. Because if you keep this up, your labor hours are going to eat so far into your finished-hour rate that you'll end up making fast food wages!
This scenario represents another common home recording set-up, in which the microphone and computer input devices, computer monitor, keyboard and mouse are located together with the microphone.
This may be in a booth or closet or behind partitions. Note: your computer is located elsewhere.
You sit down in front of your microphone; you hit the RECORD button on your computer keyboard and begin reading into the microphone.
When you make a mistake, use your mouse and keyboard as you look at the recording software on your monitor to scroll your cursor back to the appropriate spot and hit RECORD again, read and continue.
You do this for several hours, taking occasional breaks. You read about 40 pages in four hours, or about 80 minutes of finished audio.
You listen to your recording and see that your 80 minutes of finished recording is … 80 minutes long!
You give your voice a break, move on to something else, do a little marketing, send a few emails, or go for a walk or bike ride, or play with the kids.
Not tired yet and still have some energy? Go back and record some more, because you're recording efficiently now!
The big difference here is this: some voice talent who are used to short-form work, such as 30- and 60-second spots for TV and radio, might have the microphone positioned away from the keyboard – and that's okay for short-form work, but not for long-form work.
A key element to recording audiobooks efficiently is to have your keyboard, mouse, and monitor close enough to your microphone that you can comfortably reach and use them.
But remember - I didn't include the computer!
Leave the computer outside/away because it most likely makes too much noise. Also, the heat it puts off will raise the temperature in your booth.
Note: Some laptops are quiet enough to position close to the microphone, but not many.
With both laptop and desktop computers, you can use USB and computer monitor extension cables (VGA or DVI) to set it up this way.
But if you use your computer for other tasks besides recording, and don't want to have to sit in your booth while you balance your checkbook, just hook up two of everything to your one computer. This lets you control it from two different locations! And you can be comfortable while you do your regular computing.
It's pretty much an essential way to operate for long-form narrations.
The other key element is using what

Pro Tools

recording software calls "quick-punch" to punch-in your corrections on-the-fly.
You'll also need to use the "pre-roll" function.
Using pre-roll and quick-punch together allows you to place your cursor on a section already recorded - like right before the mistake you just made - so that when you hit the RECORD button, again the pre-roll function will start playing for a predetermined amount of time. Two seconds is the norm.
This recording starts immediately before the punch-in point, so that you can hear the last portion of the correct recording. W
hen the punch-in point is reached, it automatically begins recording again at that point. You begin reading and continue until you make another mistake.
In essence, you are recording over every mistake you make immediately after making them. This deletes the flubbed line and moves on, leaving a cleanly-edited correction in your wake.
When you get really comfortable with this process, every edit will be so clean and seamless that you won't have to do any cross-fades to smooth them out.
You can find videos online that go over these functions in detail – they're pretty simple and easy to use.
If you use a software program other than Pro Tools, the terminology may be different, but the handy feature is probably there.
You may have to explore your software's user manual or HELP screens to find them and learn how to use them.
It's possible that some entry-level recording software may not have these features, so you might have to upgrade. Again, you'll have to determine the capabilities of your current set-up.
The best-case scenario cited here is what the pros do, both in the studio and at home, because it makes things so much easier and faster and squeezes more dollars out of every hour of labor.
The point is to do everything within your power to ensure that what you record is as close to a finished product as practicable.
If you've already recorded an audiobook and haven't tried this method, then you have probably been scratching your head trying to figure out how in the world you were going to make any money at this genre, because it was taking so freakin' long to complete a book.
If you

haven't

recorded an audiobook and really want to, it would be a good idea to arrange your recording set-up in this way and familiarize yourself with punching-in before you tackle that first book. Either that, or make sure your deadline allows plenty of time to accommodate your learning curve!
The more efficient you are while recording and editing, the closer your labor hour rate will be to your finished hour rate.
The two will never be equal to each other, but it's in your best interest to be as efficient as you can while you're recording so that you can get the most out of your time – and quickly move on to that next project!
John Pruden is a full-time audiobook narrator who also performs in corporate narrations, as animation and video game characters, and in radio and TV commercials through his company,

Voice Acting With Character

. In just under three years, he went from being a part-time voice actor with a day job to a full-time, home-based audiobook narrator. He is also a frequent contributor to

VoiceOverXtra

on audiobook topics.

Your Daily Resource For Voice-Over Success